Juicer and Sauce (slow juicer)
Juicer and Sauce (slow juicer) is rated out of 5 by 135.
Stock up on fresh fruits and vegetables for everyday use with the KitchenAid® Juicer and Sauce Attachment that attaches directly to your KitchenAid® Stand Mixer. This juicer attachment is a slow (masticating) juicer which first slices then processes soft, hard or leafy fruits and vegetables for nutrient-rich extraction. With 3 pulp screens the options are endless for low pulp or high pulp juices, sauces and jams.
Other - KSM1JA
Features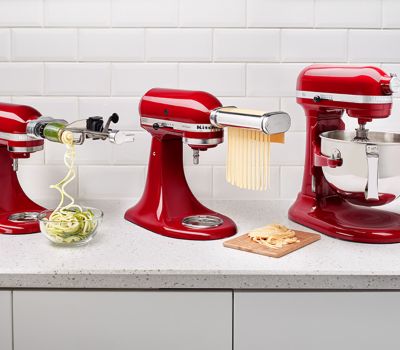 Attaches to Power Hub
Of your stand mixer and uses the power of the motor to run the attachment. Fits all Household KitchenAid® Stand Mixers.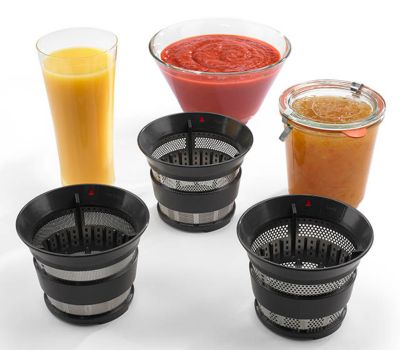 3 Pulp Screens
For Low Pulp and High Pulp Juices, Sauces and Jams.
Extra Wide Feed Tube and Stainless Steel Slicing Blade
To accommodate various sizes of soft, hard or leafy fruits and vegetables with less prep work.

Model KSM1JA Includes
(3) Pulp Screens, (1) Pitcher, (1) Waste Container
Reviews
Rated 4 out of 5
by
Honest To A Fault
from
Worth It
Have not witnessed any overheating or the juicer being to loud and noisy as described by others (But isn't blenders and other countertop appliances noisy ??). I was pleased with the results , worked just as promised , the only drawback is that it can be a bit messy. It's very easy to put together and to clean . Happy I made the purchase. Oh and did I tell you the best part was being able to store the juicer and not necessarily have to find space for another appliance.
Date published: 2018-04-10
Rated 5 out of 5
by
Asantos138
from
KitchenAid-Jucer
I bought this a month ago and I love it. I enjoy making my own juice.
Date published: 2018-04-02
Rated 5 out of 5
by
am231269
from
Great Addition to KitchenAid
I bought this because my toddler daughter will not eat fruits or vegetables. I have made a few different combinations of juice recipes. She is always willing to at least drink juice. Works well and I like that it has different pulp screens. Had to refer to directions to set up. And then look at them again to make sure I had it right. Can't wait to try some sauces.
Date published: 2018-03-19
Rated 4 out of 5
by
Murphy92
from
Good for the occasional juicer
TL;DR: I only make a pitcher of juice once a week and it's great for that. The attachment is easy to use and the juice that it makes is easy to drink. It's not completely pulp free on the low pulp strainer- if you're making something with apples you'll get the occasional chunk but it's pretty much all liquid. It cuts through carrots and beats just fine, so it's really well made. Pretty much everything can go in the dishwasher, but it doesn't really make sense to do so. The strainers do need a good scrub, and the other parts don't get that dirty... so might as well wash by hand. I'd only recommend it to someone who doesn't juice all the time since cleaning the strainer can take a while and all the parts will fill up your drying rack. But for someone who wants to enjoy fresh juice on the weekend and doesn't want to have tons of appliances, it's great.
Date published: 2018-03-18
Rated 5 out of 5
by
Vladybug
from
KitchenAid Juicer
Love this attachment. Great addition to my KitchenAid. It makes making juicer so easy with no mess.
Date published: 2018-03-12
Rated 2 out of 5
by
Juicer1_Mixer0
from
Juicer Damaged My Mixer
Ha don't the juicer for 1 week and made about 12 juices and then it destroyed the mixer. The motor gears were damaged. I watched some YouTube videos, took it apart and had to order a $40 part that's coming in a week. I was juicing carrots, beets, apples, ginger. It worked great but now my mixer is dead. My mixer is an Ultra Power 300W and worked great for the 10 years we had it but now I worry that this juicer will kill it again even after the repair. Argh!
Date published: 2018-03-12
Rated 4 out of 5
by
zach87
from
Nice Product!
I purchased this juicer attachment about 1.5 months ago. I have been making juice with it every weekend since, and my wife and I really enjoy it. We love the ability to make juice and find that this attachment is more hassle-free and storage-friendly than a standalone juicer. I am pleased with the quality of the parts, ease of use, and functionality. The majority of the parts are dishwashable, which makes clean up pretty easy.
Date published: 2018-03-07
Rated 5 out of 5
by
Sunkissed20
from
Cool attachment
We've used this juicer attachment now about 3 times and I love it! Setup is relatively simple and it works great. It is a bit of a pain to clean, but that's to be expected. My only complaint is that even when using the fine strainer, there is still a bit of pulp that makes it into the juice. It doesn't bother me, but my boyfriend doesn't care for it.
Date published: 2018-02-15
Rated 4 out of 5
by
Pman
from
Easy
Ok. Quality as expected runs great as they all do.
Date published: 2018-02-06
Rated 5 out of 5
by
Mamaw G.
from
Very nice attachment!!!
I ran several types of fruits in the juicer, and it turned out to be very good, and very very little pulp got through at all!
Date published: 2018-02-06