Juicer and Sauce (slow juicer)
Juicer and Sauce (slow juicer) is rated out of 5 by 124.
Stock up on fresh fruits and vegetables for everyday use with the KitchenAid® Juicer and Sauce Attachment that attaches directly to your KitchenAid® Stand Mixer. This juicer attachment is a slow (masticating) juicer which first slices then processes soft, hard or leafy fruits and vegetables for nutrient-rich extraction. With 3 pulp screens the options are endless for low pulp or high pulp juices, sauces and jams.
Other - KSM1JA
Features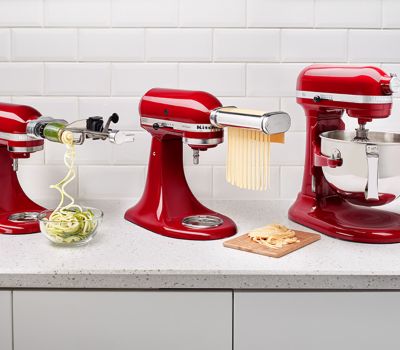 Attaches to Power Hub
Of your stand mixer and uses the power of the motor to run the attachment. Fits all Household KitchenAid® Stand Mixers.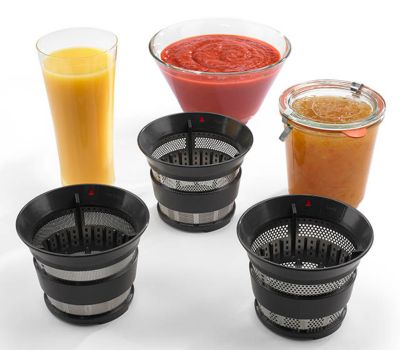 3 Pulp Screens
For Low Pulp and High Pulp Juices, Sauces and Jams.
Extra Wide Feed Tube and Stainless Steel Slicing Blade
To accommodate various sizes of soft, hard or leafy fruits and vegetables with less prep work.

Model KSM1JA Includes
(3) Pulp Screens, (1) Pitcher, (1) Waste Container
Reviews
Rated 1 out of 5
by
Kgray000
from
Don't waste your money
I am not sure where those 5 star reviews came from unless these people are juicing glasses of water. Mine plugs up constantly and truly takes the fun out of juicing. It's a real shame because I trusted the KitchenAid name. Kale, carrots, beets, celery, etc. plug up the discharge chute in a minute. I really wish I would have invested in a real juicer. and the mess this thing makes for a six ounce glass of juice is ridiculous.
Date published: 2018-01-02
Rated 5 out of 5
by
FadedMana
from
It's amazing
This mixer does everything so much faster! I love it. It's easy to use and easy to clean. I made strawberry juice and mixed it with coconut milk, green coffee and a splash of lemonade. Amazing! Each batch lasts a few days. Saving me tons of $ on Starbucks pink drinks. It'll pay for itself in no time!
Date published: 2017-12-30
Rated 5 out of 5
by
R. G.
from
CHANGED MY LIFE!!!
I love this juicer! I've recently lost A LOT of weight and am learning the great benefits of juicing. My Kitchenaid is a new tool in my kitchen and juicing is now a part of my daily routine. Works quickly, best extraction, cleans up easily and is extremely sturdy. Thank you Kitchenaid!
Date published: 2017-12-24
Rated 5 out of 5
by
1 Jim G
from
This juicer works amazing
This juicer works amazing It not only creates delicious juices it also does sauce I've use this quite a few times and it never ceases to amaze me how easy it is to clean up after it and how delicious the juices and sauces that I've made with that have come out this is a must purchase
Date published: 2017-11-23
Rated 5 out of 5
by
Milkman
from
Great piece of equipment
I recently purchased this equipment and wonder how I managed without it for many of the dishes I make. It is now an invaluable item in my kitchen.
Date published: 2017-10-13
Rated 3 out of 5
by
BobV
from
Works okay
My first one of these stopped working after only three uses. Apparently the clutch burned out on one of the pulley shafts. The new one I have works okay, but it is kind of noisy; it makes ominous-sounding grinding and clicking noises when in operation.
Date published: 2017-10-06
Rated 1 out of 5
by
Karen
from
Pass on this attachment
I received this for a gift, hoping to make my own juices. I have made two juices, I spent more time cleaning out the reservoir as the pulp spout clogged several times. The juice was thick, had to put the juice thru three times and still was very thick but better. If I wanted thick juice I would eat the veggies and fruit puréed.
Date published: 2017-08-22
Rated 5 out of 5
by
Dale
from
This is the only way to Juice !
When I first unboxed it, I was a little concerned about how hard it was going to be to clean it. I was happy to find that after using it a couple times and figuring out the tricks, it's really very easy to clean. It works perfectly, and is quite easy to operate, very little prep time, it has no problem handling larger pieces of fruit or whatever you're feeding it, and does a very good job at extracting most all of the juice from things, the pulp comes out quite dry, and that's good. The only thing I would recommend is having a higher wattage mixer, I used it first on the 325 Watt mixer, and found that it got rather warm, so I put it on the 575 Watt mixer, and I can run it for hours and it never heats up, just warm to the touch. It does everything it says it will do, with ease, and is very easy to use and clean.
Date published: 2017-07-28
Rated 1 out of 5
by
JessicaAnne
from
Does Not Work Well
I recently got one of these after researching different juicers and have tried to use it three times. Each time it gets jammed up, makes a clicking sound and sounds like the whole unit is going to break. I have to take it apart and it makes a huge mess. It is difficult to clean and overall seems to not be sturdy enough for daily juicing. I was very excited to use this and save counter space and am generally happy with Kitchenaid products. This was a waste of money and I ended up using a regular juicer.
Date published: 2017-07-27
Rated 1 out of 5
by
Cecy
from
horrible
I've been a fan of kitchen aid for a long time and love the quality of most of their products, however this juicer is terrible. I've made 2 juices with this juicer and I'm very disappointed as this attachment not only didn't stand to my expectations but also broke my mixer. the first time I made juice with this attachment, the pulp keep getting stock and I had to stop juicing, unassembled the entire juicer, and reassemble twice to make 16 oz of juice. the second time I tried to juice, the juicer got completely stock with the carrot I was feeding it. I stopped the mixer as fast as I was able to because I was afraid the juicer was going to break. To my surprise, nothing happened to the juicer, but my mixer is now broken. I would not recommend this product to anyone, don't even give it a try! Your risking not only spending money on a worthless product, but it can also break your mixer! ps. I would like to give this attachment zero stars but the program makes me give it at least 1.
Date published: 2017-07-23