21 Cu. Ft. Standard-Depth Side-by-Side Refrigerator, Architect® Series II
Ratings
21 Cu. Ft. Standard-Depth Side-by-Side Refrigerator, Architect Series II is rated out of 5 by 29.
This standard-depth refrigerator provides a variety of features that help maximize your usable space while helping to keep food fresh with the FreshChill™ temperature management system. For further ingredient care, a humidity-controlled crisper helps create the proper storage environment for fruits and vegetables.
guides
Dimension Guide
Detailed dimensions of your new appliance with space requirements for the area surrounding it.
Warranty Information
A complete description of your warranty coverage, and contact information for service and support.
Installation Guide
Instructions for unpacking and installing your appliance, including electrical requirements and necessary tools.
Energy Guide
Information about the efficiency of your appliance, including energy consumption and annual costs to operate.
Use & Care Guide
Comprehensive information about your new appliance - from getting started to cleaning and maintenance.
In order to read a PDF file, you must have Adobe Acrobat reader installed on your computer. You can download the latest version at the Adobe website.
Show More Guides
Below are only the articles for your model.
Search within results:
Parts
To buy replacement parts for your appliance, > See parts.
Accessories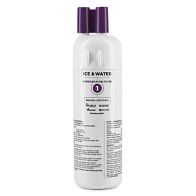 Part # EDR1RXD1
Now, you and your family can enjoy the enriching benefits of cleaner, freshly filtered ice & water. Not just in beverages, but for preparing meals, too. Our advanced generation of ice & water refrigerator filters from EveryDrop™ Filters are certified to reduce the most contaminants — with Triple Filtration™ Technology. Filter 1 reduces 24 contaminants, so you can feel reassured that you and your family are getting the most out of your water. Remember to replace your refrigerator filter every 6 months to maximize contaminant reduction. (Replaces W10295370A)
Read More
MSRP: $49.99
Accessories
Part # P1KL6S1
Use in any refrigerator crisper to help keep produce fresh for days longer. The filter absorbs excess ethylene gas that causes some produce to over-ripen quickly. Attach inside the crisper of any refrigerator. Replace filters every 6 months for optimal freshness. Status indicator is included.
MSRP: $12.99
FreshChill™ Temperature Management System
Helps maintain temperatures and ensures proper air flow throughout the refrigerator and freezer.
FreshVue™ Door Bin
Gives you a crisper in the door, helping to lock in humidity to help keep items fresh as well as keeping them separate from other items in the refrigerator.
Flush Dispenser with Light-Touch Controls
Provides easy access to ice and water and enhances the refrigerator's look and performance. Light-touch controls allow many refrigerator functions to be controlled from the dispenser.
Additional Features
AquaSense™ Base-Grille Filtration System - Filtered by PUR®

Helps reduce contaminants from tap water and is conveniently located on the base grille to maintain usable refrigerator space.
ClearVue™ LED Theater Lighting
Gradually increase to full intensity, similar to theater lighting, making it easy to find items inside the refrigerator and freezer, even the crisper.
3 Adjustable Shelves and Bin
Make it easy to store and retrieve items, including deli items such as cheeses and meats.
Large Humidity-Controlled Crisper
Helps extend the life of your freshest ingredients by allowing you to control the amount of humidity that enters the drawer.
Configuration and Overview
Refrigerator Type
Side-by-Side
Refrigerator Capacity
14.51
Energy Star® Qualified
No
Dimensions
Height To Top Of Cabinet
65 7/8
Depth With Door Open 90 Degree
49 7/8
Depth Excluding Doors
27 1/2
Depth Closed Excluding Handles
32 3/8
Width of Cabinet Only
32 3/4
Capacity
Refrigerator Capacity
14.51
Features
Number of Interior Shelves
3
Spill-Proof Glass Shelves
No
Conventional Shelves
1 Fixed Full-Width Glass, 2 Adjustable Full-Width Glass
Humidity-Controlled Drawers
1 Full-Width
Temperature-Controlled Drawers
No
Non Climate-Control Drawers
2 Full Width
Door Bins
1 Dairy, 1 Fixed Full-Width, 2 Adjustable Full-Width
Freezer Features
Interior Shelves
4 Fixed Full Width Wire
Freezer Drawer-Basket
1 Full Width Lower Plastic
Door Bins
1 Fixed Partial, 3 Fixed Full-Width
Filtration and Dispensing
Dispenser Type
Exterior Ice and Water
Dispenser Options
Control/Child Lock, Filtered Water
Show More Specifications
Rated 2 out of 5
by
Fairly Disappointed
from
KitchenAid does not live up to the reputation.
We have had this refrigerator for a little over 2 years now and it has been a headache since day one. Refrigerator number 1: When the first refrigerator arrived, it was damaged and had to be replaced. The packaging was not damaged which leads me to think this unit was shipped from the manufacturer in the condition that I received it. The freezer door was way out of alignment due to a bent cabinet frame. This prevented the freezer door from closing properly. You needed to apply some force to it for it to completely close. It also had a poorly assembled ice bucket/dispenser. This dispenser had large gaps that allowed moist room air in and it filled with frost that made it difficult to remove the bucket. A replacement refrigerator was ordered. Refrigerator number 2: Two weeks after the replacement one was installed, the dispenser panel locked up and would not allow anything to be changed. We could not dispense water or ice, could not change temperature settings for either the freezer or the refrigerator, could not turn on/off the light and we could not Lock/Unlock the controls. At the same time we discovered the freezer had a water leak. This caused the entire floor of the freezer to fill with a sheet of ice that eventually reached the bottom of the drawer. With the ice there, the drawer could not slide and the ice near the door opening melted and dripped to the floor. First warranty call: After this first warranty service call. It was found the leak was due to sloppy assembly by KitchenAid. It turned out loose insulation blocked a drain causing it to eventually freeze closed. The technician diagnosed the panel issue as a probable faulty circuit board and ordered a replacement. In the meantime while waiting on the replacement circuit board the technician showed me how to reset it if it locked up again. I was glad he showed me the reset process because it was about every other day I had to reset it. Second warranty call: Before the technician returned with the replacement circuit board a new issue had shown up. I had to request another warranty repair due to the dispensing of water would no longer shut off. The water would keep running even when the lever was no longer being pressed. When the technician returned with the ordered circuit board, they also brought parts to replace the mechanics of the dispenser. The circuit board fixed the panel locking up. The other issue was due to a switch that was "Sticky", stuck in the On position so the water continued to flow even though the lever was not being pushed. Now out of warranty: Some more time has passed and the warranty period has expired and yet another issue has presented itself. When I open the doors, the lights no longer go from dim to full brightness. Instead they instantly strobe. It looks like lights of a nightclub. There are several threads on the internet discussing the same problem and the fix points to replacing a part that lists for around $200. Ridiculous. Based on my experience to this point (two refrigerators, both with multiple faults), I am left with the impression that KitchenAid has a very poor quality control group and uses sub-par components when assembling their appliances. My advice to you is... read the negative reviews carefully. Don't dismiss them just because there are more positive ones. There are too many related to faulty/defective products. KitchenAid has turned out to not be the "Quality" brand I thought it was. One last note, I have been equally disappointed in our KitchenAid Stove and KitchenAid Dishwasher. However, we haven't had any problems with our KitchenAid Microwave. Based on my experience, I will no longer buy KitchenAid (Whirlpool) appliances.
Date published: 2018-02-09
Rated 5 out of 5
by
Jewel H
from
Love my Kitchenaid Refrigerator!
So glad we purchased this refrigerator! Will e moving and will buy another Kitchen Aid refrigerator soon for new house!
Date published: 2017-01-13
Rated 5 out of 5
by
Badger
from
21 Cu. Ft. Standard-Depth Side-by-Side Refrigerator
Just purchased new refrigerator, everything works, really like to water and ice in he door. We also bought a Kitchen Aid Oven.
Date published: 2016-11-10
Rated 3 out of 5
by
millysf
from
Good but not great....
We had very limited space in our kitchen so we had limited options for refrigerators to replace our 9 year old GE that was dying a slow death. We wanted to keep with the KitchenAid brand to match our other recent purchases (36in dual-fuel range and Architect Series II dishwasher). I was very set on a side-by-side (we're not a fan of bottom freezers anymore). I don't love the icemaker/water dispenser in this model. The angles seem off for where/how the ice and water come out. The ice flies all over the floor if you don't get it right and the water reserve tray is very shallow and useless. Would like more shelves in the freezer and one more on the door for the fridge. It is quiet and looks nice and has been running just fine, but it's pretty lackluster otherwise.
Date published: 2015-10-01
Rated 4 out of 5
by
JoeJ
from
Well Pleased
I bought this refrigerator two weeks ago because it fit the limited space in my kitchen. I considered alternatives from other maufacturers and settled on a Whirpool which seemd to fit the bill, however, my local retailer said that for very little extra money I would get superior features in the KitcheAid, those being exterior temperature contols, and ice maker with an open top ice bin, and an additional crisper on the door. OK, sold. He said the only caveat is this model was being dicontinued and it may be tough to get one, but we gave it a shot. Well I did get one and so far it has been a joy. The refrigerator is quiet, much much quieter than my old Maytag. It gets very cold and has a copious freezer (so big I am in the market for an additional shelf). The outside temperature controls for the fridge frees up room on the top shelf inside, the drawers are huge, and it is so deep that an average large Pizza box fits with no sweat. Even the stainless steel door is easy to amintain with Weiman Stainles Steel wipes. The only thing I miss is cantilevered shelves which would allow a bit better use of space. I'm sorry to see this has been discontinued, because frankly, it offers the most utility I have seen in a side by side of this size, but I do underatand that sales of premium small refrigerators limited, I'm just lucky I got one!
Date published: 2015-09-14
Rated 3 out of 5
by
lindaw
from
Avergage Review
When dispensing ice, unless you are leave glass under dispenser after pushing, you will have ice on the floor. Other problem is I have found that cheese gets moldy very quickly in the deli keeper.
Date published: 2015-05-04
Rated 5 out of 5
by
MichaelMKE
from
So far, so good
We've had this fridge now close to 2months, it's been great. Really like the efficient use of space. My last fridge was 36" wide, but I feel like this has nearly the same amount of storage. Hooked up the icemaker to an RO system and it's perfect.
Date published: 2015-04-25
Rated 4 out of 5
by
gary n tish
from
Fit and Finish very Nice
I have used this refrigerator for about a month now and I am well pleased with it. Its appearance/finish is great. Had a missing shelf, 1 fridge, 1 freeezer, and the deli drawer, but KitchenAid has promptly sent us the missing parts. Well pleased with their customer support.
Date published: 2015-04-25
Rated 5 out of 5
by
JJR5
from
Well Built
Very Happy with the purchase of our new refrgerator. Well built.
Date published: 2015-04-24
Rated 5 out of 5
by
Crow
from
Perfect fit for our kitchen.
Needed to find a refrigerator that would fit into a tight space....and have all the bells and whistles......met our needs.
Date published: 2015-02-28