High Performance Series Blender
High Performance Series Blender is rated out of 5 by 12.
Explore every taste and texture with the KitchenAid® High Performance Series Blender. This blender features a range of variable speeds (1-9), a powerful 3.0 Peak HP motor with stainless blade and simple controls for all of your healthy blends.
Black Matte - KSB6060BM
Features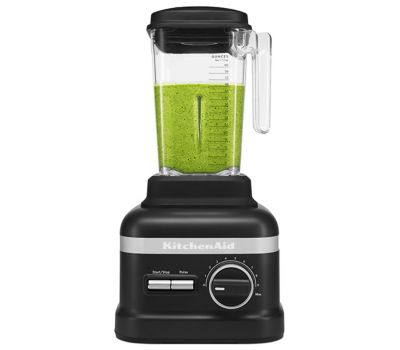 Achieve Your Ideal Texture
With a range of variable speeds 1-9, powerful 3.0 Peak HP motor and tamper.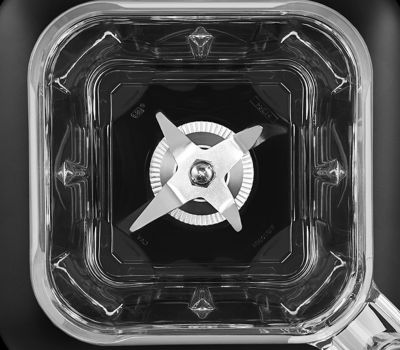 Optimal Performance
With the blender's powerful 3.0 Peak HP motor and stainless steel blade for every blend.
Simple Controls
With just a dial and two switches. And the variable speed, with manual high speed, offer you the range of power you need for all of your healthy blends.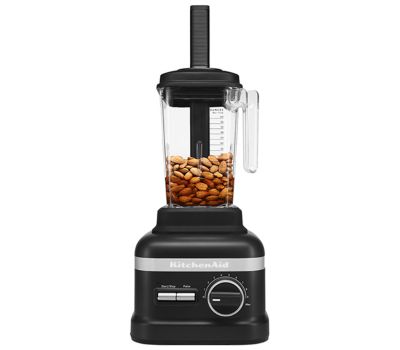 Tackle Tough Ingredients
With the tamper, which helps push ingredients into the blending vortex for a smooth finish of extra thick blends.

Durable and Long Lasting
With the diecast metal base and controls and commercial grade components. Backed by a 10-year hassle-free replacement warranty.

Model KSB6060 includes
(1) Blender jar with 60 oz rated volume, and 90 oz total volume, (1) Ingredient measuring cap, (1) Tamper
Specifications
Features
Jar Style
Square, Single-Wall Jar
Blade Design
Stainless Steel
Intelli-Speed® Motor Control
Yes
Show More Specifications
Reviews
Rated 5 out of 5
by
Jwaspinall
from
Best Blender
I received this item from KitchenAid to test the product. I am so happy I did. This is the best blender I have ever used. I used the recipes in the accompanying recipe book for smoothies. Kids loved the recipes and the smoothies. Will be making more smoothies at home going forward.
Date published: 2018-01-23
Rated 5 out of 5
by
Rita58
from
Best Blender Ever!
This blender is the best blender I have ever owned! It is so strong, it blends so fast and clean up is a breeze. I used to buy Vitamix, but never again! I think Kitchenaid makes the best appliances, too. I used to buy Kitchenaid and was happy with them and several years ago I rebuilt my house and put in Subzero & Wolf appliances, as I have to replace them, I will replace them with Kitchenaid again! I have had more trouble with Subzero than I would have room to share here.
Date published: 2018-01-05
Rated 5 out of 5
by
NikkiH
from
Excellent features!
I have enjoyed testing and using this KitchenAid blender. The construction and parts are high quality. I will see myself using this to make different recipes. Thank you for allowing me to test it out.
Date published: 2017-12-16
Rated 5 out of 5
by
BILL 65
from
EXCELLENT
GOT IT ABOUT 1 YEAR AGO, VERY STRONG MOTOR , A LITTLE BIG, BUT HAS TO BE BIG FOR ALL THE POWER
Date published: 2017-12-15
Rated 5 out of 5
by
Fairway Gator
from
Awesome Appliance
Santa came early. I received my new KitchenAid High Performance Series Blender last week and I love it! It's sleek design looks great on the counter. What really blew me away was the ease in which I ground the frozen strawberries for my morning smoothie! I swear, it was like eating frozen yogurt! No lumps of frozen Barrie's anywhere! It took less than a minute on half speed! Can't wait to try more recipes included with the blender.
Date published: 2017-12-06
Rated 5 out of 5
by
nemille
from
A real workhorse!
The first thing I noticed about this blender is how large the base is compared to my older KitchenAid KSB565 blender. There's a reason for that...this blender delivers 2.40 HP at the pitcher where the older one gives 0.9 HP. Quite an upgrade! I wasn't sure the unit was all that attractive, given the somewhat clunky-looking, large base, but isn't all that power worth it? Besides, it looks kind of retro, and who doesn't like retro? The only thing I regret is that I wasn't able to get the blender in red, because all my other KitchenAid countertop appliances are red and I would rather they matched, but again, no biggie. When making hummus, I throw in all the ingredients at once, including chickpeas, gooey, lumpy tahini, fresh ginger root and whole Serrano peppers. Just a few pulses and the mixture was completely puréed, even the ginger and peppers. The blender didn't shake or wobble when run at higher speeds, which really wasn't necessary but I wanted to try it. The result was a very smooth mixture, not grainy, that pairs wonderfully with pita chips or crackers. My next project will be to make frozen bellinis, and I have no doubt that this powerhouse will have no trouble plowing through ice cubes!
Date published: 2017-11-13
Rated 5 out of 5
by
CandyCanyon
from
Excellent Product
Very pleased with KitchenAid's High Performance Series Blender! Eager to try new & exciting recipes that I couldn't consider with a regular blender. Give it a try, sure to please.
Date published: 2017-11-10
Rated 5 out of 5
by
Grande chef
from
Strong motor, easy controls, easy to clean
Was offered machine by KitchenAid to test and review. As a professional chef, have used in kitchens vita-prep, and loved them. This 3hp machine is stronger, and works well under stress. If you are looking to purchase a vita-prep, I would also consider this KitchenAid blender, it's built sturdier and feels solid. It's a lifetime investment, and with speed control, can make soups, sauces and any purees seem easy, no hot liquids shooting the top off. My only advise to only fill half to three-quarters, so no worries, and hold on, the motor is strong!
Date published: 2017-11-02
Rated 5 out of 5
by
Yoshi1
from
NO chunks
I used this blender to puree pumpkin for bread and pies. It created a super smooth consistency that made my baked goods awesome. I have also used a vita-mix blender and thought that the kitchen-aid was as good as or even better. Although it was louder I thought. I like this blender and know that what ever I need done it can do.
Date published: 2017-11-01
Rated 5 out of 5
by
Dinojo
from
Sturdy and powerful
Received this from kitchen aid on trial basis. Excellent blender. Very sturdy. Loved the base on blender. Will not tip or fall over. Blender is great for chopping,smoothies etc. love it.
Date published: 2017-10-30
Demos & Guides
guides
Use & Care Guide
Comprehensive information about your new appliance - from getting started to cleaning and maintenance.
Instruction Sheet
Instruction Sheet
Warranty Information
A complete description of your warranty coverage, and contact information for service and support.
Show More Guides