NEW
1200-Watt Convection Microwave with High-Speed Cooking - 30"
1200-Watt Convection Microwave with High-Speed Cooking - 30" is rated out of 5 by 110.
This high power, convection 1200-watt microwave oven unlocks your culinary creativity with the power of a microwave, a convection oven and a broiling element. Furthermore, the Crispwave™ technology and crisper pan allows it to be used for grilling, frying and convection cooking. The interior's CookShield finish wipes clean without harsh chemicals while the exterior is a bold blend of professionally-inspired styling with sleek touches for the home.
Stainless Steel - KMHP519ESS
Features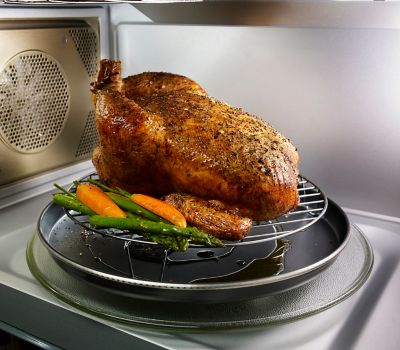 High-Speed Cooking
Expands the versatility of your microwave oven by combining microwave energy, broil element heat, and a convection fan to deliver browning and crisping.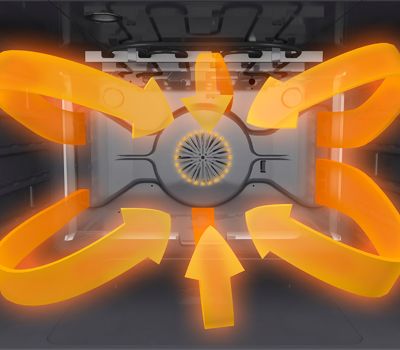 Convection Cooking
Circulates heat around the oven cavity with a 1600-watt convection element that allows baking at temperatures up to 425° F.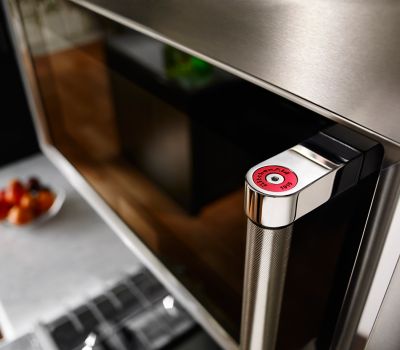 Professionally-Inspired Design Including Handle, Badge, Graphics, Chrome Chamfer.
A bold blend of professionally-inspired styling with sleek touches for the home. This microwave oven features Satin Textured Handles, Precision Glass Touch Controls, a Chrome Inlaid Frame, the KitchenAid® Badge and KitchenAid Brand Medallion.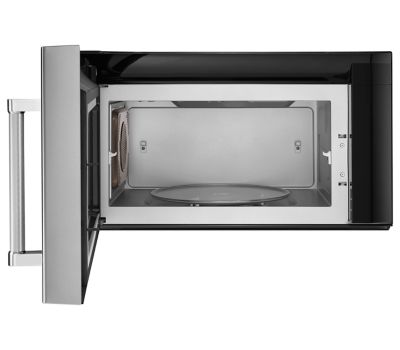 Cookshield Finish
Makes it easy to wipe the interior of the microwave clean without harsh chemicals so it looks clean and bright longer.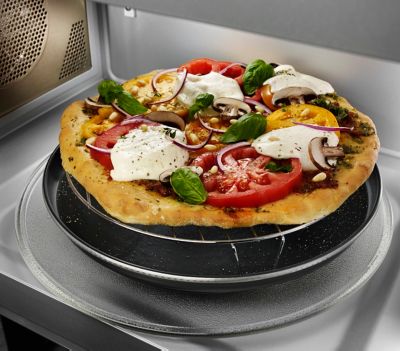 Crispwave™ Technology and Crisper Pan
Allows the microwave oven to be used for grilling, frying, and convection cooking. The specially designed crisper pan can be used to brown, crisp, and pan-fry foods.

1200 Watts Power
Cook your favorite foods quickly and thoroughly with high power.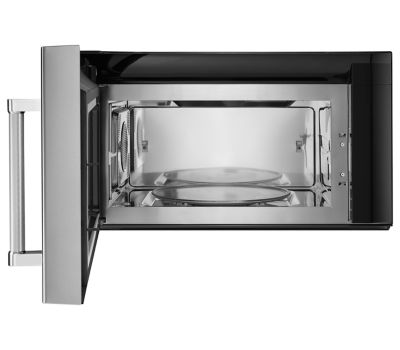 1.9 Cu. Ft. Capacity
Is large enough to comfortably fit different containers and work as a complement to your conventional oven.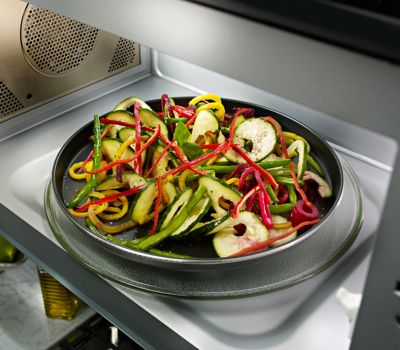 Halogen Cavity Lights and Task Light
Illuminate the interior of the microwave and provide visibility in the work area below with bright yet pleasing lamps.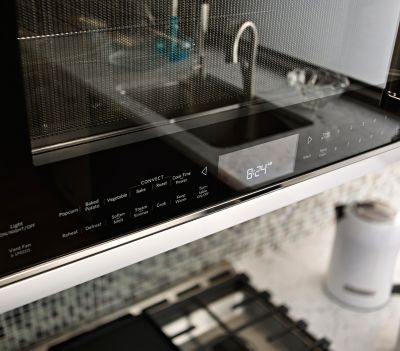 Steam Cleaning Function
Uses the power of steam to release spills and stains so they are more easily wiped away.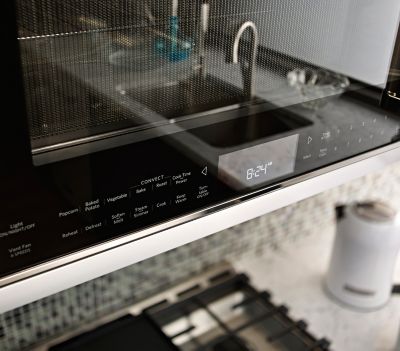 Keep Warm Function
Operates at 10% cooking power to keep cooked foods warm until they're ready to be served.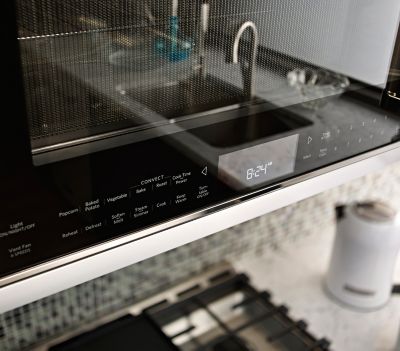 Sound-Based Popcorn Function
Listens to popcorn and uses the sound to know the precise moment it is ready.
Specifications
Configuration
Microwave Type
Over-the-Range
Dimensions|Capacity(FT3,cubic feet)
1.90
Configuration and Overview
Cooking Power Wattage
1200
Quick Touch Settings
Control Lock, Convect, Cook/Start, Cook Time, Crisp, Defrost, Grill, Keep Warm, Popcorn, Reheat, Soften/Melt, Speed Cook, Steam
Vent Type
Exterior or Recirculating
Controls
Filter
Charcoal Odor Removing Filter
Work Surface Light
Halogen
Show More Specifications
Reviews
Rated 5 out of 5
by
StAugBeach
from
Great 3 in 1 machine!
We replaced our microwave with this KitchenAid about 2 months ago. Love the machine! We haven't had convection before and really enjoy. Great machine. Timer is a little too quiet but all else is great.
Date published: 2018-02-13
Rated 5 out of 5
by
Chef2018
from
Wonderful Features
We purchased this about 1 month ago and are totally satisfied. Provides us with another oven. Very quiet.
Date published: 2018-02-06
Rated 5 out of 5
by
Shell123
from
Very virsitile
I bought this to replace my 16 yr old KitchenAid microwave, and I absolutely love it. All the features work great, I'm so glad I spent the extra money for this one it was well worth it.
Date published: 2018-02-05
Rated 3 out of 5
by
Trus
from
Very good microwave, very loud fan
We just had this installed and it looks great, and the microwave performs very well. The vent performs well at the highest speed, but any lower speed makes a loud buzzing noise which is really annoying. Overall we're happy with it, but probably would have considered another model had we known just how loud and annoying the fan is at lower speeds.
Date published: 2018-02-02
Rated 4 out of 5
by
Bossrjc
from
All Good!
Looks and works as advertised. Enhances our totally remodeled kitchen.
Date published: 2018-01-30
Rated 4 out of 5
by
JiminNE
from
Nice unit, but perhaps overpriced.
I've had this oven/fan in place for two months and I'm pleased with it. I have not yet tried the convection cooking yet, so no opinions on that. The microwave has a button to add 1 minute rather than 30 seconds, which is a bit inconvenient, and the turntable sometimes turns unevenly. But the microwave performs well, and the fan moves a lot of air for a simple over the range unit.
Date published: 2018-01-29
Rated 5 out of 5
by
Smitty41
from
Great features
Bought this a couple of months ago, when the vent hood fell on my cooktop and shattered it ( which I also replaced which a kitchen aid unit ) A little bigger than I thought it would be, but very quiet and happy with purchase
Date published: 2018-01-29
Rated 1 out of 5
by
The Easts
from
Don't buy this if you need a hood fan option
This microwave should NOT be sold as a over the range microwave with a hood fan. The hood fan operation is laughable. The microwave is wonderful and I love the way it functions, however, the hood fan will barely draw and ultimately my really expensive Kitchenaid range/cook top is going to ruin my microwave and cabinets because every time I use it moisture is dripping off of the microwave and collecting on the cabinets. And to clarify, we had the microwave replaced because we thought something was wrong with the 1st unit but the replacement is no better. The ducting has been checked and it's fine. Like I said, this shouldn't be sold as a hood fan. Buyer be ware.
Date published: 2018-01-15
Rated 5 out of 5
by
DoubleDownOn11
from
Magic Microwave...Seriously!
I needed a new microwave for the new house, and I definitely knew I wanted above-the-range mount, and internal grilling (as my last microwave had this feature). I came across this KitchenAid model, and with the added feature of a convection oven, I figured it had everything I wanted and more. This appliance's menu programs and "automatic sensing cooking" is really a wonder to behold. Thus far I used REHEAT (Casserole, Sauce, and Soup), SOFTEN/MELT (Soften Cream Cheese), COOK (Frozen Meal: Frozen Entree and Frozen Burrito), STEAM/SIMMER (Dried Pasta, Manual Steam (hot dog buns)), CONVECTION BAKE (Frozen Pizza), GRILL (Hamburger Patties, Manual Grill (hamburger buns w/ melting cheese)), & CRISP/SIZZLE (Brownies, Fast, and Frozen Pizza) and every time it has come out near perfect with no time or temperature selection by me (except manual functions). In one example when using the COOK (Frozen Meal: Frozen Entree) program, I inserted the frozen entree selected the appropriate meal size/weight and pressed start. Normally when heating these meals I would ballpark follow the package instructions, ie, heat on high for 5 minutes, then stir and flip foods, continue to heat 2-3 minutes, then let stand 1-2 minutes for it to be heated properly and evenly. I did none of that with this unit, simply selected the proper program and food weight, and it heated the entree perfectly. No stopping in the middle to stir or flip the foods, and when it was done, everything was near evenly heated, not super hot or still frozen parts, no burnt or dried edges. It seems like a minuscule little thing, but it still amazes me. I got a chance to try the RISP/SIZZLE (Brownies, Fast) program this weekend and it worked perfectly. I, per the instructions made the brownie batter per the box instructions, poured into the coated Crisp Pan, and let it run. 15 minutes, no preheating and perfect brownies! I would say my only "issue" with the microwave is the operation of the above-range vent. It has 6 settings (from high to low and 4 speeds in between), but you have to repeatedly press the button to cycle through all of them to turn it off...unless there is a way to turn it on to high, then turn it off instantly which I haven't figured out yet. But other than that I think it's great. I've cooked dried pasta in this unit 4 times with with perfect results. Amazing product!
Date published: 2018-01-03
Rated 5 out of 5
by
P e d
from
Great Features and works great
We bought this microwave about a month ago and had it installed right away. Well worth the money and effort.
Date published: 2018-01-02
Demos & Guides
guides
Installation Guide
Instructions for unpacking and installing your appliance, including electrical requirements and necessary tools.
Dimension Guide
Detailed dimensions of your new appliance with space requirements for the area surrounding it.
Use & Care Guide
Comprehensive information about your new appliance - from getting started to cleaning and maintenance.
Warranty Information
A complete description of your warranty coverage, and contact information for service and support.
In order to read a PDF file, you must have Adobe Acrobat reader installed on your computer. You can download the latest version at the Adobe website.
Show More Guides