24" Countertop Microwave Oven - 1200 Watt
24" Countertop Microwave Oven - 1200 Watt is rated out of 5 by 19.
Our roomiest countertop microwave expands your culinary horizons even beyond its spacious 2.2 cu. ft. capacity with nine sensor-driven and pre-programmed cooking cycles to eliminate guesswork, precise timed defrosting, plus convenient electronic controls and LED displays. The 16 9/16" turntable is recessed to maximize the oven's extra-large capacity. Available 30" or 27" Trim Kits provide a sleek built-in look when paired with a single wall oven.
Stainless Steel - KMCS3022GSS
Features

9 Quick-Touch Cycles Including Six Sensor Cycles
Takes the guesswork out of getting exceptional results from your microwave. The microwave will automatically adjust cooking time based on a menu of preprogrammed, menu-driven cycles.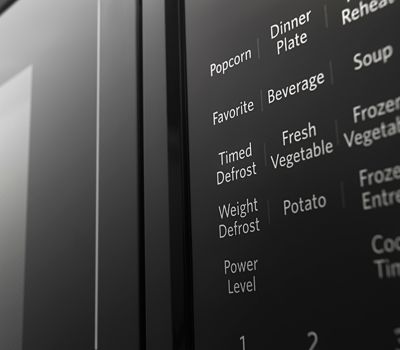 Timed Defrost
Allows intuitive operation by automatically setting the microwave oven's power level at 30% for the amount of time you select.

Electronic Controls with LED Display
Make the microwave easy to use and provide a display that shows the functions that are being programmed.

16 9/16'' Recessed Turntable
Helps food cook evenly by continually rotating throughout the cooking cycle. The turntable is sunken into the bottom of the microwave to maximize the capacity.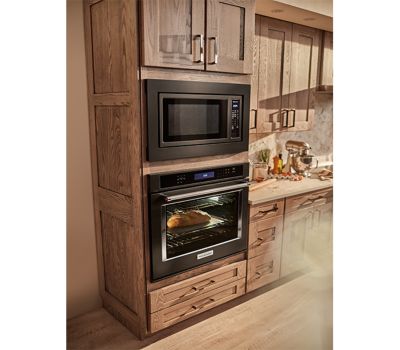 Accepts 30- or 27-Inch Trim Kit
Allows you to install your countertop microwave into an existing cutout for a more integrated appearance.

2.2 Cu. Ft. Capacity
Provides extra-large capacity to make this microwave a true complement to a wall oven or range.

1200-Watt Cooking Power
Cooks with the power to quickly defrost or heat even large dishes.

Color-Coordinated Stainless Steel Cabinet
Is finished in a color-coordinated brushed stainless steel to complement the other appliances in your kitchen.
Specifications
Configuration
Microwave Type
Countertop
Dimensions|Capacity(FT3,cubic feet)
2.20
Configuration and Overview
Cooking Power Wattage
1200
Quick Touch Settings
Add 30 Seconds, Beverage, Control Lock, Cook/Start, Cook Power, Cook Time, Defrost, Dinner Plate, End of Cycle Signal, Favorites, Fresh Vegetable, Frozen Entree, Frozen Vegetable, Pause, Pizza, Popcorn, Potato, Soup, Timer
Controls
Turntable Diameter
16 9/16
Show More Specifications
Reviews
Rated 2 out of 5
by
Brad1075
from
Control panel bubbling up
Built a new house 4 months ago and put all kitchen aid appliances in. The plastic on the control panel over the start button is bubbling and peeling off. We have never even used cleaning product on the panel, it's just from daily use. I hope the other appliances hold up better. For the price I expected more durability. It does heat very well. We even have to put things in for shorter times.The end beeps are pretty long and they don't stop even when you open the door. Not a huge deal, but kind of annoying when you are trying to be quiet. My main complaint is the fact that the control panel didn't last more than a few months.
Date published: 2018-02-17
Rated 1 out of 5
by
BEE1
from
short life
i bought a KMCS3022GSS 3 years ago and it went out on me and its not repairable. i do not recommend this model as 3 years very shot life for a microwave specially for a top brand like Kitchenaide
Date published: 2018-02-09
Rated 1 out of 5
by
RAOB
from
door does not open properly
the door does not open poperly. came without the hub. the replacement does not work for this model. when use makes noise. lost some feature that were on the previous mode. had to buy a new trip. trim is now plastic.
Date published: 2018-02-01
Rated 5 out of 5
by
Happy man 101
from
It does everything I want it to do.
It works great as all the rest of my KitchenAid products do. I am sold on the quality of all my Kitchen Aid appliances
Date published: 2018-01-30
Rated 2 out of 5
by
Betty677
from
This model needed to be replaced within a year
The connectors broke and stopped the microwave oven to stop working.
Date published: 2018-01-03
Rated 5 out of 5
by
kochu mon
from
owner
Good quality and spacious . i recomonded this product .
Date published: 2017-12-31
Rated 5 out of 5
by
Rubies
from
Wow, what a great microwave !!!
We just bought this microwave a few weeks ago and we absolutely love it. Cooks very fast and the extra large turn table is perfect for larger bowls. We also have a KitchenAid side by side refrigerator and dishwasher. They are great appliances too!
Date published: 2017-12-25
Rated 3 out of 5
by
DKlum
from
Sticky button
We really like this microwave for all its features and functionality —- except —- the button to open the door has to be pushed extremely hard to open the door. Otherwise a great unit.
Date published: 2017-12-16
Rated 4 out of 5
by
Gregorio
from
Very nice unit
I bought it two weeks ago. It works great and looks nice. The trim kit could be improved.
Date published: 2017-12-11
Rated 5 out of 5
by
SallyinTexas
from
Great Power!
This was part of a package for our new construction...it is the largest microwave I have ever owned. I was skeptical that it would heat evenly, but it does!
Date published: 2017-12-11