4-Quart Multi-Cooker with Stir Tower Accessory
4-Quart Multi-Cooker with Stir Tower Accessory is rated out of 5 by 47.
Make great cooking simple with this all -in -one cooking system. Over 10 cooking settings for everyday dishes, one pot wonders, gourmet masterpieces and more. Risotto, rice, sear, sauté, simmer, soup, yogurt , boil/steam, slow cook high and low, keep warm (up to 24 hours). Stir tower included to mix, flip and stir ingredients in the KitchenAid® Multi-Cooker. Perfect for risotto.
Candy Apple Red - KMC4244CA
Features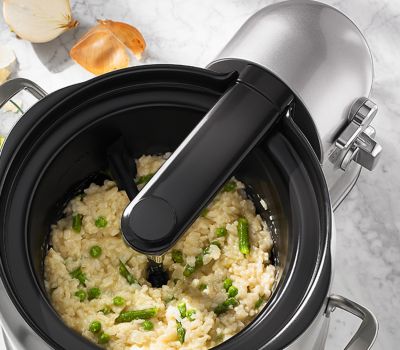 Mix, Flip, Scrape and Stir Ingredients
With the included KitchenAid® Stir Tower Accessory for even and thorough cooking.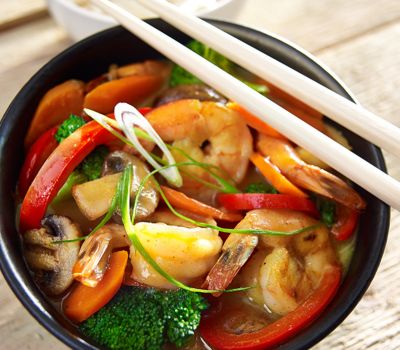 For Cooks of all Levels
With over 10 easy to use settings (4 step-by-step): risotto, rice, sear, sauté, simmer, soup, yogurt , boil/steam, slow cook high and low, keep warm (up to 24 hours).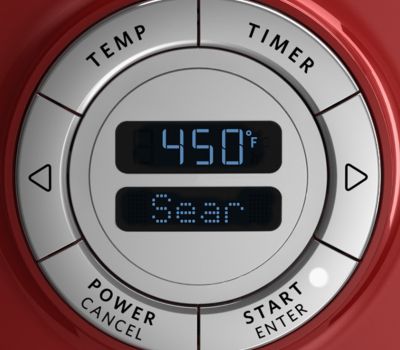 Perfect Results, Every Time
With the precise temperature control and settings, ensuring consistent results for every recipe.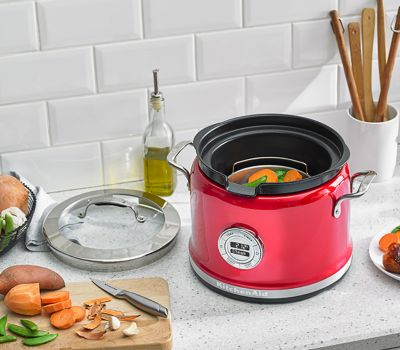 12 Hour Programming
And 24 Hour Keep Warm mode so your recipe is hot and ready just when you need it.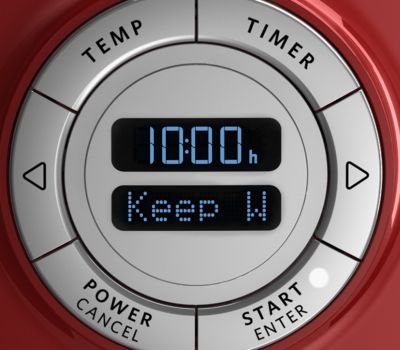 Guided Digital Display
With simple step-by-step instructions for a variety of settings.

Model KMC4244 includes
(1) 4-Quart non-stick, ceramic cooking vessel, (1) Glass lid with pour spout, (1) Dual purpose steam basket/roasting rack, (1) Stir Tower with silicone flip and stir paddle
Specifications
Features
Number of Temperature Settings
11
Show More Specifications
Reviews
Rated 5 out of 5
by
jalva
from
Great addition and makes my cooking easy!
This a great product that you can use with ease! Use it and you'll enjoy iy very much!
Date published: 2018-04-16
Rated 3 out of 5
by
jpb98
from
Loved it ... but
I loved the whole concept of the stir tower .. but there was a little chip in the bottom of the enamel pot and I returned it. So sad.
Date published: 2018-03-08
Rated 3 out of 5
by
Mrs. DABK
from
I love my multi-cooker, but . . . . .
I absolutely love my KitchenAid Multi-Cooker, but I am concerned about the peeling of the black layer on the insert pot liner. My unit is peeling underneath the insert pot liner and also on the inside of the insert pot liner where the stir tower attaches. I have only used the unit a hand full of times and I am very careful when using and cleaning the insert pot liner. Would be considered defective?
Date published: 2018-02-19
Rated 5 out of 5
by
Robert in Nevada
from
Couldn't be easier.
Really nice to be able to have it constantly stirring while I sit on the couch.
Date published: 2018-02-15
Rated 4 out of 5
by
senior chef
from
simplifies my life
This was a Christmas present. I have not used the stirring device. Machine is very attractive, easy to use and extremely easy to clean.
Date published: 2018-02-09
Rated 4 out of 5
by
Carlee 123
from
Multi-cooker
I got this for Christmas and you can do with this crock pot. One pot meals.
Date published: 2018-02-08
Rated 4 out of 5
by
Zacmtz7
from
The stiringntower is great for soups.
I made chili as my first dish. Let it simmer all day. Haven't mastered the controls just yet so after so long it quit actually simmering, but stir tower is straight forward and great!
Date published: 2018-02-06
Rated 5 out of 5
by
lkag
from
Love the color
Bought this months ago used several times. Love the stir feature
Date published: 2018-01-29
Rated 5 out of 5
by
DoubleDownOn11
from
Like a slow cooker...but so much more!
I bought the Multi-Cooker w/ Stir Tower about 3 weeks ago now and could not be more pleased with it. There are several "family" casseroles I like to make whereas some ingredients would be prepared in 2-3 pots/pans on the stove, then combined in a casserole dish and baked in the oven for 30-45 minutes. Normally this would take about 1 - 1-1/4 hours from start to eat. But being able to start cooking/warming most of ingredients (including frozen vegetables), and then cooking noodles in my new KitchenAid microwave, my total time from start to eat has dropped to less than 30 minutes for several of these recipes. I love the Stir Tower Accessory, which can mix all the ingredients for me and provide an intermittent stirring as needed. I will admit if the Stir Tower Accessory did not exist I may have not purchased this item, but it does, and I love it. It's also great for party dips and other slow-cooker recipes to provide the occasional stirring so that the top layer doesn't get that over done look. I have really only scratched the surface of the capabilities of this unit, but I am looking forward to find out more great things that this appliance can do so well.
Date published: 2018-01-03
Rated 4 out of 5
by
Slow Cooker
from
Good multi-cooker
Well made with solid construction. In true kitchenAid fashion you can place your hand on the sides of the unit even after 10 hours of cooking due to insulation which is important for safety. Wasn't obvious you had to hold the power down to turn it off. Also when you move from pre-heat to slow cook or other timer settings you have to hit the button to start the clock. It heats very quick so it's not a big deal.
Date published: 2017-12-10
Demos & Guides
guides
Use & Care Guide
Comprehensive information about your new appliance - from getting started to cleaning and maintenance.