NEW
36-Inch 5-Element Induction Cooktop, Architect® Series II
36-Inch 5-Element Induction Cooktop, Architect Series II is rated out of 5 by 156.
This 5-element induction cooktop combines precision and speed. Electromagnetic technology directly heats the pan while keeping the cooktop surface cool to the touch. Twelve power levels give you the power to rapidly bring water to a boil and sear scallops to perfection. A bridge function combines the power of four elements into two large cooking zones for specialty cookware.
Black - KICU569XBL
Features
5-Element Cooktop
Provides five independent cooking surface areas.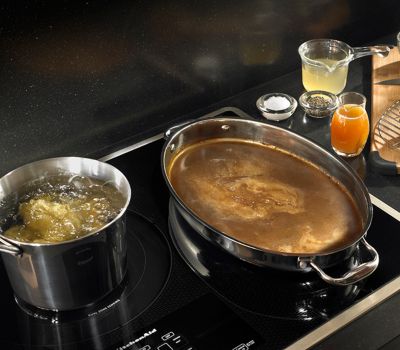 4 Elements with Bridge Functions
Allows the flexibility to convert four cooking zones into two large cooking zones which provides additional space to accommodate specialty cookware.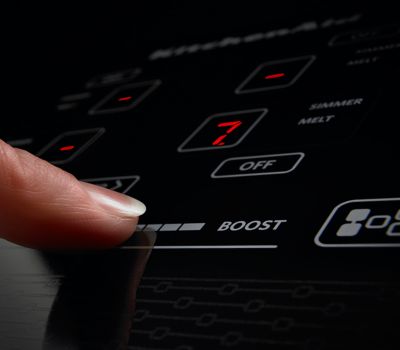 12 Heat Level Settings
Provide various levels of heat to fine tune cooking techniques ranging from melting chocolate and simmering a sauce to searing meat or achieving a rapid boil.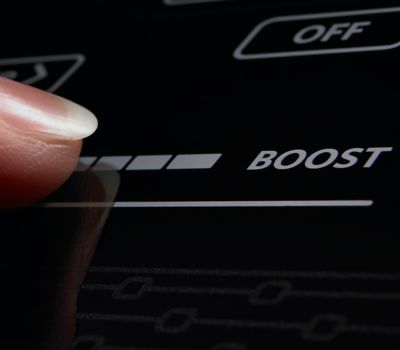 Performance Boost
Allows you to exceed the maximum heat-level setting for up to 10 minutes, perfect for rapid boiling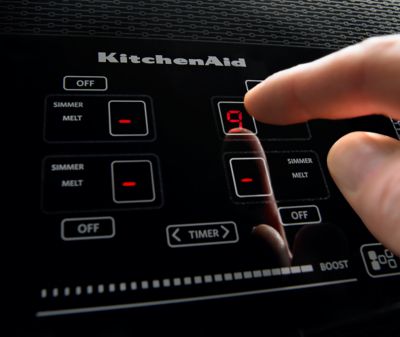 Touch-Activated Controls
Integrate seamlessly into the surface and include a slider for heat-level selection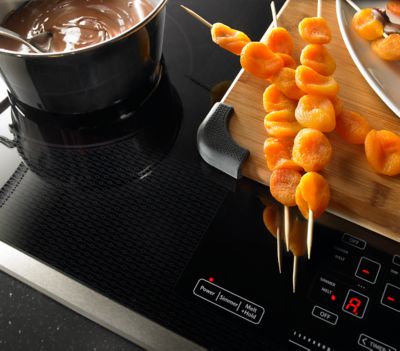 Melt and Hold
Uses low power levels for melting delicate ingredients or keeping cooked food warm without scorching.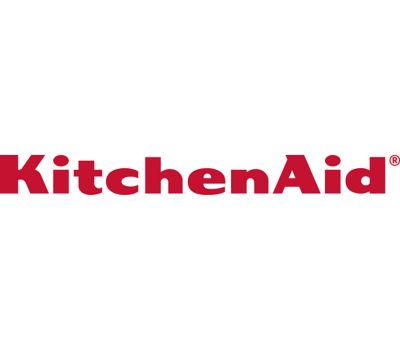 Simmer Function
Automatically selects a low power level to help maintain a constant simmer without boiling over.

Pan Size Detection
Provides feedback on whether pan size is suitable for the selected element.

Control Lock
Helps prevent unintended use and makes it easier to clean the control panel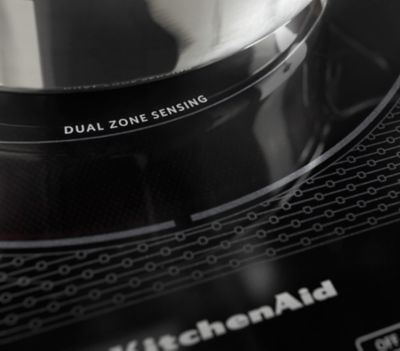 12''/9'', 4800/2500-Watt Element
Offers two element sizes in one space to accommodate a variety of pan sizes without changing elements and allows you the power needed to cook at high heat.
Specifications
Configuration and Overview
Surface Material
Ceramic Glass
Number of Elements-Burners
5
Cooktop Element Style
Induction
Installs Over Built-In Oven
Yes
Cooktop Features
Center Rear Power
4800/2800W
Left Front Power
2500W/1800W
Left Rear Power
2500W/1800W
Right Front Power
2500W/1800W
Right Rear Power
2500W/1800W
Right Rear Element-Burner Type
Bridge
Controls
Heating Element On Indicator Light
Yes
Hot Surface Indicator Light
Yes
Show More Specifications
Reviews
Rated 1 out of 5
by
36" induction
from
Not worth spending 2k for a bad induction cooktop
I bought a 36" kitchen aid cooktop from Best Buy in December 2017 for almost 2,000. After 3 months, barely used it...3 out of 5 stove didn't work, showing error code F47.
Date published: 2018-04-16
Rated 1 out of 5
by
ArthurPM
from
Nothing but problems
This cooktop has been problematic since the beginning. The side burners do not always maintain the magnetic connection when cooking with proper cookware, and make a clicking noise that indicates the element is turning on and off. Extremely frustrating for serious cooks. The large middle burner gets confused when a large pot/pan is placed on it making the outer ring cooking element also turn on/off with the same clicking sound. 2 repair calls resolved nothing, and customer service has not been helpful. Despite all this I have frustratingly cooked around these problems, but ultimately the glass cracked because it could not handle the heat of multiple items cooking at once on high heat. In theory the bridge is great, and was the main reason I purchased this, but there are so many options on the market now with the same or better bridge functionality. Look at the Bosch or the Wolf cooktops instead. This unit will be a headache if you do seriously cooking.
Date published: 2018-03-29
Rated 1 out of 5
by
verydisapointed
from
Nothing but problems
I was a contractor for many years and have used KitchenAid products for the last few decades in high end spec homes and my personal homes. This product is a total disaster. It was replaced once when new and now it's been broken for 6 weeks, error codes (F47) which is VERY common. Customer service is awful, we have spend hours and hours on the phone with no resolution even with an extended warranty. Nobody is willing to remove it including the KA authorized repair companies as they say the glass will break. It was installed with the KA sticky tape and will not come out. I would NOT get this again and would look at other brands. Their other products are good but their induction cooktops are awful. I would give it zero stars if I could. No support, many known issues, bad customer service and not standing behind their product.
Date published: 2018-03-10
Rated 4 out of 5
by
Habbilah
from
I love induction cooktops
All is good, but I wish there were two large burner surfaces. The bridge is a good idea, but how does one use two large frying pans at the same time?
Date published: 2018-03-03
Rated 5 out of 5
by
Anonymous
from
Best ever cooking
Purchased induction cooktop by KitchenAid six years ago during a major kitchen remodel I saw induction cooking back in the 1970s and was always intrigued. I did extensive research on the use of gas, electric and induction surface cooking. Induction is by far the most efficient, safe and responsive method of cooking. This smooth glass surface is so easy to keep clean and spills are a breeze to clean up. The controls are also bridge to use. I can just tap anywhere along the control and it's selects temperature setting. Or I can slide along the control for the same effect. If I remove the pot I get a signal that the pot has been removed and the burner will turn off. However, when I replace the pot the burner setting is restored. With a glass surface there is the chance of scratching as someone mentioned in a complaint in one of the reviews. I knew through my research that you could cook with a dish towel or paper towel between the burner and the pan. So, I tried that technique this morning as I had done years ago when we first purchased the cooktop while frying eggs and that method worked just fine with no heating of the paper towel. There is one way to reduce the chances of scratching the cooktop. I have but one complaint. When I purchased our induction cookware, there is one 4 1/2" sauce pan that I am unable to use because the smallest burner is 7 inches. I wish there was a remedy for this problem. Aside from this I am completely happy.
Date published: 2018-02-23
Rated 4 out of 5
by
Kjk1176
from
Show piece!
I've been using my new cooktop for just over a month. It's been a learning curve to say the least! First, i purchased the wrong cookware (stainless steel with an aluminum core will not work!). Second, I have cooked on electric my whole life but this induction business is a whole different ballgame. The heat is exact, efficient, and I've been burning a lot of my dry foods... it takes time to adjust. I am fairly tech savvy and still forget to select the correct burner sometimes before I try to alter the temp, easily fixable, just annoying. I love the way it cleans up so nicely with minimal effort! And everyone who sees it is impressed! What I do wish was different is that if you lift a pan off for just a few seconds to add water or drain grease... the burner turns itself off. I'm sure thats a safety feature, but I wish it gave you like 10 seconds or something.
Date published: 2018-02-08
Rated 5 out of 5
by
Jans oven
from
Love this cook top
We have had cook tops before and this one is everything anyone could ask for
Date published: 2018-01-29
Rated 3 out of 5
by
ksriii
from
Smell of burning wires after five years
We love induction cooking. The 36" cooktop from Kitchenaid has been a good cooktop. As other reviews cover, adjusting the temperature is sometimes difficult especially if your fingers or the top is wet. After 5 years, the cooktop started to smell of burning wires. Repair costs are so expensive, we would be better off replacing it...
Date published: 2018-01-29
Rated 4 out of 5
by
Stan-ley
from
Great so far needs improvement
It's difficult to choose a power level, it's difficult to see outline of where the pan belongs. It seems to cook favoring one side of pan.
Date published: 2018-01-28
Rated 5 out of 5
by
Jo Ann H.
from
Excellent!
I love this cooktop. If there is nothing on the burner, it turns itself off. No worries about leaving it on. I also love that it has a lock mode so you can't turn it on accidentally. Great if you have small children around,
Date published: 2018-01-24
Demos & Guides
guides
Instruction Sheet
Instruction Sheet
Oven and Cooktop Combinations
Oven and Cooktop Combinations
Dimension Guide
Detailed dimensions of your new appliance with space requirements for the area surrounding it.
Use & Care Guide
Comprehensive information about your new appliance - from getting started to cleaning and maintenance.
Warranty Information
A complete description of your warranty coverage, and contact information for service and support.
Installation Guide
Instructions for unpacking and installing your appliance, including electrical requirements and necessary tools.
In order to read a PDF file, you must have Adobe Acrobat reader installed on your computer. You can download the latest version at the Adobe website.
Show More Guides