30'', 1000-Watt Microwave Hood Combination Oven, Architect® Series II
Ratings
30'', 1000-Watt Microwave Hood Combination Oven, Architect Series II is rated out of 5 by 289.
This 30-inch microwave hood combination oven features a three-speed fan that helps you whisk away steam, grease, and odors to help maintain a fresh kitchen environment. The oven features a full-size, 2.0 cubic foot capacity and up to 1000 watts of power to go along with sensor cycles that take the guesswork out of getting exceptional results.
guides
Dimension Guide
Detailed dimensions of your new appliance with space requirements for the area surrounding it.
Use & Care Guide
Comprehensive information about your new appliance - from getting started to cleaning and maintenance.
Warranty Information
A complete description of your warranty coverage, and contact information for service and support.
Installation Guide
Instructions for unpacking and installing your appliance, including electrical requirements and necessary tools.
In order to read a PDF file, you must have Adobe Acrobat reader installed on your computer. You can download the latest version at the Adobe website.
Show More Guides
Below are only the articles for your model.
Search within results:
Parts
To buy replacement parts for your appliance, > See parts.
Accessories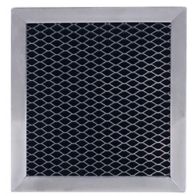 Part # 8206230A
Replace your charcoal microwave hood filter every 6 months to improve air circulation and remove odors. Dimensions are 5" by 5.375" by 0.375". Measure your current filter to assure correct replacement.
MSRP: $8.49
300 CFM, 3-Speed Fan Control
Helps maintain a pleasant living environment during every cooking application, from simmering to stir-frying. You can match fan speed to your cooking needs, effectively removing steam, grease, and odors from the air.
Quick Defrost Cycle
Provides rapid defrosting for one pound of frozen meat, fish, or chicken.
Sensor Steam/Simmer Cook Cycle
A sensored microwave oven cycle that allows precise steaming or simmering based on the food type and doneness level selected.
Additional Features
Electronic Controls
Let you operate the microwave with the touch of a finger.
2.0 Cu. Ft. Capacity
Enjoy the flexibility to easily microwave food in containers of almost any size with 2.0 cu. ft. of capacity. Make meal time simple by using the ample space for multiple dishes.
Configuration
Microwave Type
Over-the-Range
Dimensions|Capacity(FT3,cubic feet)
2.00
Configuration and Overview
Cooking Power Wattage
1000
Quick Touch Settings
Add 30 Seconds, Beverage, Control Lock, Cook Time, Defrost, Dinner Plate, Keep Warm, Pizza, Popcorn, Potato, Reheat, Soften/Melt, Soup, Steam
Controls
Filter
Charcoal Odor Removing Filter
Work Surface Light
Halogen
Show More Specifications
Rated 1 out of 5
by
Kim ayers
from
Faulty door switch. Look online at number of repla
I purchased 3 years ago. One person in household. Now I have to repair or replace.
Date published: 2018-01-29
Rated 2 out of 5
by
patsgirl
from
Completely Frustrated
Although this is supposed to be a "convect" cook, there isn't a manual to explain how to use it! How do you bake? How do you roast? It shows baking in the accessory configurations, but no instructions!!
Date published: 2017-12-09
Rated 3 out of 5
by
Janey
from
Looks nice
I just had to replace the board for the door and Kitchen Aid replaced the main Board. We moved into this house last year and we became the new owners. All the appliances were bought in 2014. 3 years old?
Date published: 2017-12-07
Rated 1 out of 5
by
Waves
from
Keeps Breaking
I've had this microwave for less then 3 years, have replaced the door twice and GUESS What it broke again. Every time in the same place. It likes to freeze a lot. It will kick on eventually. The light underneath burns out very fast. Quit putting a light in it because it's not worth it. The hood cover broke into pieces. But there is nothing they can do to remedy the situation. I have the fridge, cook top, dishwasher, mixer, food processor, blender all to which seem to hold up to the kitchen aid standard. This microwave, not even close.
Date published: 2017-10-06
Rated 1 out of 5
by
HinM
from
Terrible, do not buyt this
This above-the-stove microwave has a METAL handle. If you cook ANYTHING on the burner beneath the handle, the handle gets too hot to touch. I have not burned my fingers, but touching the hot handle has left them tender and sore. Do not install this microwave over a stove if you ever want to use the front right burner and the microwave at the same time! Also, you cannot defrost or reheat for an amount of time. You have to select one of the few preprogrammed foods, and then select the amount of food, and then you are stuck with the time the microwave uses. I want to be able to press Reheat for 2 minutes, or Defrost for 8 minutes, and have it in my control.
Date published: 2017-06-03
Rated 1 out of 5
by
dave
from
3 Strikes
Here we go again. For the third time, again, this microwave has died on April 29, 2017. There was a bad capacitor which cost me $181 in May 2016. Then again, in October 2016, it died and this time was some type of fuse monitor which cost me $214. The unit was purchased on 9/13/2013. SN TR31721871. So now I need to decide to either spend money on another service call and parts, and go through the aggravation of dealing with unprofessional call center employees, or just replace the unit. I am inclined to replace the unit. I also purchased at the same time a refrigerator, stove and dishwasher. Clearly, my microwave must be a lemon, Kitchen Aid : I expect a response and I expect that you will replace this unit at your cost.
Date published: 2017-04-30
Rated 3 out of 5
by
John N
from
Not so great -- KitchenAid, what happened to quality?
As with another reviewer here, the door close sensor worked sporadically for a couple months then broke completely. Now the microwave will not work and I'm forced to hire a repairman to come fix a 2-1/2 year old microwave. Also bought a refrigerator at the same time and I have been totally frustrated with it. I will not buy KitchenAid again.
Date published: 2017-03-09
Rated 1 out of 5
by
Chris
from
All pieces of junk. Poorly quality.
From Micro wave to refrigerator to dishwasher to cooktop range - all a piece of junk that I have had to have repaired.
Date published: 2017-02-16
Rated 5 out of 5
by
Jose
from
Great features
I am very happy with this microwave and the looks is beautiful.
Date published: 2017-01-13
Rated 1 out of 5
by
TCQ
from
did not liked it that much, i missed my GE Profile better!
after re-heat open & close the door, you have to keep reset button, this unit are brand new, dont heat that good. special it is a 1000 watts power.
Date published: 2016-11-26