30" Width 4 Burners Easy Clean Porcelain Cooktop Thermal Oven
Ratings
This KitchenAid® gas range combines the infinite-heat control of four sealed burners with the even cooking and consistent results of a conventional oven.
Below are only the articles for your model.
Search within results:
Parts
To buy replacement parts for your appliance, > See parts.
Accessories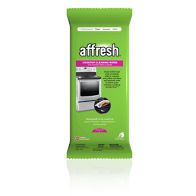 Part # W10539770
Affresh® Cooktop Cleaning Wipes are specially formulated dual-sided wipes with a scrubber side to remove everyday residues and a smooth side to leave your ceramic cooktop shiny and sparkling with a streak-free finish1.
MSRP: $4.99
4.1 Cu. Ft. Capacity
4.1 Cu. Ft. Capacity
Variable Time Self-Cleaning System
Automatically locks door during the Self-Clean cycle. Child lockout oven controls let you decide when the oven is accessible.
(1) 14,000 BTU Power™ Burner
The Ultra Power™ Burner is a specific burner on the unit with an increased capacity of 14,000 BTU on gas units. The high power of this burner is particularly useful for consumers living at high elevations where lower BTU ratings are common.
Additional Features
(2) 6,000 BTU Simmer Burners
BTU = British thermal unit. A measurement of the amount of heat needed to raise one pound of water by one degree Fahrenheit.
Full Surface Cast Iron Burner Grates
Heavy-duty grates cover the cooktop surface. Spills and drips are contained, and it's easy to move pots and pans to different burners.
Front Electronic Controls with Scrolling Graphic Display
Front Electronic Controls with Scrolling Graphic Display
Auto Time Bake
A selectable oven function that lets you program a start and stop time for your oven.
Sabbath Mode
Overrides the oven's automatic shut-off function, keeping it active for hours of uninterrupted cooking and making it possible to use the oven on the Sabbath without turning it on.
(1) 1,200 Watt Electric Halo Broil Element Surrounds Gas Burner
A 1,200-watt electric element on KitchenAid® gas ranges. This element provides supplemental heat for the gas broiler to assist in searing and broiling.