Dicing Kit Accessory for 13-Cup and 14-Cup Food Processors (MODELS KFP1330, KFP1333, KFP1344, KFP1433, AND KFP1466)
Dicing Kit Accessory for 13-Cup and 14-Cup Food Processors (MODELS KFP1330, KFP1333, KFP1344, KFP1433, AND KFP1466) is rated out of 5 by 17.
The KitchenAid® Dicing Kit Accessory for 13-Cup and 14-Cup Food Processors slices then dices hard or soft fruits and vegetables for uniform cubes every time. Perfect for dicing potatoes for hash browns or fruits for a summer fruit salad.
Other - KFP13DC12
Features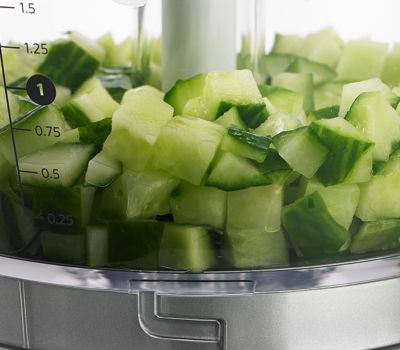 12 mm Commercial-Style Dicing
Slices then dices for uniform cubes every time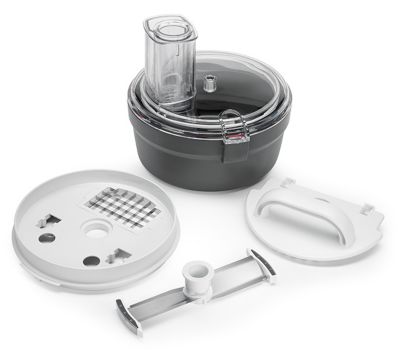 KFP13DC12 Includes
Dicing kit with clean out tool
Reviews
Rated 1 out of 5
by
LisaG12
from
Unable to use!
The instructions are a few pictures.! I cannot figure out how to use this thing and your website has nothing listed but the manual for my food processor not this attachment!! How do you use this????!!!
Date published: 2017-12-25
Rated 1 out of 5
by
Fiercely Frustrated
from
UNUSABLE!! GUIDES DO NOT LINE UP TO ATTACH TOP!!
I'm pretty mechanical (fix about everything there is to fix around the house) so when I couldn't line up the top to "click" like is shown on the video for this, I took it as a challenge! 2 hours later, I finally gave in and checked the internet...only to find I could have saved myself a couple of hours if I'd read the reviews on this piece of junk. The guides absolutely cannot and will not line up if the blade is inserted. I tried everything - taking it apart, making sure the pieces were assembled properly, checking and rechecking, and in the final final final try, MEASURED each piece to see what causes the installation to go wrong. The problem is , when inserting the "disk" shaped piece, the two small tabs prevent the "disk" from seating properly. Upside down, it seems to almost fit but right side up, no way. What a frustrating waste of time and money. Arggghhhhh. Think I'll give up on this endeavor and try more Cuisinart products.
Date published: 2017-12-17
Rated 1 out of 5
by
Curvy6
from
Dicing Kit unusable
I bought KFP1356 from QVC that came with this dicing kit, and it is horrible. As others have noted, the lid doesn't sit in the track of the food processor base properly. I thought I had it attached but then had to tap it with a rubber mallet just to get it back apart. Fortunately it didn't break. What is KitchenAid's response? So many of us have unusable accessories. Will there be an appropriate lid manufactured?
Date published: 2017-11-25
Rated 2 out of 5
by
Star64
from
Disappointed
I purchased this dicer with a food processor on QVC. On the program they made it see so easy and well fit. To start, the Processor didn't come with Any instructions and I struggled get in contact with anyone from KitchenAid I sent many emails with no response and QVC gave a the run around. Very disappointed. Finally last night one of the ladies who show this product on the show provided me a link to print the Manuel (except dicer) and video on YouTube.
Date published: 2017-01-04
Rated 5 out of 5
by
Emmy
from
Great product
I purchased a 13 cup food processor with a dicing kit and absolutely love it. I see some people frustrated that the lid doesn't line up. I have to confess that I was very frustrated too at first. My daughter dropped in and discovered that I was putting the lid on backwards. She turned the "shoot" section to the front and it went together perfectly. When I look at the entire machine, assembled, I feel a little stupid for not noticing the mistake I was making. It is now simple for me to assemble and works like a charm.
Date published: 2016-12-08
Rated 1 out of 5
by
Kathy
from
An Absolute Nightmare! Is There A Zero Star!
I purchased this expensive (over $150.00) Dicer Kit for my 13 cup KitchenAid food processor. From the beginning I could not attach the lid to the processor bowl. I pressed down on the lid with all my strength while attempting to turn the lid. To no avail! My very strong son-in-law could not get the darn thing to line up with bowl even after rubbing a little cooking oil on the red gasket! I contacted KitchenAid, but CS could not understand the problem. I was shipped a new kit which didn't work either! After very close inspection I realized the KitchenAid engineers definitely failed in the specs matching the dicer lid to the processor bowl. The locking tabs don't align! I was so frustrated I threw the one I purchased in the trash, and sent back the replacement to KitchenAid. As much as it grieved me to do so, I shelled out more funds to purchase the accessory dicer kit for my KitchenAid stand mixer. It works, but is a pain to clean. Liquid from the apples and celery, for making salad, leaks down the blade shaft into the unit which cannot be immersed into water for cleaning. Also, cleaning the dicer grid is an arduous chore. My dishwasher leaves bits of food in the grid. I've used toothpicks attempting to remove the residual left behind food. Can't be done! Next step is to purchase a pair of tweezers to use only for the purpose of cleaning the blasted thing!
Date published: 2016-10-26
Rated 1 out of 5
by
Lanosoro
from
Very frustrated & disappointed!
I bought the KFP1355BU 13 cup Food Processor with Exact Slice off of one of the "3 letter shopping channels" a couple years ago. This was my first ever purchase of any Kitchen Aid appliance. While pricey, I heard of its good reputation and wanted to invest in this appliance and to use in my first home that I would be moving into soon.The biggest draw to me was the dicer since it is such a chore for me & hurts my eyes when I cut onions. I also planned to get use to dice tomatoes & cucumbers for salads, and potatoes. I finally got to get my processor for the first time today. The processor and other standard attachments work well, but to my chagrin, the lid for the dicer attachment doesn't fit and allow me to lock the lid to use the attachment!! This dicer attachment was part of the promo package with the food processor I purchased! I tried everything and nothing works. Looking online it looks like a defect on kitchenaid's part. I am so frustrated and angry since that was where most of my need & use for the processor was, and the main appeal for me to purchase the Unit. I feel like I wasted money and got shortchanged since the dicer unit that came in the package does not appear to be at all compatible with the 13 cup processor. How can they sell a faulty attachment in a package to so many people, without having checked the compatibility of the lid with the KFP1355BU? I really hope Kitchen Aid can help me troubleshoot and find a solution for me so I can use my processor and have the ability to dice. Its horrible to spend this money on a product of this brand and have a major defect like this for my first purchase. If Kitchen Aid is able to help me find a solution and I get to test the dicer, to be fair I will then post a new review.
Date published: 2016-09-17
Rated 4 out of 5
by
TheNewJane
from
Dicing Kit Options
Please make a disk that does a 1" dice, as many of my recipes call for that size.
Date published: 2016-09-13
Rated 5 out of 5
by
Chef Shash
from
Dicing Kit Review
I bought the dicer for making pico de gallo. It dices up roma tomatoes and onions just fine. The problem is that the dice size is too large. I want a small dice for this. Do they make a smaller size dicing plate? A 1/4" dice would be perfect.
Date published: 2016-07-28
Rated 5 out of 5
by
shirl
from
dicing kit
i adore my artisian model 5KFPM770 i am 82 and use it every day but are you ever going to make a dicing disk for this model i cut and slice and make soup all the time but everything cuts up so small i would love to be able to dice vegies are you ever going to produce a disk for this model or is it in the too hard basket I am too old to buy new model as this is such a good product will last me out!!!
Date published: 2016-07-24