Pro 600™ Design Series 6 Quart Bowl-Lift Stand Mixer
Pro 600 Design Series 6 Quart Bowl-Lift Stand Mixer is rated out of 5 by 415.
The KitchenAid® Pro 600™ Design Series 6 Quart Bowl-Lift Stand Mixer, with glass bowl, represents power and beauty on the counter. Great for dense mixtures, and it offers the capacity to make up to 13 dozen cookies in a single batch. And 10 speeds to thoroughly mix, knead and whip ingredients quickly and easily. For even more versatility, use the power hub to turn your stand mixer into a culinary center with over 10 optional hub powered attachments, from food grinders to pasta makers and more. SALE OFFER: Limited time offer. Excludes Parts & Accessories. Not valid with any other offers or mail-in rebates.
Candy Apple Red - KF26M22CA
Features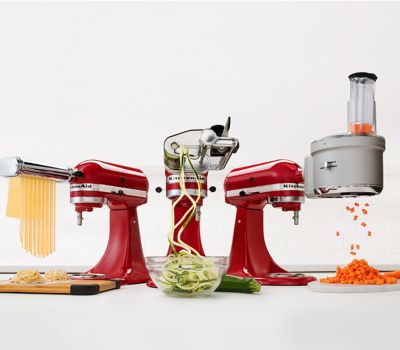 For Everything You Want To Make™
Turn your stand mixer into the culinary center of your kitchen. With over 10 different attachments, you can make everything from fresh pasta to burgers, veggie noodles, ice cream and more.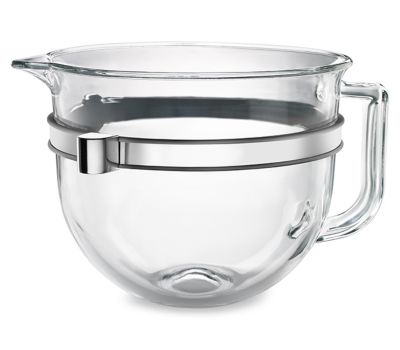 6 Quart Glass Bowl
Offers enough capacity to mix 13 dozen cookies, 8 loaves of bread or 8 pounds of mashed potatoes in a single batch.
Bowl-lift design
Provides sturdy bowl support for stability when mixing heavy ingredients or large batches. The lever smoothly raises the mixing bowl into position for efficient beater-to-bowl contact.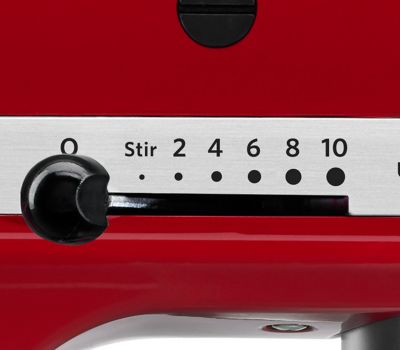 10 Speeds
Powerful enough for nearly any task or recipe, whether you're stirring wet and dry ingredients together, kneading bread dough or whipping cream.

Model KF26M22 includes
(1) F series coated flat beater, (1) F series coated PowerKnead™ spiral dough hook, (1) F series 6 wire whip
Specifications
Configuration and Overview
Mash Potato Yield - Pounds
8
Design
Bowl Handle
Comfort Handle
Includes
Included Accessories
6 Wire Whip, Burnished Metal Flat Beater, Burnished Spiral Dough Hook
Show More Specifications
Reviews
Rated 5 out of 5
by
Bomb06
from
Amazing
Got it yesterday to replace my old one that broke, this mixer seems absolutely amazing! After 12 dozen cookies, i couldnt be happier! Quiet and seems to mix everything a lot after than my old one.
Date published: 2017-12-10
Rated 5 out of 5
by
Paula2017
from
The best Mixer ever!
I love my new Kitchenaid Pro mixer. It is so easy to use and so pretty. I started using it immediately to make all my Christmas goodies and it has done a great job especially since I like to double my batches.
Date published: 2017-12-08
Rated 5 out of 5
by
su-z-q
from
mixer
The wife has used it a couple times and is very happy with
Date published: 2017-12-04
Rated 5 out of 5
by
Jenysfur
from
Awesome mixer
I bought this as an upgrade to my 5 qt tilt-head mixer and I love it. Because it is a model that lifts the bowl to the beater I don't have to move the mixer in and out of the tight space I have in my kitchen. The color is great, a nice cherry red. I am pleased that all my attachments work with it and I am even more pleased that the attachment port cover on the machine is hinged and I don't have to worry about losing that little thing when I change out my attachments. I just received the grain grinder and look forward to using the deep 6 qt bowl for large batches of bread dough. Christmas cookies are right around the corner and this will easily hold double and even triple batches of dough! It is a powerful machine and sounds a little like a jet engine when I increase the levels.
Date published: 2017-12-01
Rated 5 out of 5
by
Frances 61
from
Great mixer
I always wanted one of these for the capacity and power. Also for the versatility. l absolutely love this mixer. Great for mixing just about anything. Plus it also does it in half the time.
Date published: 2017-12-01
Rated 5 out of 5
by
jdbrecker
from
LOVE this appliance!
I received this as a gift.. it is amazing! The quality and workmanship that went into this appliance makes the world of difference. I am able to grind my own beef, grate cheeses, and so much more. Not to forget about the great advantages of what a stand mixer was originally designed for which was "mixing". Whether looking for a gift of just a great addition to your current kitchen appliances you can not go wrong with the KitchenAid - Pro 600!
Date published: 2017-11-28
Rated 5 out of 5
by
Tante Evi
from
Great Mixer!
I am very happy with the Pro 600 mixer. It is soooo nice that the flour doesn't come poofing out of the bowl when I turn it on like it did out of my smaller kitchenaid model.
Date published: 2017-11-26
Rated 1 out of 5
by
Forever_young74
from
Flawed design
This is my first stand mixer and I was so excited to receive it until I used it. As with all the other reviews the beater does mot reach the bottom of the bowl even after adjusting it.
Date published: 2017-11-25
Rated 5 out of 5
by
J.C.
from
Great addition to the kitchen
Very happy with the features and appearance of this mixer
Date published: 2017-11-23
Rated 5 out of 5
by
Sowle2
from
Adjust bowl clearance
This has been a great mixer; the best stand mixer I have ever owned. I see some people are complaining about the bottom of the bowl not getting scraped by the attachments. Mine was the same way, but there is an adjustment screw. Here is the link to the instructions: http://producthelp.kitchenaid.com/Countertop_Appliances/Stand_Mixers/Stand_Mixer_Assembly_and_Operation/Assemble_and_adjust_a_bowl_lift_mixer
Date published: 2017-11-23
Demos & Guides
guides
Use & Care Guide
Comprehensive information about your new appliance - from getting started to cleaning and maintenance.