Nespresso® Espresso Maker by KitchenAid® with Milk Frother
Nespresso Espresso Maker by KitchenAid with Milk Frother is rated out of 5 by 35.
The Nespresso® Espresso Maker by KitchenAid® with Milk Frother combines the iconic and premium metal design from KitchenAid with an innovative technology (19 bar pressure system) guaranteeing the incomparable Nespresso coffee quality.
Empire Red - KES0504ER
Features
Easy Loading Capsule System
Compatible with Nespresso pods in over 22 Grand Crus available through the Nespresso Club.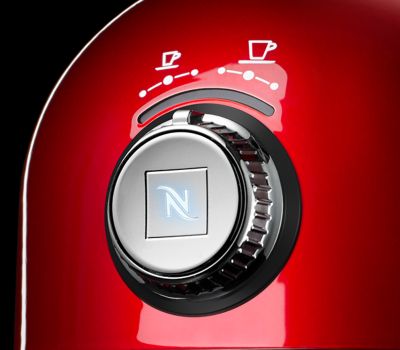 Brew Strength Selector
6 preprogrammed settings for espresso just how you like it.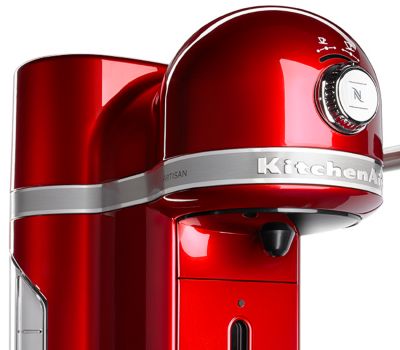 Quick Start Up
Heats up and ready to brew in under 30 seconds.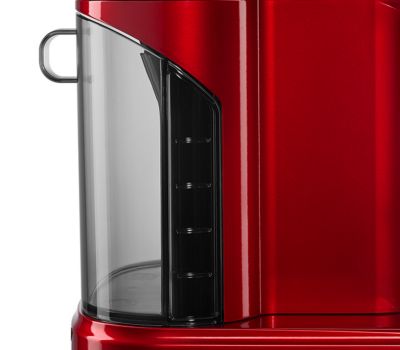 1.3 L Removable Water Tank
To quickly and easily fill with fresh water.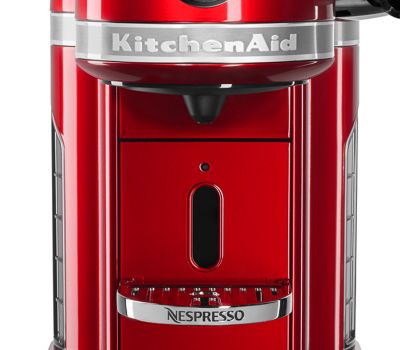 Adjustable Cup Shelf
Accepts large or small espresso cups and folds up for your convenience.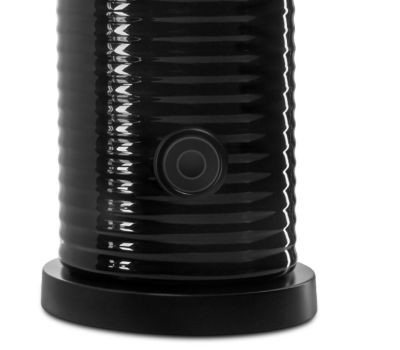 Easily Froth Milk
Simply pour hot or cold in the milk in the frother and press the button.

Model KES0504 includes
(1) Milk frother, (1) Welcome set of 16 Nespresso capsules
Specifications
Features
End of Brew/Max Fill Tone
No
Show More Specifications
Reviews
Rated 5 out of 5
by
Casa corvo
from
Well built!
We got it about 10 days ago and we are more than happy with it. My husband keeps showing it off. Still trying the different strengths, but the espresso makes me feel like I am in Italy. Heats up fast and the coffee has great flavor and body!
Date published: 2017-12-26
Rated 5 out of 5
by
Blumoon
from
Absolutely classic!
I bought this over black Friday and I absolutely love it! It's heavy like my stand mixer and very sturdy. It brews several cup sizes and is easy to use! The frother is awesome and gives my espresso a nice extra added layer of flavor. I'm so glad I bought this!
Date published: 2017-12-11
Rated 5 out of 5
by
Renee'
from
Love it!!!
This is my first time purchasing a kitchenaid espresso maker. I have to say that the espresso maker is beautiful, it looks awesome on my counter. The espresso maker is easy to use; as well as the milk frother. The kitchenaid espresso maker;make one awesome cup of coffee!!!
Date published: 2017-10-06
Rated 5 out of 5
by
Empress of France
from
Superbly Functional and Stylish
This is one purchase I do not regret at all. I love that I can make one cup of coffee at a time, and, if I have a second cup, it can be a totally different taste sensation. The Coffe, Nespresso, is European with the little dollop of 'crema' on top. It's especially nice when I have guests over; each individual can select the type of coffee that they want and then try another. It's invariably leads to to interesting 'coffee talks.' The style, color, and design of the machine adds panache to my kitchen. My only complaint: the water reservoir is at the rear, so no matter where you place the machine, you have to do a lot of pulling, pushing, moving. Further the reservoir is extremely difficult to remove when it needs refilled. It is made out of plastic which I am certain will break, or I will dislocate my shoulder tugging at it to remove it from the machine. One design flaw: The coffee cup warmer on top of the machine should actually work and warm the cups rather than to serve merely a decorative feature. I like form and function. If you are going to add an element to your design, make it functional.
Date published: 2017-09-16
Rated 5 out of 5
by
JR
from
Best coffee ever
First let me say the coffee is awesome. It looks great on the counter above my kitchen aid DW and across from my 20+ year old mixer. In todays marketplace customer service seems to be lost however when I had a electronics problem with the appliance a simple phone call and a new coffeemaker and return label was at the house in two days and I had the best coffee again.......It pays to deal with reputable companies.
Date published: 2017-04-13
Rated 5 out of 5
by
Serviceman
from
Fantastic coffee machine
I have had this machine a couple of weeks and am very happy I purchased it! It is very simple to operate and most important is that the machine is very stable and quite hard to upset because of its weight. I also enjoy that it looks great too.
Date published: 2017-03-28
Rated 2 out of 5
by
Alberto
from
Poor quality
I have to change it 3 days after I start to use it. Actually i apply warranty and got a new one. The Second one ALSO failed !!! So in order to avoid other change I interchange the water tank from one old one to the new one and works. I'm still buying KA products because I'm an whirlpool employee and I'm an ambassador for our brands, I really sad about this.
Date published: 2017-02-26
Rated 5 out of 5
by
Bea
from
Makes wonderful coffee
Commercial grade love the wonderful coffee it makes
Date published: 2017-02-21
Rated 5 out of 5
by
Madame l'Impératrice
from
Gorgeous Machine and Great Coffe
This Classic KitchenAid machine looks beautiful in my kitchen. It brews a an astounding number of various European-style espressos; each one is topped with a beautiful crema. It is heavy and, I believe, well-built. The base is metal, as one may expect; However, I am somewhat disappointed that the top of the machine, from the silver border up, is plastic. My KA mixer is not metal and plastic, and, since this machine has a similar profile, I should expect it to be all metal like the stand mixer. Further, although it has a place on top to set 2 cups, there is no element to warm them. Also, I wish I had control of the coffee's temperature setting; it isn't warm enough. Finally, The milk frother makes creamy, frothy, light foam which is delicious.
Date published: 2017-01-13
Rated 5 out of 5
by
Olga
from
Great machine
Christmas gift that looks beautiful and makes great coffee!
Date published: 2017-01-13