1.7 L Electric Kettle
1.7 L Electric Kettle is rated out of 5 by 147.
Quickly and quietly boil water in minutes with this electric kettle. And the variable temperature control allows you to select the exact temperature you desire to help you achieve optimal results.
Brushed Stainless Steel - KEK1722SX
Features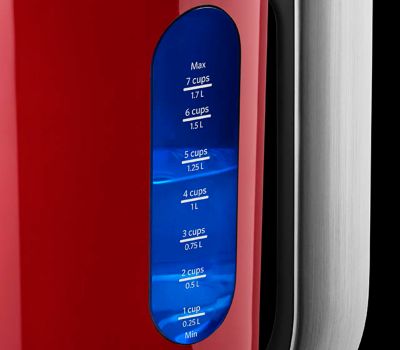 1.7 L Capacity
With the option to heat a minimum of 250ml of water.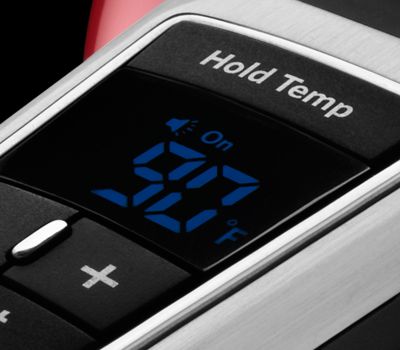 Variable Temperature Settings
To easily adjust from 122° F to 212° F for the temperature you desire.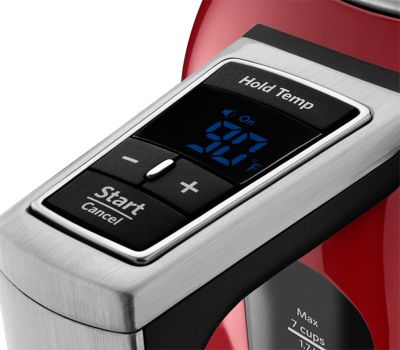 Digital Temperature Display
Located on the top of the handle, displays selected settings.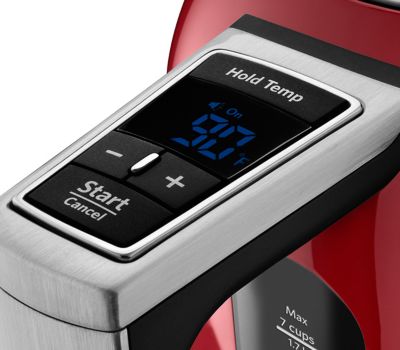 30 Minute Hold Temp Function
Maintains the temperature while on the base.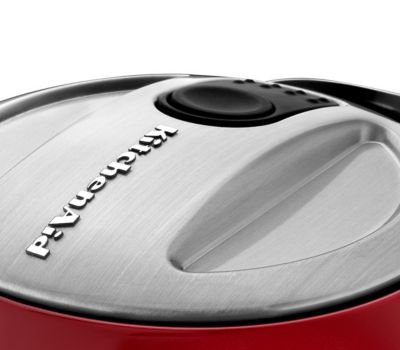 Lid Release Button
To easily fill the kettle with just the right amount of water.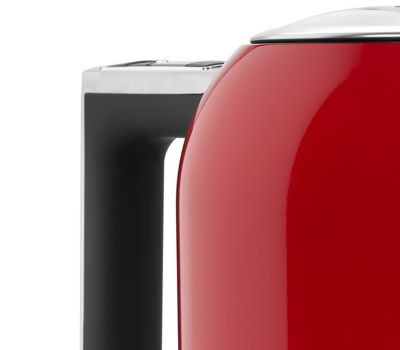 Soft Grip Handle
Designed for comfort and secure handling.
Specifications
Show More Specifications
Reviews
Rated 1 out of 5
by
Stark
from
Not reliable
I received this tea kettle in January of 2017 and I have had two die since then. The first one last less than 6 months and just stopped working. It was replaced at Bed, Bath and Beyond and I received a new one this summer. It stopped working today (11/28/2017). Not the best track record. I am extremely disappointed in the quality of this product and will be getting it replaced again. For the cost, I expected a better product.
Date published: 2017-11-28
Rated 1 out of 5
by
RN75
from
Died after 1 year
I expected more from a kettle that costed so much. We thoroughly enjoyed it while it lasted, but we had hoped it would have lasted longer given the price.
Date published: 2017-11-27
Rated 4 out of 5
by
Mamusia09
from
Best electric kettle so far!
This kettle is amazing! I love the ability to set different temperature for different types of tea in °F and °C. It looks amazing on the countertop. The only thing I hope Kitchen Aid will fix is the issue with a lid. After few months it stops opening and I have to exchange it. It has happened with 3 of the kettles I got.
Date published: 2017-11-26
Rated 5 out of 5
by
Keez
from
Great Purchase! Great Product!
Very happy with kettle, very easy to use, very handy! Looks great and Kitchen-Aud is living up to its reputation!
Date published: 2017-11-12
Rated 5 out of 5
by
Laineybop
from
Great Electric Kettle
I've been using electric kettles in the UK for years but this is my 1st American and 1st Kitchenaid kettle, and I love it. I decided to spend a bit more and go for quality and so glad I did. It is quiet, quick to boil, has a water level window with a minimum of 1 cup which is perfect for one person. It has a nice big comfortable handle, good pouring spout and looks great too.
Date published: 2017-11-08
Rated 4 out of 5
by
Maddie
from
Electric kettle
This is my second kettle, the lid broke off of the first one I had, it was still under the 1year warranty so I got it replaced. I really like this kettle, hope it lasts....
Date published: 2017-09-06
Rated 5 out of 5
by
Mari
from
Excellent kettle
Love the new kettle, boils water fast, but wish I could adjust temperatures manually, they are preset
Date published: 2017-07-31
Rated 5 out of 5
by
Debi
from
Great features heat water fast. Will be a staple.
Bought for traveling, it will a staple in the suitcase along with my keurig.
Date published: 2017-07-11
Rated 5 out of 5
by
Janecupcake
from
Amazing kettle!
I got this as a gift and it is great. It shuts off after boiling but has a feature if you want to maintain the temp. Celsius and Fahrenheit. You can set a certain temperature. Much better than my old kettle.
Date published: 2017-06-14
Rated 2 out of 5
by
Casey
from
I loved it, but the kid stopped opening/working.
It's extremely sturdy; I love the ability to battery-power the unit, the overall components were very strong and pleasing to look at while it worked, and you can manually enter a temperature of your choice. A couple of days after I got it, the lid stopped working and wouldn't open anymore and I pretty much had to rip it open just to get water inside, so I took it back and this model wasn't available so I got a different model which I like less, but the lid opens .
Date published: 2017-06-08