NEW
44 dBA Dishwasher with Dynamic Wash Arms
44 dBA Dishwasher with Dynamic Wash Arms is rated out of 5 by 1152.
This beautiful top control dishwasher harnesses the power of the Dynamic Wash Arms to provide complete water coverage and superior cleaning. The unique design has nine arms that directly spray water everywhere in the dishwasher, including hard to reach places. It also features exclusive Clean Water Wash System that continuously cleans the wash water for superior performance, even with the heaviest loads.
Black Stainless - KDTM404EBS
Features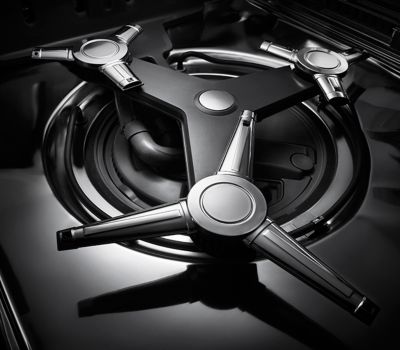 Dynamic Wash Arm
features nine wash arms in one for 3 times better coverage. This unique design directly sprays water everywhere in the dishwasher, including hard to reach places. This means dishes get a powerful clean no matter where they are placed in the rack.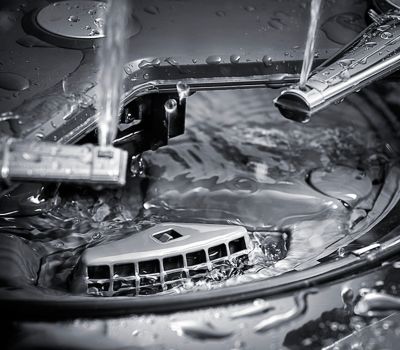 Clean Water Wash System
continuously removes food particles from the wash water. The result of this exclusive technology is clean wash water for excellent performance. Plus, there's no need to ever remove and clean the filter.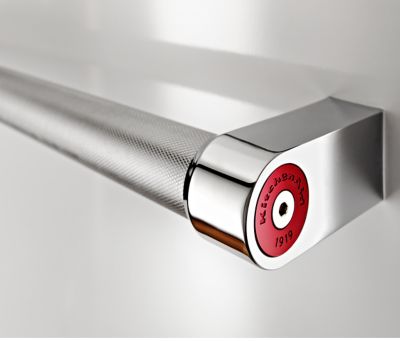 Professionally-Inspired Design
combines a bold blend of professionally-inspired styling with sleek touches for the home. This beautiful dishwasher features Satin Textured Handles and the KitchenAid® Badge, a symbol of uncompromised quality.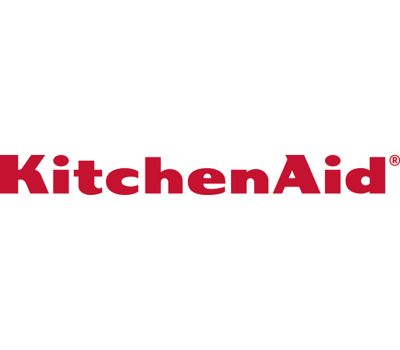 ProScrub® Option
Helps eliminate soaking or pre-scrubbing with 40 targeted spray jets that help remove stubborn messes like seared or baked-on foods.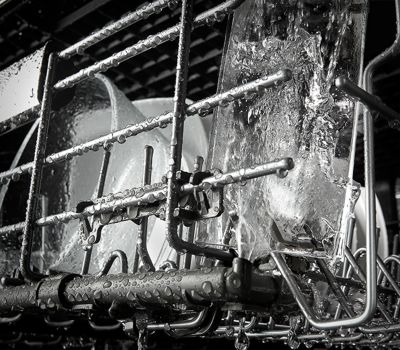 ProScrub™ Upper (was Trio)
Provides 39% more coverage with targeted wash action. In addition to the 40 spray jets at the back of the dishwasher, you get two concentrated spray zones in the upper rack to clean deeper or oddly shaped items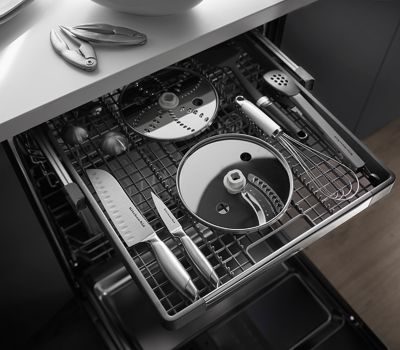 Third Level Rack
makes it easy to clean hard-to-place items such as spatulas, serving utensils and measuring cups, freeing up space in the lower two racks.

Advanced ProDry™ System
Delivers the best drying1 performance without rinseaid using a recessed heating element and a fan to draw moisture out of the wash tub giving you better drying results.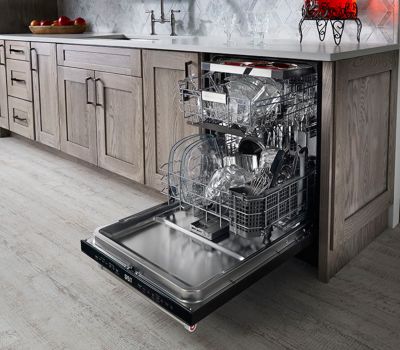 Advanced ProDry™ System
Uses a recessed heating element and a fan to draw moisture out of the wash tub giving you better drying results.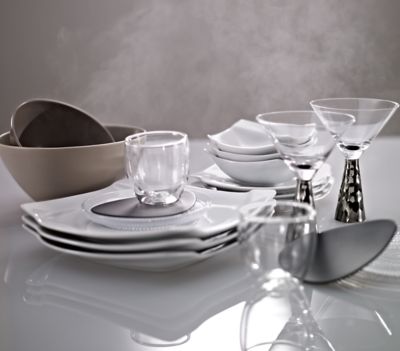 ProWash™ Cycle
Determines the ideal cycle for washing dishes based on soil level and then makes real-time adjustments to achieve the best cleaning performance

SatinGlide® Max Rails (Upper and Lower Racks)
Creates a smooth, premium feeling when pulling out the upper and lower racks, particularly with heavy loads.

2 Rows Fold-Down Tines in Upper Rack
adjustable tines can be shifted into one of three positions to accommodate deep or wide dishes.

Fold-Down Tines in the Lower Rack
can be adjusted in one of three positions so water can clean inside deep or wide dishes.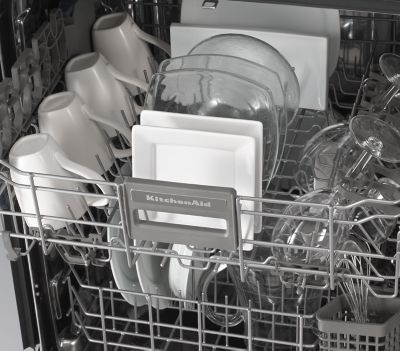 2 Fold-Down Cup Shelves with Integrated Stemware Holders
Provides extra room in the upper rack to hold additional cups, wine glasses, or long items such as utensils and spatulas.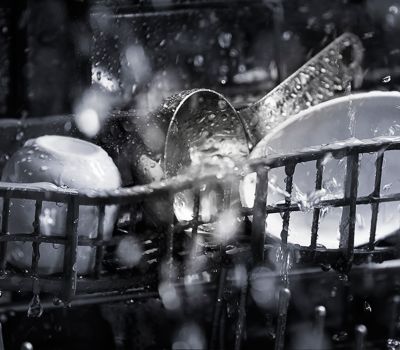 Utility Basket (Upper Rack)
provides a dedicated space for small items such as small lids and utensils.

Express Wash
quickly and effortlessly handles the heaviest soils, even stubborn baked and seared-on messes in less time.
Specifications
Configuration and Overview
Energy Star® Qualified
ENERGY STAR® Qualified
Cycle Selections
Express Wash, Light/China, Normal, ProWash™, Rinse Only, Tough
Option Selections
1-24 Hour Delay, Control Lock, Heated Dry, Hi Temp Wash, ProDry™, ProScrub Upper, ProScrub®, Sani Rinse®, Top Rack Wash
Water Filtration System
Maintenance Free Microfilter
Extras
2-Plastic Cup Shelves, 4-Light Item Clips, 8-Stemware Holders
Adjustable Upper Rack
2 Position
Number of Place Settings
16
Controls
Exterior Status Light
Multi-Color
Dimensions
Depth With Door Open 90 Degree
49 1/2
Show More Specifications
Reviews
Rated 5 out of 5
by
Riotgirl
from
Our dishwasher ACTUALLY washes
When we bought our dishwasher we took our chance l. It was pretty and just why we wanted. We were mind blown when we realized just how amazing it truly was. I put in a very cheesy crusted dish and many others. It was so silent first and then ALL the dishes were crystal clear!! So happy
Date published: 2018-03-19
Rated 4 out of 5
by
Kimi
from
Great features
Glad I picked this one! It looks great in our remodeled kitchen.
Date published: 2018-03-18
Rated 1 out of 5
by
WhataWasteofMoney
from
Like lighting your money on fire
All of the spray areas are clogged with food. I've never seen this in another dishwasher (and yes we do rinse the dishes before putting them in the dishwasher). The technician told us that this version in particular has a filter that isn't that effective but that it can't be replaced other than with the filter it already has. Instead he recommended running several cycles of a cup of vinegar through it and then picking the clogged sprayers clean with a toothpick. Just what I wanted to do with a $1400 dollar appliance. The junky appliances that we had in the apartment that we rented while renovating never had this issue.
Date published: 2018-03-16
Rated 1 out of 5
by
John123
from
Not a single plate we own will fit
The glasses rack is lower than standard to allow for the third rack at the top to do lids and such. It is so low that not a single plate we own will fit in the bottom without hitting the glass rack's washer. Our smallest standard plates are 10.25 inches. Our bigger plates are 10.5. The rack won't even close with 10.5. Nothing in the literature said we would have to buy all new dishes to use the dishwasher.
Date published: 2018-03-16
Rated 4 out of 5
by
Anonymous
from
Good dishwasher
So far so good. Hope it continues to work like when we first purchased it
Date published: 2018-03-15
Rated 5 out of 5
by
Anonymous
from
It washes AND dries!
I've been running this machine for a month now and it's massively helpful in that the dishes are actually dry when the cycle is over. The last machine forced us to set out most of the plastics and allow them to air dry, big hassle when you're juggling baby bottles, lunchbox containers, and other assorted paraphernalia required to support our four munchkin army. The third rack is also quite helpful for the little bits and pieces. We were able to do away with out dedicated bottle washer baskets required in the old machine. It's a great machine and my only regret is that it took me too long to ditch the old one and upgrade.
Date published: 2018-03-15
Rated 5 out of 5
by
Brad77
from
Very quiet
We got This about 6 weeks ago. Looks great, cleans really good, and we can barely tell when it is running, it's so quiet.
Date published: 2018-03-15
Rated 5 out of 5
by
jakencj
from
Everything I thought it'd br
We've had this for a month and are still figuring out all it will do. It actually is so quiet we can't hear it running. Cleans really well. Like that we can put taller things in it by adjusting the middle rack. Love this machine.
Date published: 2018-03-13
Rated 5 out of 5
by
RobinG
from
So quiet, you don't notice it is running!
We purchased this about one month ago when our old dishwasher needed to be replaced. I did lots of research to determine exactly what I wanted, and this appliance hasn't disappointed. Everything comes out spotless, and we haven't had to rewash anything. The Dynamic Wash Arms must make all the difference, because we frequently had to rewash items with our last machine. There is so much versatility in this model! The best part is that this machine is so quiet, you can hardly tell it is running. We can run the dishwasher while we are talking or watching television in the next room. It is unbelievably quiet! I was excited about the removable top shelf, but we don't use it, because we prefer to have the extra room for our glasses. Still, it's nice to have the option for large utensils and even better that it is removable. The racks slide in and out very smoothly, and the door closes without having to slam it or bump against it to make it close completely.
Date published: 2018-03-13
Rated 5 out of 5
by
pharadon2
from
New Appliances
Love the new appliances! My kitchen looks fantastic. The dishwasher is so quiet.
Date published: 2018-03-13
Demos & Guides
guides
Dimension Guide
Detailed dimensions of your new appliance with space requirements for the area surrounding it.
Warranty Information
A complete description of your warranty coverage, and contact information for service and support.
Use & Care Guide
Comprehensive information about your new appliance - from getting started to cleaning and maintenance.
Energy Guide
Information about the efficiency of your appliance, including energy consumption and annual costs to operate.
Installation Guide
Instructions for unpacking and installing your appliance, including electrical requirements and necessary tools.
In order to read a PDF file, you must have Adobe Acrobat reader installed on your computer. You can download the latest version at the Adobe website.
Show More Guides
(1) Among leading premium brands, with rinse aid.