24'' 6-Cycle/7-Option Panel Ready Dishwasher
Ratings
24'' 6-Cycle/7-Option Panel Ready Dishwasher is rated out of 5 by 33.
This dishwasher accepts custom panels and handles (not included) to help you match kitchen cabinets. You'll also get the premium performance that makes KitchenAid the best performing dishwasher brand1 in the industry. And, at just 39 dBA, you'll enjoy our quietest sound levels.
guides
Dimension Guide
Detailed dimensions of your new appliance with space requirements for the area surrounding it.
Installation Guide
Instructions for unpacking and installing your appliance, including electrical requirements and necessary tools.
Energy Guide
Information about the efficiency of your appliance, including energy consumption and annual costs to operate.
Panel Install Instructions
Panel Install Instructions
Use & Care Guide
Comprehensive information about your new appliance - from getting started to cleaning and maintenance.
Warranty Information
A complete description of your warranty coverage, and contact information for service and support.
Instruction Sheet
Instruction Sheet
Panel Install Instructions
Detailed panel dimensions of your new appliance.
In order to read a PDF file, you must have Adobe Acrobat reader installed on your computer. You can download the latest version at the Adobe website.
Show More Guides
Below are only the articles for your model.
Search within results:
Panel-Ready Design
allows you to match your dishwasher to your kitchen cabinets for a high-end look, seamless look. A custom front panel and handle (not included) can be affixed to the dishwasher.
Advanced ProDry™ System
Delivers the best drying2 performance without rinseaid using a recessed heating element and a fan to draw moisture out of the wash tub giving you better drying results.
SatinGlide® Max Upper and Lower Racks
Create a smooth, premium feeling when pulling out the dishwasher racks, particularly with heavy loads. Adjusters make it easy to raise or lower the upper rack while the rails help keep both racks solidly on track.
Additional Features
Third Level Utensil Rack

Makes it easy to clean hard-to-place items such as spatulas and serving utensils, as well as creating space for extra silverware.
ProScrub® Trio Option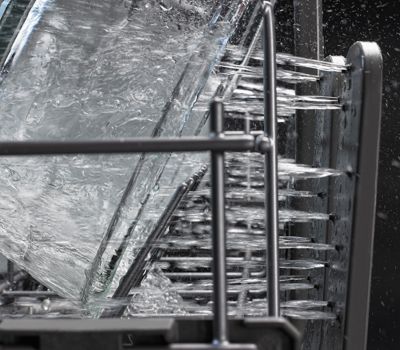 Provides 50% more coverage3 with targeted wash action. In addition to the 40 spray jets at the back of the dishwasher, you get two concentrated spray zones in the upper rack to clean deeper or oddly shaped items.
ProWash™ Cycle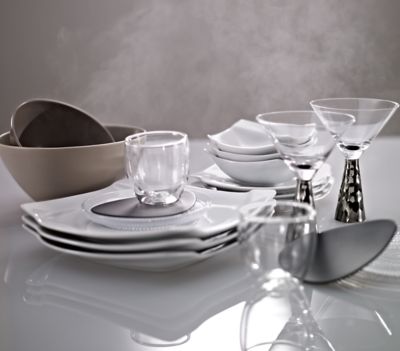 Determines the ideal cycle for washing dishes based on soil level and then makes real-time adjustments to achieve the best cleaning performance
Concealed Controls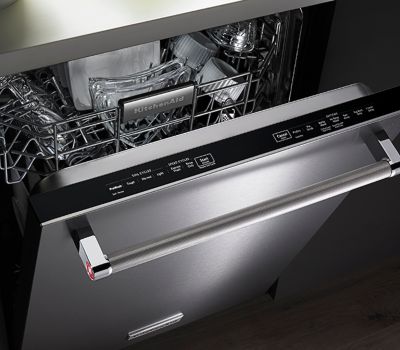 offers tucked away controls on top of the dishwasher door, providing clean, uninterrupted front panel lines that help you match other stainless steel appliances.
Whisper Quiet® System at 39 dBA
This is the quietest sound rating in our line, making it convenient to operate day or night, including when you entertain.
Top Rack Cycle
Gives you the option to wash small loads in less time.
Configuration and Overview
Energy Star® Qualified
ENERGY STAR® Qualified
Cycle Selections
Express Wash, Light/China, Normal, ProWash™, Rinse Only, Tough
Option Selections
4 Hour Delay, Control Lock, Hi Temp Wash, ProDry™, ProScrub®, Sani Rinse®, Top Rack Wash
Water Filtration System
Removable Filter
Extras
2-Plastic Cup Shelves, 4-Light Item Clips, 4-Stemware Holders
Adjustable Upper Rack
2 Position
Number of Place Settings
16
Controls
Exterior Status Light
White
Dimensions
Depth With Door Open 90 Degree
49 1/2
Show More Specifications
Rated 1 out of 5
by
loveumms
from
AVOID kitchenmaid appliances
We bought a new home almost a year ago. We put $15,000 in Kitchenaid appliances - top of the line range, fridge and this dishwasher. We have had problems with all of them. This dishwasher has never worked properly. At first it would drain all the time and not cycle properly. Had someone look at it and they said that it was working fine yet we would constantly have to restart the machine and then it would never dry properly. Just last week it took it's final death spiral - now lights are constantly on and it won't get past the initial cycle. In reading online, this is probably the control panel (will cost a couple hundred to replace). Thinking about just canning the whole thing b/c in the year we've owned the dishwasher, its been nothing but headaches. It has all these fancy controls but if the thing doesn't work they are useless. Tried calling kitchenaid to take advantage of my extended warranty four times in the past few days - can't get ahold of anyone. I don't think we have an extended warranty on the dishwasher but luckily we do on the fridge and range (which both also don't work). I had really high hopes and thought we chose excellent products but, as we are finding out - that is anything but the truth. Highly disappointed that I spent so much money for products that don't work as well as the much cheaper ones we had in our previous house.
Date published: 2016-07-14
Rated 5 out of 5
by
Gordon Jakel
from
I like the heated drying cycle
Moving to a new house and purchased this dishwasher and love all the features.
Date published: 2015-07-26
Rated 1 out of 5
by
Former Kitchenaid Fan
from
Extremely disappointed
We bought the top of the line Kitchenaid dishwasher 4 years ago and have never been so disappointed. When it was working it was fine. It was quiet and cleaned the dishes, though we would have to dab water off the glasses before unloading them. But the machine broke down a lot. Within the first 2 months, it blew 3 control boards. Then, just before the 4 year mark, it blew another one AND the small drying fan melted down, filling our house with putrid smoke. After $700 in repair costs, we still cannot get rid of the smell, and Kitchenaid is unwilling to do anymore. The certified repair company will certainly try more things if we pay more, but we have no guarantee they will ever make the smell go away. Each time a part breaks, it takes 10 days to get a replacement, which means lots of manual dishwashing. The Kitchenaid certified repairman tells us virtually all of their appliances break down and need major repairs after 3 years. We used to be a big Kitchenaid family, but now we are looking elsewhere. The top of the line Kitchenaid microwave we bought at the same time as the dishwasher died the same week, and we've replaced it with another brand, after being told by Kitchenaid it was probably not worth trying to repair.
Date published: 2015-07-23
Rated 5 out of 5
by
Smadau2
from
I can't hear it!
I love our new dishwasher. It is so quiet that I think I need a stethoscope to tell if it's on. It must be because the dishes magically come out clean every time. Best dishwasher bar none.
Date published: 2015-04-06
Rated 5 out of 5
by
Bopbob
from
Great product
Purchased the dishwasher for our new home. I loved my "whisper quiet " in my old house and didn't even consider another brand. Love the new one. It cleans even better than old one. My only complaint is that I can't tell when the cycle is finished. Mine is built in with a cabinet front. I don't like to keep the sound on because then the thing is beeping constantly through the whole cycle. Instructions are not clear on how to just have a "finished" signal or maybe there is not that possibility.
Date published: 2015-03-16
Rated 5 out of 5
by
Loveit in NB
from
Kitchen Aid Dishwasher
Just got my new panel ready dishwasher. It blends right into my kitchen cabinet. But the best part is the inside! The cutlery rack is really great. Everything came out so clean it was amazing! In addition, I had to check it several times to make sure it was even on as it was so quiet!
Date published: 2014-12-21
Rated 5 out of 5
by
jlgk
from
Love the features
We purchased this with our kitchen remodel and our cabinet maker made the front to make our cabinet drawers so it blends in with the cabinets so well, my d-in-l couldn't find it. It latches well and is very quiet. I have the top drawer which I love for knives and the grands little plastic spoons etc. My last dishwasher was also a KitchenAid and I don't see a difference in the spacing of the drawers. My stoneware plates, pans and most glasses fit well. I do have to slope my tallest glasses to fit, but I did before. The dishwasher cleans very well! I love the pots scrubber. I have put in grossly dirty and baked on dishes and pans and using the right setting they come out sparkling clean.
Date published: 2014-12-18
Rated 1 out of 5
by
Brandon
from
Kitchenaid - designed to fail - check amazon reviews.
I bought a Kitchenaid dishwasher 4 years ago. I have replaced the top rack adjuster 4 times in the past 2 years. Check Amazon for reviews on rack adjusters. They have sold a lot of them since this looks like a common problem. I would not buy a Kitchenaid dishwasher again. I hate having to fix something every 6 months.
Date published: 2014-11-26
Rated 5 out of 5
by
Carol 33
from
Kitchenaid Dishwasher
Been having this dishwasher for about two months. Iam well pleased with the way it washes the dishes! Every thing comes out very clean!
Date published: 2014-11-16
Rated 5 out of 5
by
Charleymart
from
Deluxe Dishwasher
We replaced our 12 year old Kitchenaid dishwasher with the best that can be bought and we are very happy with the cleanliness of the dishes and the very quiet operation when it is washing, rinsing and drying. What a difference compared to the older model.
Date published: 2014-11-16