24'' 6-Cycle/5-Option Dishwasher, Architect® Series II
Ratings
24'' 6-Cycle/5-Option Dishwasher, Architect Series II is rated out of 5 by 161.
A third-level utensil rack gives you a versatile loading option for your spatulas, ladles, and extra silverware. The ProWash™ Cycle ensures you get the most efficient cleaning performance by making real-time adjustments to cycle time and water usage. And, like all KitchenAid® dishwashers you get an exceptional washing and drying system that makes it the best performing dishwasher brand1.
guides
Energy Guide
Information about the efficiency of your appliance, including energy consumption and annual costs to operate.
Dimension Guide
Detailed dimensions of your new appliance with space requirements for the area surrounding it.
Warranty Information
A complete description of your warranty coverage, and contact information for service and support.
Use & Care Guide
Comprehensive information about your new appliance - from getting started to cleaning and maintenance.
Installation Guide
Instructions for unpacking and installing your appliance, including electrical requirements and necessary tools.
In order to read a PDF file, you must have Adobe Acrobat reader installed on your computer. You can download the latest version at the Adobe website.
Show More Guides
Below are only the articles for your model.
Search within results:
Third Level Utensil Rack
Makes it easy to clean hard-to-place items such as spatulas and serving utensils, as well as creating space for extra silverware.
ProWash™ Cycle
Determines the ideal cycle for washing dishes based on soil level and then makes real-time adjustments to achieve the best cleaning performance
Heat Dry Option
Delivers the best drying2 by activating a recessed heating element at the end of the cycle.
Additional Features
Concealed Controls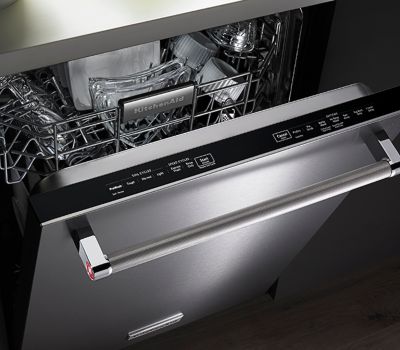 offers tucked away controls on top of the dishwasher door, providing clean, uninterrupted front panel lines that help you match other stainless steel appliances.
Whisper Quiet® System at 45 dBA
Offers premium sound insulation that makes it convenient to operate day or night, including when you entertain.
Fold-Down Tines in the Lower Rack
can be adjusted in one of three positions so water can clean inside deep or wide dishes.
SatinGlide® Max Upper Rack
Creates a smooth, premium feeling when pulling out the upper rack, particularly with heavy loads. Adjusters make it easy to raise or lower the rack while the rails help keep the rack solidly on track.
Fold-Down Shelf with Stemware Holders
Provides extra room in the upper rack to hold additional cups, wine glasses, or long items such as utensils and spatulas.
4-Hour Delay Option
Allows you to set the dishwasher to start at a more convenient time.
Configuration and Overview
Energy Star® Qualified
ENERGY STAR® Qualified
Cycle Selections
Express Wash, Light/China, Normal, ProWash™, Rinse Only, Tough
Option Selections
4 Hour Delay, Control Lock, Heated Dry, Hi Temp Wash, Sani Rinse®
Water Filtration System
Removable Filter
Extras
1-Plastic Cup Shelf, 2-Light Item Clips, 4-Stemware Holders
Adjustable Upper Rack
2 Position
Number of Place Settings
14
Controls
Exterior Status Light
White
Dimensions
Depth With Door Open 90 Degree
49 1/2
Show More Specifications
Rated 1 out of 5
by
bradstew
from
Garbage. Waste of money and time.
Purchased this three years ago. Never did a good job washing dishes. After 6 months, the control panel went out but got it repaired under warranty. After 3 years, replaced water valve. Now it leaks in the tub. Replaced that. Still leaks. Seems there are small holes in the stainless steel tub where it meets the tub gasket. I've given up and will never purchase a KitchenAid product ever again. $900 wasted.
Date published: 2018-01-14
Rated 5 out of 5
by
AE Capobianco
from
So Quiet!
We replaced our original Kitchen Made DW with this one.....it's so quiet, which was a priority on my list. The only way I know it's running is by the small indicator light. Cleans beautifully, the racks slide in and out easily as well.
Date published: 2017-03-10
Rated 4 out of 5
by
Vered
from
Clean well and quite
Good dishwasher with the ability to use a upper tray for silverware (that's what we use) or the busket at the bottom tray. Very quite, reliable and clean the dishes well.
Date published: 2017-03-03
Rated 1 out of 5
by
Jeff
from
3 service calls in the first year
The importance of this review is that it is not about initial quality or features. It is about what to expect over time. We are a large family that works our appliances hard. Somedays the dishwasher runs 3+ loads. Dishwashers and washing machines are like air to us. So when there is an issue it hits us hard. After 10+ years of trouble free service to the home I opted to replace our bottom of the line noisy old dishwasher. And when I did I went all the way, top of the line, ultra quiet, three rack stainless steel inside and out. My thoughts were wow this is really something and we were all very excited. The first thing to be removed was the third rack at the top. With this in place you can just never get it all to fit right, unless it is a photograph for a marketing picture. If you really use your washer then don't make this a purchasing decision. The good news is it comes right out no problem making it a simple waste of money. Then the service calls begin. The basics of this have been for not draining. After the second service call I asked for the entire machine to be replaced as I have 0 interest in paying for multiple service calls per year. We all know what the response to this was, yeah... right... The result of this is of course is we will keep patching it up till your high end dishwasher is out of warranty and you can start paying from there. Since we are now out of warranty I have only had 1 issue which was the dishwasher does not clean the dishes. The dishes getting clean in a consistent and reliable manner is a purchasing decision. That was related to the spray arms being clogged with food particles. Unfortunately these cannot be opened for easy cleaning but after several hours I was successful in getting the various plugs removed. On the plus side this machine is in fact ultra quiet, you literally cannot hear it run if there is any background noise at all. I also need to state that when this machine is working it does clean.
Date published: 2017-01-08
Rated 5 out of 5
by
Birdie
from
Super dishwasher
Excellent dishwasher. Efficient and reasonable. Best brand available PERIOD
Date published: 2017-01-06
Rated 5 out of 5
by
The silencer
from
Runs so quiet
When we purchased our dishwasher, we had no idea how quiet it was going to be. Our house is a open concept and was worried about the noise. You can't hear it run and it cleans amazing. Way beyond our expectatuons
Date published: 2016-11-13
Rated 5 out of 5
by
Jeff
from
Great Dish Washer
I love this machine. It is the quietest dishwasher I have ever had. The hidden controls have a lot of features but I basically use the automatic wash with the heat. It is simple to use and a great purchase.
Date published: 2016-11-03
Rated 5 out of 5
by
RVC
from
Great Dishwasher
Finally a good dishwasher that cleans. Loving the third rack and the integrated touch control. The pro wash cycle really tackles the food residue and stains well.
Date published: 2016-11-02
Rated 4 out of 5
by
Darren
from
Super quiet, some good options for flexible use.
We put this dishwasher in, as a part of our Kitchen remodel. The ask was primarily for something quiet and efficient. This dishwasher met both objectives. The top shelf is adjustable, which allows for the use of another upper tray, which enables washing of things like chopsticks, or utensils that don't seem to fit elsewhere easily. The only item I would suggest as a drawback though, having the adjustable shelf is a struggle for the majority of our dinner dishes being too high - that means we often don't have the capability to put the third shelf in the unit. So most times now, we don't both moving it. This would be a tough ask to fix, being the size of the internal unit doesn't give you much room to do much else. The drawer is a great idea, doesn't always work in practice though. It is easy enough to clean, and to be honest, when its running - without checking the status light, you sometimes don't even realize its operating.
Date published: 2016-08-15
Rated 5 out of 5
by
The Dish Placer
from
Fantastic
We have extremely hard water here in Arizona, yet my dishes always come out clean and sparkling. My wife and kids seem to like letting food harden on the dishes, but thi dishwasher still gets the job done. I have a family of 6 and we are able to fit the day's dishes in this model and run it once a day. Unless, of course, the kids try using a different glass every time they get a drink. One thing to note is be careful of any dishes getting broken when taking them out or putting them in. A dish broke on our counter top while taking it out of the dishwasher and a piece of the dish got caught in the dishwashers drain. I could not find it and had to call a service man.
Date published: 2016-07-23