12 Cup Coffee Maker with One Touch Brewing
12 Cup Coffee Maker with One Touch Brewing is rated out of 5 by 94.
The simplest part of your day. One touch selections and simple 24-hour programming make it easy to brew your coffee just the way you like it with this 12-cup glass carafe drip coffee maker.
Onyx Black - KCM1204OB
Features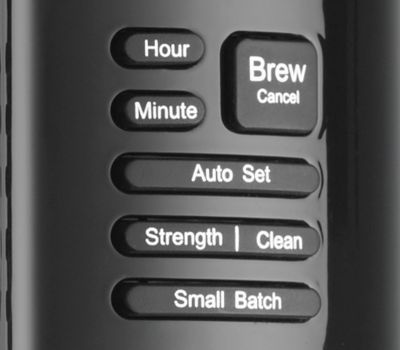 Simple Operation and 24 Hour Programmability
One touch selections for brew strength, small batch and brewing. Intuitive, 24 hour programmability so your coffee can be ready at a precise time, day or night.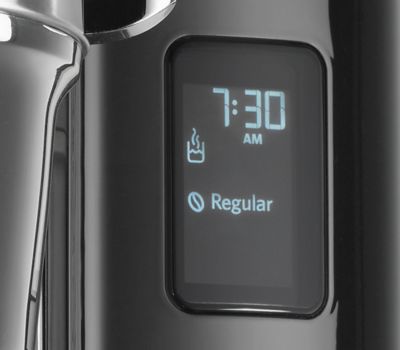 Variable Brew Strength Selector
To choose between regular and bold strengths while giving you a full-bodied cup every time.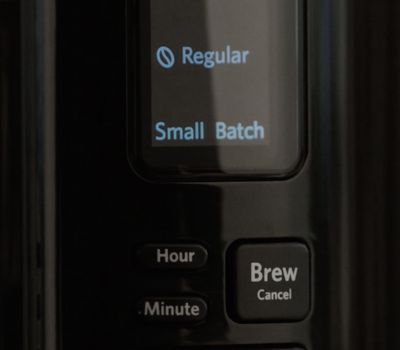 Small Batch Brew Mode
Automatically adjusts to optimize heating and saturation time for the best flavor in small batches (2-4 cups).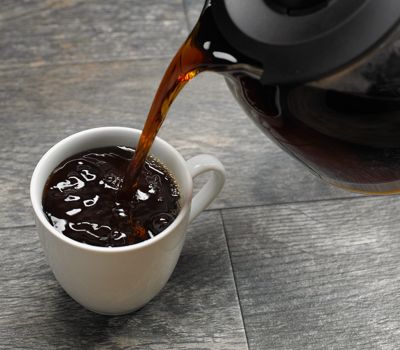 Pause and Pour
Stops the brew cycle, allowing you to pour a cup of coffee before brewing is complete.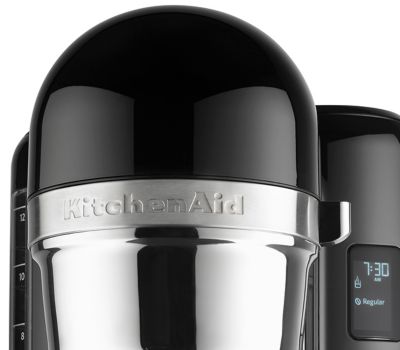 Timeless Design
Inspired by the design of our iconic Stand Mixer, the 12-Cup Coffee Maker with One Touch Brewing will make a statement on any countertop.

Model KCM1204 includes
(1) 12 Cup Glass Carafe, (1) Brew Basket, (1) Gold Tone Filter
Specifications
Features
Brew System Control
Electronic
Clean Touch Control Pad
Yes
Cleaning Indicator Light
Yes
End of Brew/Max Fill Tone
Yes
Full Dispersion Shower Head
Yes
Pause and Pour Feature
Yes
Programmable Brew Timer
Yes
Time Since Brew Display
Yes
Show More Specifications
Reviews
Rated 5 out of 5
by
SuiGeneris1854
from
Better than a $300 Drip Coffeemaker
Now the key player in my coffeemaker arsenal--including drip; French press; and manual pourover), this Kitchenaid KCM 1204OB makes the richest, most consistent drip coffee I have ever tasted. And I have owned more than a dozen good-quality drip coffeemakers, some costing as much as $300.00. This KitchenAid out-performs them all. It produces coffee equivalent to the best pourover coffee and yet offers all the convenience of automatic drip. I do not know how KitchenAid did it, but they scored a winner with this machine.
Date published: 2018-01-19
Rated 2 out of 5
by
Masonsmom05
from
Does not make hot coffee
This coffee pot doesn't make very hot coffee to begin with. To make things worse the "Hot" Plate doesn't keepnit hot either. Towards the end of brewing it makes lot popping noises as well. The lid on the pot itself was Installed crooked so we always get dripping while pouring.
Date published: 2018-01-08
Rated 4 out of 5
by
cheapspeed
from
Great coffee maker, bad on water filter.
It makes great coffee but when replacing the water filter Kitchenaid does not list the model water filter in the manual. Only show #69164 filter on the filter holder but it does show any where on this site. I order a water filter on Amazon but it was the wrong size. So beware, please measure the filter before ordering. I think KCM11WF is the correct filter. It measure the right size compared to mine.
Date published: 2018-01-03
Rated 5 out of 5
by
Cardsblues
from
12 cup coffee maker
Bought this for my wife for Christmas. I'm glad I did. This makes the best coffee ever!
Date published: 2018-01-02
Rated 5 out of 5
by
Anonymous
from
Great for parties!
I bought this in preparation for my family coming over for the holidays and it is one of the best purchases I have made.
Date published: 2017-12-23
Rated 5 out of 5
by
GottaHaveCoffee
from
Nice one!
I bought one of these pots back in January '17...it suddenly stopped working after about 9 months of use. I contacted KitchenAid per their instructions for Worry Free replacements within the warranty time and was sent a replacement. I like the unit and its features so was glad to get a second chance with it! I like the overall look of the unit and it does a good job with my morning fix. Moisture does build up where the basket sits, so you have to watch out for some drips after each use - I try to leave the basket door swung open a bit to let this dry out. Also - check your glass carafe for flaws in the glass - I have seen a couple that have bubbles in the glass some questionable spots - once you have a good one one you're set. I like that there is not plastic around the carafe pour spout so you can be sure that no soap gets caught under a plastic pour edge (or that the coffee would discolor the plastic - if you had a white trimmed pot).
Date published: 2017-12-13
Rated 5 out of 5
by
Rodica
from
Amazing coffee!
I bought it 2 weeks ago and love it. Chic, easy to clean, making hold and regular coffee.
Date published: 2017-12-09
Rated 1 out of 5
by
magnolia59
from
Stops working suddenly
I received this coffee maker as a Christmas gift. It was great until 4 months into using, it beeps suddenly and stops brewing. I followed all the troubleshooting with no luck. I received a replacement and I was happy. 5 months later, it stops brewing and will not work. I love my coffee pot but do not want to keep receiving replacements. Sunday morning without coffee is tough!
Date published: 2017-11-22
Rated 5 out of 5
by
Coffeetalk
from
Guaranteed to make your life easier
I purchased my coffee maker 3 weeks ago. I Absolutely LOVE it. It's very easy to use and works like a champ. Thank you Kitchen Aid for making my life easier
Date published: 2017-11-21
Rated 5 out of 5
by
Anonymous
from
Very nice coffee maker!
We are very pleased with this coffee maker. The digital lighting is nice and bright and easy to see. Very easy to use!
Date published: 2017-11-19