12 Cup Coffee Maker with One Touch Brewing
12 Cup Coffee Maker with One Touch Brewing is rated out of 5 by 111.
The simplest part of your day. One touch selections and simple 24-hour programming make it easy to brew your coffee just the way you like it with this 12-cup glass carafe drip coffee maker.
Onyx Black - KCM1204OB
Features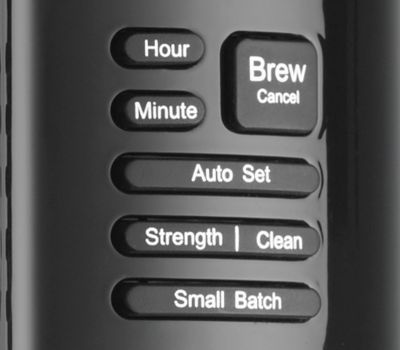 Simple Operation and 24 Hour Programmability
One touch selections for brew strength, small batch and brewing. Intuitive, 24 hour programmability so your coffee can be ready at a precise time, day or night.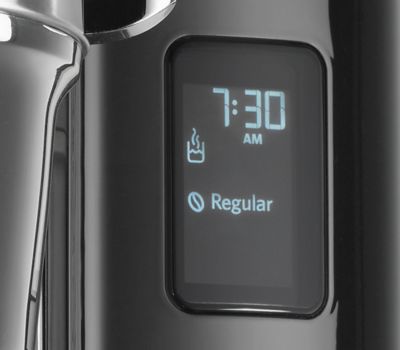 Variable Brew Strength Selector
To choose between regular and bold strengths while giving you a full-bodied cup every time.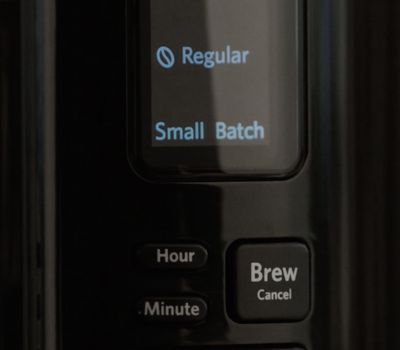 Small Batch Brew Mode
Automatically adjusts to optimize heating and saturation time for the best flavor in small batches (2-4 cups).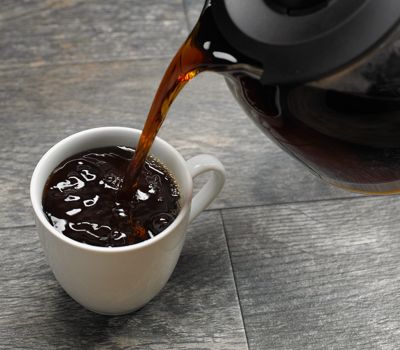 Pause and Pour
Stops the brew cycle, allowing you to pour a cup of coffee before brewing is complete.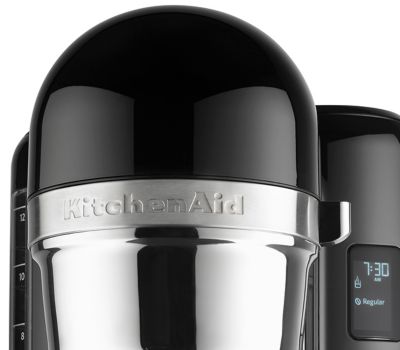 Timeless Design
Inspired by the design of our iconic Stand Mixer, the 12-Cup Coffee Maker with One Touch Brewing will make a statement on any countertop.

Model KCM1204 includes
(1) 12 Cup Glass Carafe, (1) Brew Basket, (1) Gold Tone Filter
Specifications
Features
Brew System Control
Electronic
Clean Touch Control Pad
Yes
Cleaning Indicator Light
Yes
End of Brew/Max Fill Tone
Yes
Full Dispersion Shower Head
Yes
Pause and Pour Feature
Yes
Programmable Brew Timer
Yes
Time Since Brew Display
Yes
Show More Specifications
Reviews
Rated 4 out of 5
by
Sarah15
from
Makes a great cup of coffee!
I haven't had my coffee maker for long but I have been very impressed by the flavor of the coffee that it makes! We did discover that the carafe is fragile as it broke after having it just a few weeks. The kitchen aid warranty took care of it though. Overall it's a nice coffee maker.
Date published: 2018-04-13
Rated 5 out of 5
by
Niki1156
from
Awesome Coffee Maker!
Does everything is supposed to do, and looks nice on the counter!
Date published: 2018-04-04
Rated 4 out of 5
by
Chase72
from
Great Coffeemaker with a few flaws.
I bought this in October 2017 and loved the accurate hot coffee everyday for the first few months until the carafe handle broke making pour coffee tricky. I called and easily got a replacement carafe ordered. We were good for the next two months when I woke up one morning to get coffee and poured my cup and walked away and the moment I walked away I heared a loud crash and the glass carafe shattered and near missed burning my bare feet. I called Kitchen Aid customer service and they were extremely helpful and understanding in getting me a brand new coffeemaker sent out to me. The problem now remains the brand new unit that came doesn't make the coffee as hot as the first unit. Do I dare call customer service again about more issues?...absolutely and all they want is for you to be happy. I called and explained my situation and asked if I could try a different model in my same price point?...they checked and said no problem. The Kitchen Aid 14 cup brewer is on the way. I have several kitchen aid products in my home and am not the least bit upset about their products, warranties or customer service.
Date published: 2018-04-03
Rated 5 out of 5
by
Happy in Ohio
from
Love this coffee maker!!
We bought this coffee maker a few weeks ago and we love it more each time we use it....It looks beautiful and it works great!...I really can't think of any negatives about it.
Date published: 2018-03-30
Rated 4 out of 5
by
Ape123
from
Love this
Love this coffee maker!! A huge upgrade from my old coffee maker. #adulting
Date published: 2018-03-22
Rated 5 out of 5
by
Shay37!
from
Great product
I use this on the weekend. I also use it to make coffee as well as tea. Brews regular or bold. I love it. I also bought the one cup maker which is similar to Kerueg. I use it daily.
Date published: 2018-03-02
Rated 5 out of 5
by
Kitchenaidfan789
from
Coffeemaker
I've had my coffeemaker a week now and I love it like I love all my Kitchenaid appliances. Quick brew. Nice hot temperature. I'm a fan.
Date published: 2018-03-01
Rated 1 out of 5
by
D5wstat
from
Leaking after two months
I received this as a Christmas gift in 2017. Two months later it started leaking from the bottom edges. I brew four cups of coffee twice a day. I expected a more robust machine.
Date published: 2018-02-28
Rated 3 out of 5
by
Sharla
from
Great coffee maker
Would be ALOT better if the warming time could be extended or if you could just turn it back on to keep warming. The only way you can do it is if you add more water.
Date published: 2018-02-15
Rated 5 out of 5
by
Baebee
from
Sleek look
I bought 2 of these for our church's coffee bar. They look great. Very sleek and professional looking.
Date published: 2018-02-15