Personal Coffee Maker with 18 oz Thermal Mug
Personal Coffee Maker with 18 oz Thermal Mug is rated out of 5 by 229.
A coffee maker just for you. Brew your favorite coffee quick and easy with one-touch operation directly into the included 18 oz. thermal mug or a mug of your choice. Convenient features such as a removable water tank and reusable gold tone filter come standard.
Empire Red - KCM0402ER
Features
Sleek, Compact Design
Makes this the ideal coffee maker to keep on your countertop, whether in the kitchen, office or any space you choose.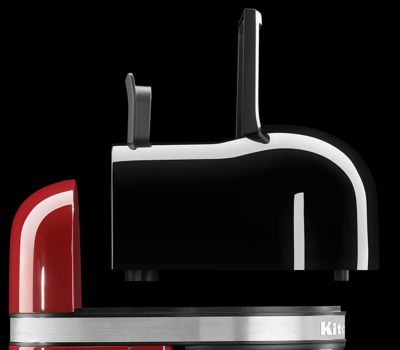 Removable Water Tank with Handle
To quickly and easily fill with fresh water.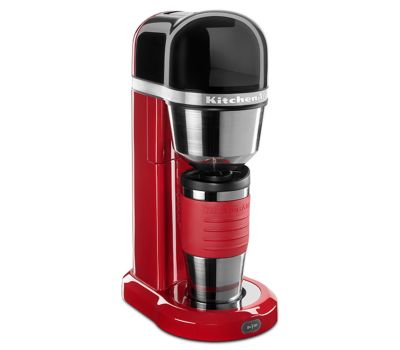 One-Touch Brewing
Simply add water and your favorite coffee grinds, press the ON button and begin brewing in the included thermal mug or cup of your choice.

Model KCM0402 includes
(1) 18 oz. Themal Mug with Lid, (1) Gold Tone Filter
Specifications
Features
Clean Touch Control Pad
No
Cleaning Indicator Light
No
End of Brew/Max Fill Tone
Yes
Full Dispersion Shower Head
Yes
Pause and Pour Feature
No
Programmable Brew Timer
No
Time Since Brew Display
No
General
Power Cord Length (ft.)
2.8
Show More Specifications
Reviews
Rated 5 out of 5
by
Anonymous
from
Love this
I bought this for myself for Christmas. I love it. I replaced my big Keurig with it. It's so nice and sleek and looks great on my counter
Date published: 2018-02-22
Rated 1 out of 5
by
butterfl
from
disappointed and : dismayed
I got this little guy one because I love love Kitchenaid but it failed in under 3 months. I am very dismayed at KitchenAid on this item. I have always held Kitchenaid to a very high standard and this I was so disappointed in. Why I love my other Kitchenaid products this one has made me rethink about using any more product . Here I was pushing my husband to redo our kitchen with Kitchenaid appliances
Date published: 2018-02-21
Rated 1 out of 5
by
tjINPA
from
DON'T BUY IT!!!!
HAVE BOUGHT 3 NOW....EACH TIME THE UNIT FAILED ---FIRST THE OLD STYLE UNIT CLIP BROKE ON THE UNDERSIDE WHERE THE SWING CUP GOES...NEXT TWO FAILED BY STOPPING AFTER ONLY PART OF THE WATER WENT THROUGH....THEN IT WOULD ...THEN NOT.....THE WATER MOSTLY COMES THROUGH THE CENTER HOLE...AND THE RING OF HOLES JUST SIT THERE USELESS....COMPANY IS not N O T NOT CONSUMER FRIENDLY AT ALL
Date published: 2018-02-05
Rated 5 out of 5
by
2malamutes
from
Convenient
This coffee maker brews coffee within a few minutes. Easy to clean. The thermal mug is well made, but the lid does not screw onto the the mug. Overall, a great little coffe maker.
Date published: 2018-01-30
Rated 5 out of 5
by
Lady Trolley
from
Greatt themal mug
This the Greatest personal coffee maker ever made!
Date published: 2017-12-22
Rated 1 out of 5
by
Tracy626
from
Quit working
I bought this and used about 2 weeks and it totally stopped working. Won't heat, won't do anything! Very disappointing.
Date published: 2017-12-22
Rated 5 out of 5
by
Anonymous
from
Works great
I am very very happy with this coffee maker. It works great, quick and quiet.
Date published: 2017-12-12
Rated 3 out of 5
by
Pastry Chef
from
Convenient
Convenient and simple to use design. However, the flavor of the coffee seems off in some way.
Date published: 2017-12-04
Rated 5 out of 5
by
OhioSue
from
Simple Function-Perfect for One!
I'm not a lifelong avid coffee drinker, but have gotten in the habit of stopping at the local convenience store on my way to work for a coffee on my commute to work over the last year. I decided to invest in either a small coffee pot or travel mug machine. I love that I can use my own ground coffee to adjust to my preference and don't have to buy K-cups or even paper filters! Perfect for my needs!
Date published: 2017-12-02
Rated 1 out of 5
by
Judy M
from
Yet another one died!
I have had several of these coffeemakers. The first two didn't work, third one ??, 4th one died in less than 2 years. Now the 5th one (why do I keep purchasing these? I love the looks of them and they fit exactly right between cupboard and sink area), died. I have had this one for 16 months and use it during the cold weather months, so not every day. Day before yesterday, the water would not disperse into the basket. I cleaned the unit. It worked fine throughout the cleaning. Yesterday morning, it would not turn on! Moved it to another outlet and still nothing! Love KitchenAid, but something is wrong with this product!!
Date published: 2017-11-26