Digital Scale Jar Burr Grinder Accessory
Digital Scale Jar Burr Grinder Accessory is rated out of 5 by 4.
Now you can have the perfect grind at the precise weight with the Digital Scale Jar, designed for the KitchenAid® Burr Grinder. This can also can be as as a standalone unit, to simplify the process of weighing the right amount of coffee beans.
Brushed Stainless Steel - KCG0799SX
Features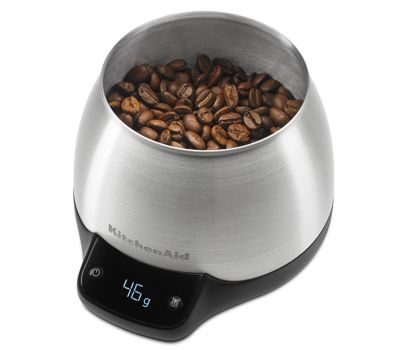 Integrated digital scale
Measures the exact amount of coffee beans for grinding.

Easy one-touch buttons
Allow you to tare the scale and also powers it on and off.

Model KCG0799 includes
(2) AAA batteries
Reviews
Rated 5 out of 5
by
Jeff
from
Very nice addition to burr grinder
This is a nice product. It perfectly matches the grinder and provides more utility than the included glass cup.
Date published: 2017-01-06
Rated 5 out of 5
by
Jeff
from
Very Nice
Very happy with this. It fits the grinder perfectly and appears very durable.
Date published: 2017-01-01
Rated 5 out of 5
by
Jackie
from
Impressive
I am quite impressed with this jar scale. I love being able to grind my coffee right into the jar. It fits completely under my burr grinder so coffee grounds stay in the container and does not go all over my counter. The only fault I can find is that The measurement weight is in grams. I would like to be able to have the option to change the weight measurement to ounces. Definitely not a game changer though. I also like the appearance of the stainless jar with my KitchenAid burr grinder. Quite attractive addition to my everyday appliances
Date published: 2016-11-18
Rated 5 out of 5
by
Gadget Queen
from
Great Coffee Scale and addition to KitchenAid Burr Grinder
This is a great replacement for the glass container originally included with the KitchenAid Burr Coffee Grinder. This one piece unit integrates a digital kitchen scale with a stainless steel container and fits in the bottom of the KitchenAid coffee grinder. It eliminates the need to get out a separate kitchen scale to measure beans, and measures accurately in 1gm increments. I was always afraid of breaking the fragile glass container that came with the grinder - no more worries! This feels solid and sturdy and also looks great.
Date published: 2016-10-22