Below are only the articles for your model.
Search within results:
Parts
To buy replacement parts for your appliance, > See parts.
Accessories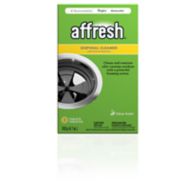 Part # W10509526
Affresh® Disposal Cleaner is #1 Recommended by1: Whirlpool and KitchenAid brands and specially formulated to clean and remove odor causing residues with a powerful foaming action. Each easy-to-use tablet is designed for monthly use, or as needed, to scrub your disposal clean with a citrus scent.
MSRP: $2.99
Continuous Feed
Allows for constant grinding for quick cleanup after meals. The disposer is connected to an electrical switch, making operation easy and safe.
3/4 HP Motor
Stainless steel shredder ring and grinding wheel add strength and provide longer disposer life
Stainless steel shredder ring and grinding wheel add strength and provide longer disposer life
Additional Features
5-Year Limited Warranty - See Use & Care Guide for Details
5-Year Limited Warranty - See Use & Care Guide for Details
Reset Overload Protector
Reset Overload Protector
Corrosion-Resistant Grind and Drain Chambers
Corrosion-Resistant Grind and Drain Chambers
Dishwasher Connection
Dishwasher Connection