Superba® Series 4" Console
Ratings
The ideal addition to any kitchen, this compactor helps you effectively reduce your trash volume, and is a great way to recycle aluminum, plastic or paper products. Select freestanding or built-in.
Below are only the articles for your model.
Search within results:
Parts
To buy replacement parts for your appliance, > See parts.
Accessories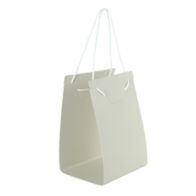 Part # 13030RP
Use the 15" Compactor Bag Caddy to easily lift and remove full trash compactor bags for discarding. Simply place the reusable caddy in the trash bin before placing a new compactor bag in the bin, and use the easy-grip handles to remove the bag once full.
MSRP: $14.99
Convertible Design for Freestanding or Built-In Installations
A convertible compactor is ideal for installation in a utility room or garage.
1.4 cu. ft. Capacity
1/3 HP Motor
Handles heavy-duty compacting.
Additional Features
4 to 1 Compaction Ratio
A 4:1 ratio means that four bags of trash are reduced to one bag, when compacted.
Solid Pack™ Option with Indicator Light
KitchenAid® Solid Pack™ Option offers the consumer the ability to keep the ram in the down position until the compactor is used again. This causes the garbage in the compactor bag to remain 'more compact' offering the consumer up to 20% more bag capacity.
Convenient Toe-Bar Drawer Opener
Removable Key/Knob Control with On/Off/Start
Removable Key/Knob Control with On/Off/Start
Forced Air Activated Charcoal Air Filter
Allows air to pass through for quick removal of strong or lingering odors.
Configuration and Overview
Compactor Type
Convertible