Stainless Steel 10-Piece Set
Stainless Steel 10-Piece Set is rated out of 5 by 9.
Enjoy the long-lasting durability of Stainless Steel Cookware. This dishwasher safe set includes: 8" Skillet, 10" Skillet, 1.5 Quart Saucepan with Lid, 2.7 Quart Saucepan with Lid, 3.3 Quart Saute with Lid and a 6 Quart Stock Pot with Lid.
Candy Apple Red - KC2SS10PC
Features

Dishwasher Safe
Designed to stand up to rigorous dishwasher use.

Oven Safe up to 500°F
To prep, finish or reheat food in the oven.

Induction Capable Stay Flat Base
An edge to edge magnetic base maximizes performance and prevents warping, for all cooking types.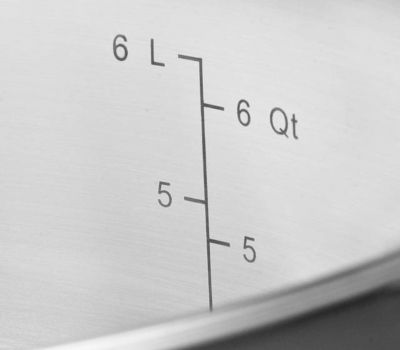 Etched Measurement Markings
Simplify measuring quantities or reductions.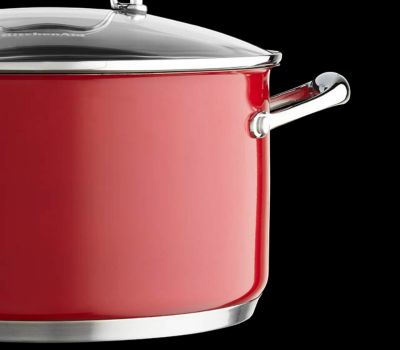 18/10 Stainless Steel with Colorfast Finish
Resists fading and discoloring.

Riveted Cast Stainless Steel Handles
For positioning and removing cookware with ease.

Domed Tempered Glass Lid(s)
Seals in moisture and allows you to monitor cooking at a glance.
Specifications
Features
Handle
Riveted Stainless Steel
Interior Finish
Stainless Steel
Laser Etched Logo
Laser Etched
Lid Type
Domed Tempered Glass
Reviews
Rated 1 out of 5
by
GrannyGranny
from
aluminum under the stainless steel
Almost Everything sticks to the pans. You have to soak and scrub to get off food. We purchased because they were stainless steel. Kitchenaid ads don't tell you there is aluminum under the stainless steel. When the thin layer of stainless steel is scrubbed away because of everything sticking to pans, you are exposed to aluminum.
Date published: 2018-02-28
Rated 1 out of 5
by
Mily Arena
from
Stainless Steel sticks
I have tried using my set several times as I love the style and thought that with its structure it would be great. The saucepans it doesn't matter if you use oil or butter your food will stick, burn and not cook. Also, the butter sticks to the pan. It doesn't matter what grade of heat you use. Even on low it will do the same thing. The pots do the same thing. I have boiled pasta in the pots and add a little of oil to prevent sticking as well as stirribg occasionally and when draining the pasta you see the pasta stuck to the bottom on the pan. They look amazing but when it comes to cooking, im my opinion, it's not worth the money. I had to run out and get a new set of pots and pans since these were no good. I ended up trashing the whole set. It wasn't even worth giving ot to someone who would need it.
Date published: 2018-02-16
Rated 1 out of 5
by
Darlener
from
Don't buy
I was so excited to get a set for Christmas this year, until I used them. Everything sticks to them, and not just one pan. I can't cook anything in them without it sticking. Unfortunately I donated my old set to Goodwill before using these. So am going to have to buy a new set of pans, and trash these.
Date published: 2018-01-13
Rated 4 out of 5
by
britt8808
from
Great pans
I bought these and I love them. I'm very gentle with them, and maybe that's why I'm not having the problems some of the others are. I use them constantly.
Date published: 2017-12-29
Rated 3 out of 5
by
redpots
from
Love the color
I bought my pot set and was happy because they were dishwasher safe and supposedly non stick. I was disappointed because I cooked hash browns in the frying pan yesterday and it stuck solid and had to be soaked for quite some time before it would come off.
Date published: 2017-12-15
Rated 2 out of 5
by
Frustrated
from
Great Cookware ... Until There's A Problem
I received a set of this cookware for Christmas 2016, to go with our new induction stove. I loved the cookware ... until I noticed that a seal had failed in the glass lid for the 6 QT pot. Customer Service by both chat and phone were unable to help. I no longer have paperwork so I don't know about any guarantee/warranty. Shouldn't cookware be designed to last a lifetime???
Date published: 2017-10-25
Rated 3 out of 5
by
Gary
from
No Replacement Pan Covers
They cook well, however if you damage a lid or handle you can not get a replacement. Even customer service will tell you they don't stock replacements.
Date published: 2017-07-15
Rated 5 out of 5
by
crystlfrey`
from
amazing quality
i received these for christmas from my husband and i love them. i wanted some that matched but did not stick when you started cooking. Well thesse do the job perfectly. i have cooked sticky cheese in some of the pans and not one time did it stick and ruin my pans. they also havent scratched at all.. i love these and finally have found a product that i can use that wont ruin after a few months.
Date published: 2017-02-18
Rated 5 out of 5
by
Sassy
from
Beautiful and well made
Just received this set and it is a beautiful color and very attractive. It is the perfect set with a nice selection of sizes and styles of pots and pans. I especially needed the 6 qt. pot with lid and the 12" fry pan with lid. All are well made, have a heating disc on the base, and are suitable for all cook stove types. Yes, also induction. This cookware can go from the cook top and into the oven up to 500* for one pot cooking. There is nothing to melt or warp. The only draw back for this type of cookware is that the handles will get hot and care is needed when handling.
Date published: 2017-02-10
Demos & Guides
guides
Use & Care Guide
Comprehensive information about your new appliance - from getting started to cleaning and maintenance.