Tri-Ply Copper 10" Skillet
Tri-Ply Copper 10" Skillet is rated out of 5 by 15.
One of the most used pans in any well-equipped kitchen, this versatile skillet is ideal for cooking omelets, pancakes, and quesadillas, as well as sautéing vegetables and searing meat or fish.
Satin Copper - KC2P10SKCP
Features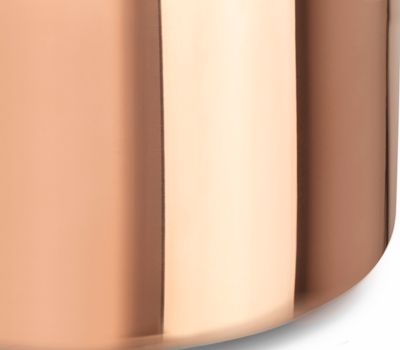 Beautiful Copper
A blend of beauty and performance: the polished pure copper exterior provides efficient, even heating. (Hand wash cleaning only)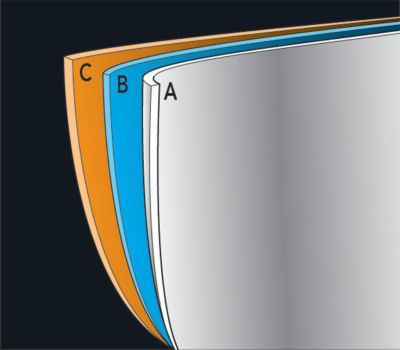 3-Ply Copper Design
Our 3-Ply Design gives you precise even heating. The layers include: ##A. 18/10 Stainless Steel; ##B. Aluminum; ##C. Copper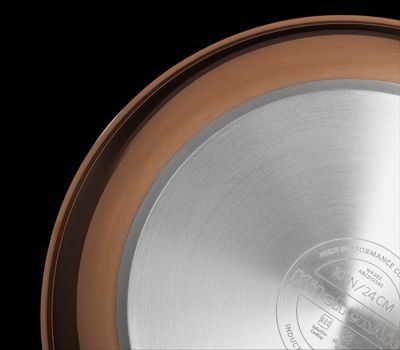 Copper with Induction Technology
Revolutionary induction technology on a copper exterior body. Its 18/0 magnetic stainless steel base stays flat on all cooktop surfaces, including electric, gas, and induction.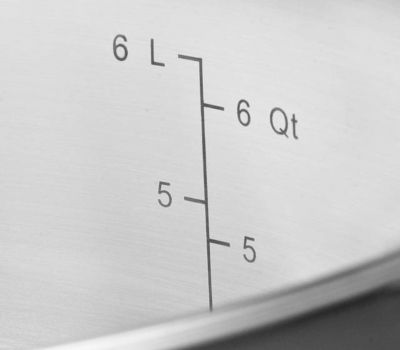 Etched Measurement Markings
Etched Measurement Markings make it easy to measure quantities for soup and sauce recipes.

Riveted Stainless Steel Handle(s)
This sturdy handle lets you take the pan from stove to table with ease.

Easy Pouring Rim
Each pan has a curved edge to make pouring easier and neater.

Oven Safe up to 500°F
To prep, finish or reheat food in the oven.
Specifications
Features
Handle
Riveted Stainless Steel
Interior Finish
Stainless Steel
Laser Etched Logo
Laser Etched
Lid Type
Domed Tempered Glass
Reviews
Rated 3 out of 5
by
Anonymous
from
10" Copper tri ply skillet
I got this pan recently and have used it once. So far it looks great, but copper exteriors always require some maintenance. This is a hand wash pan if you want to maintain the exterior and interior finishes.
Date published: 2018-02-07
Rated 4 out of 5
by
Silver Moon
from
Versatile Skillet
I really abused this skillet in order to give it a fair review and it passed most tests. It is a really wonderful skillet for most things - but scrambling eggs is not an option for me in this skillet. They stuck and clean up was not so easy. Also, the copper is starting to turn color.
Date published: 2016-05-10
Rated 5 out of 5
by
Teresa
from
Love the pan.
I like this pan because it is easy to clean. Also it is a little deep and holds a lot of food.
Date published: 2016-04-29
Rated 5 out of 5
by
Raechef
from
Perfect pan
I use this perfect pan for sautés, sauces and grilled cheese sandwiches. Because of the even heat distribution, I never worry about sauces scorching.
Date published: 2016-04-26
Rated 5 out of 5
by
ABM
from
I love this beautiful pan!
I was asked to trial this pan and, I have to say, I recommend it wholeheartedly. When I opened the box I absolutely loved the appearance of the pan as well as the feel. It is heavy without being overly heavy. Food cooks evenly and without sticking. It cleans easily and the copper remains bright with very little effort. This size is nice for eggs for two, or a small piece of salmon, a grilled sandwich for one. I would really enjoy more pieces and hope to add more soon.
Date published: 2016-04-09
Rated 5 out of 5
by
Josie
from
Excellent Stir Fry Pan
Being kind of busy using my new skillet that I haven't had time to finish my review. I have cooked just about everything that I like in it without any problems. It was very easy to use and clean up. When you have something good to cook in, the food always come out good. I really enjoyed making my homemade pasta recipes in this skillet. Just the right size for the pasta bowl.
Date published: 2016-03-08
Rated 5 out of 5
by
Hiscoed
from
Love it!!
Was this review helpful? Yes / No You may also flag this review 1/19/2016 5.0 Love this skillet! By Mary Mc from Joshua Tree, California I received this skillet as a product tester. I have cooked eggs to perfection in this pan as well as stir fried vegetables. I have used it to brown a small roast as well. It heats evenly so my roast was the perfect color all around. I like the weight of this pan and though I was a little concerned about using copper (because of the cleaning) it cleaned up just great using the recipe in the instruction book for homemade copper cleaner. I would absolutely recommend this pan to a friend.
Date published: 2016-02-10
Rated 5 out of 5
by
Meme
from
I would buy this pan for myself or a wedding gift.
The 3-ply makes the pan heat evenly and great for all cooking surfaces. The copper is beautiful and the pan cleans easily. The sides are easy to pour from. It is great on the stove or in the oven. The pan is not lightweight and it seems like it will last a long time. The riveted handle is easy to grip and compliments the pan perfectly.
Date published: 2016-02-05
Rated 5 out of 5
by
Brendalou
from
Ease of use was wonderf
Non stick Used frequently for egg sandwiches, grilled chees, sautéed onions & mushrooms
Date published: 2016-02-05
Rated 5 out of 5
by
Grandma 4
from
This is my new favorite skillet
I have a ceramic top stove and wasn't sure how this skillet would work on my stove. I followed the instructions closely and was so happy with the results. Often with my stove pans especially skillets will have some uneven heating but this skillet heated evenly and quickly. I cooked a variety of different foods to see how the skillet would perform so far I have had no issues cooking anything. My family gets together for meals about once a week at one of the family gatherings we made omelets and by the end the skillet was really messy so I thought this would be a real test to see how the skillet would clean up no scrubbing needed and the skillet was ready to use again. I use this skillet for everything now. So happy with it.
Date published: 2016-02-04
Demos & Guides
guides
Use & Care Guide
Comprehensive information about your new appliance - from getting started to cleaning and maintenance.