5-ply Copper Core 10-Piece Set
5-ply Copper Core 10-Piece Set is rated out of 5 by 7.
Experience the optimum heating of a layer of copper between two layers of aluminum and two outer layers of stainless steel. This Copper Core cookware set includes: 8" Skillet, 10" Skillet, 1.5-Quart Saucepan with Lid, 3.0-Quart Saucepan with Lid, 3.5-Quart Sauté with Lid, 8.0-Quart Stockpot with Lid.
Stainless Steel Finish - KC2CS10ST
Features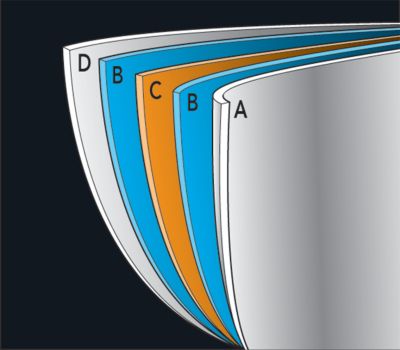 5-Ply Copper Core Design
Our 5-Ply Copper Core Design gives you optimum heating. The layers include: ##A. 18/10 Stainless Steel; ##B. Aluminum; ##C. Copper; ##D. Aluminum; ##E. 18/0 Stainless Steel.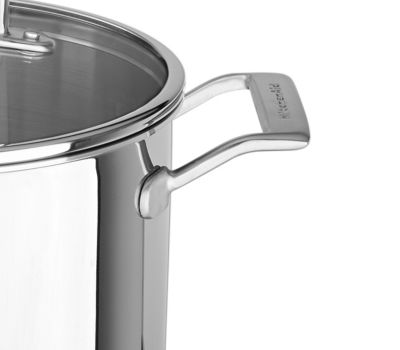 Welded Stainless Steel Handle(s)
These sturdy, welded handles let you take cookware from stove to table with ease and make cleaning trouble-free.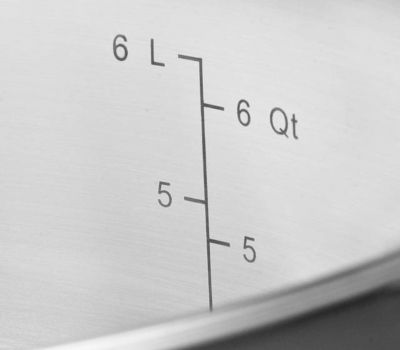 Etched Measurement Markings
Etched Measurement Markings make it easy to measure quantities for soup and sauce recipes.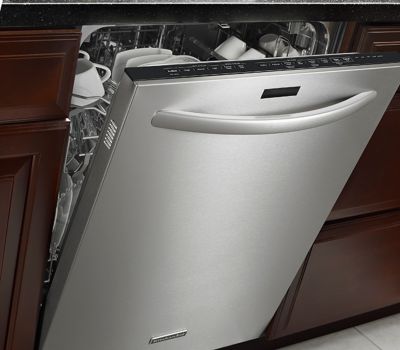 Dishwasher Safe
Designed to stand up to rigorous dishwasher use.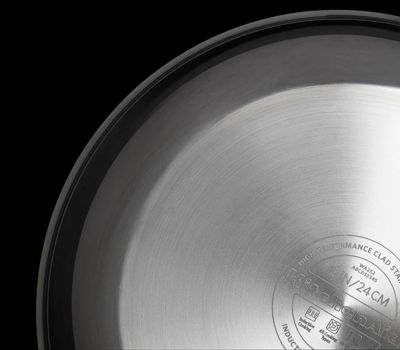 Stainless Steel Base
The 18/0 magnetic stainless steel base stays flat on all cooktop surfaces, including electric, gas, and induction.

Domed Tempered Glass Lid(s)
The domed tempered glass lid seals in moisture and lets you monitor your cooking at a glance.

Oven Safe up to 500°F
To prep, finish or reheat food in the oven.
Specifications
Features
Handle
Welded Stainless Steel
Interior Finish
Stainless Steel
Laser Etched Logo
Laser Etched
Lid Type
Domed Tempered Glass
Reviews
Rated 5 out of 5
by
NtCooker
from
The set is great looking and cooks well
I have enjoyed our new set of cookware and so far they are easy to clean and use.
Date published: 2017-12-23
Rated 5 out of 5
by
Moori
from
Great Quality
We bought our set 4 months ago. We got this set on sale. Now our price compared to the full asking price was substantial. I say this so those that want to put my comments into context can. This is the best cookware I have ever used. This 3mm thick 5ply does make a difference in cooking and it can take the heat. To bad that its line is not being continued. If they would of sold it for a regular price of $750 for the set. They would sell allot more. Good craftsmanship and we are very happy for the price we paid. I can't seem to find other pieces that match to add to this set.......:(
Date published: 2017-12-05
Rated 5 out of 5
by
Marcus
from
Durable, high quality, impecable cooking.
I received a sample of this product to test and review These pans and pots are by far one of the best designed set, every piece of this set has a high quality feel and performance, they work absolutely fantastic on the cook top and inside of the oven. However, they may seem a bit on the heavy side to some, but this definitely improves the durability. All of the pots and pans heat relatively well, they cook evenly, and the even the walls distribute heat. One of the best aspects of these pots and pans is the efficiency, I've found many dishes I've made using this set cook faster without sacrificing moisture and texture and this is always a plus in my book. In addition, there are measuring cups on the pots which are a great bonus for recipe following and adding to dishes amid cooking. As far as cleaning, sometimes these pots need a little extra care when cleaning which is to be expected with non stick pans, but it seems that heating the pots with a bit of water and dish soap does the trick.
Date published: 2017-06-15
Rated 5 out of 5
by
Eper
from
Great Product
This cookware cooks evenly across the whole coking surface even on low heat. The fluted tops are great for pouring off liquid. I would recommend this to anyone wanting top quality,
Date published: 2017-06-11
Rated 4 out of 5
by
AnaEQL
from
The best quality pots and pans I have ever used
I have been using these for a few weeks. My first impression was that the quality construction of these pans couldn't be better. Because of that, they distribute the heat very evenly across the bottom and there is no way these are going to warp from the heat on my flat stove. I was disappointed at first that the pots did not have pouring spouts, but later I realized that their curved edges allow me to pour in any direction, which is much better. I had never had volume markings on the inside before, and I have found them to be useful on several occasions. My only concern is that because they are so solidly built, they can be a bit too heavy for me to handle comfortably.
Date published: 2017-05-31
Rated 4 out of 5
by
Bigsisdcb
from
A very functional set of cookware
My cookware set was part of the KitchenAid Test and Review Program. The cookware was very eye catching in material and design. I would have replaced the soup pot with a Dutch oven as I find a Dutch oven a much more functional piece of cookware than a soup pot. The first time I used the cookware I was impressed with fast heating, the handles staying cool, and the glass lid staying clear during cooking; making it easy to observe what I was cooking. The rounded shape of the cookware, both on the bottom and top edge, make stirring and pouring less difficult. The thoughtfulness of deleting the rivets on the inside of the cookware did not go unnoticed. Cleanup is so much easier! Unfortunately there was some dullness in spots on one pan after the initial use. This only happened with one pan. The weight of the cookware is substantial and could be difficult to lift for some. All in all KitchenAid has a winner with this copper core cookware set.
Date published: 2017-04-28
Rated 5 out of 5
by
Kilyena
from
Wonderful Cookware!!
We got this set a year or so ago and absolutely love it! We loved it so much we bought two extra pieces that didn't come with this set. The 6 qt. stockpot and an additional 3 qt. sauce pan which comes in handy during the holidays. It's beautiful and cooks like a dream. I love the etched measurements on the inside. I think it's being fazed out and I think that's a shame. I would recommend this set to anyone interested in a high quality cookware set!
Date published: 2017-01-19
Demos & Guides
guides
Use & Care Guide
Comprehensive information about your new appliance - from getting started to cleaning and maintenance.