Aluminum Nonstick 12" Skillet
Aluminum Nonstick 12" Skillet is rated out of 5 by 19.
One of the most used pans in any well-equipped kitchen, this versatile skillet is ideal for cooking omelets, pancakes, and quesadillas, as well as sautéing vegetables and searing meat or fish. And our durable three-layer interior coating ensures long-lasting nonstick performance.
Empire Red - KC2A12SKER
Features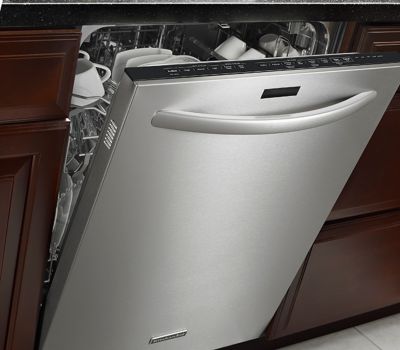 Dishwasher Safe
Designed to stand up to rigorous dishwasher use.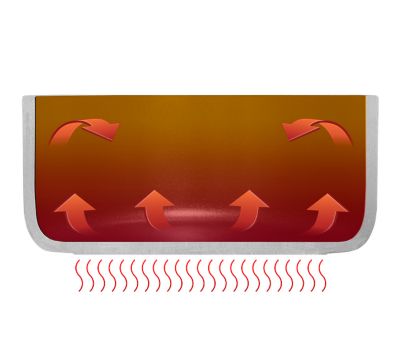 Heavy-Gauge Aluminum
Heavy-gauge 4.0 mm aluminum ensures increased durability and even heating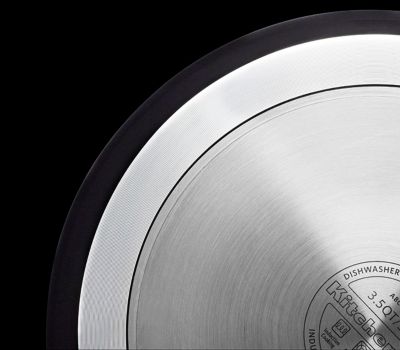 Induction-Capable Stay-Flat Base
Solid stainless steel base provides induction capability and added durability to resist warping

Three-Layer Nonstick
Three-layer, PFOA-free nonstick coating covers entire interior surface including rivets for easy cleaning.

Oven Safe up to 400°F
Specifications
Features
Handle
Riveted Stainless Steel with Silicone Overmold
Laser Etched Logo
Laser Etched
Reviews
Rated 5 out of 5
by
Bev
from
Non-Stick coating works like a charm!
Couldn't wait for the new teflon coated skillet to arrive. We use it everyday!
Date published: 2017-01-26
Rated 5 out of 5
by
Susie Q
from
Excellent buy!
Very nice cooking skillet. Washing up good too. Would recommend this highly.
Date published: 2016-07-13
Rated 5 out of 5
by
Chadwicj
from
Excellent Quality Pan
I have been using my non-stick pan for several months. It has stood the test of time and has became my go to pan for everyday use. Normally by now most non-stick pans in my house are showing heavy wear and warping if they are clad. This pan has warped very little and once it heats up, the surface evens out nicely so that contents are not shifting to one side or rolling away from the middle of the pan. The heavy duty non-stick surface has yet to be scratched by any of my uteincils or when being washed in a dishwasher. Price wise, this is an excellent buy, especially for anyone starting out with little to no pots and pans, or anyone who needs a great general use pan.
Date published: 2016-05-10
Rated 5 out of 5
by
Mangos27
from
Yes, I would buy this product again.
It looks very sharp, bottom is even all the way around, cooks evenly, food does not stick to the pan, washes up nice. It cooks very well, a well designed product.
Date published: 2016-04-29
Rated 5 out of 5
by
Geri823
from
The only skiller you will ever need.
I have used this skillet daily since it arrived. I've made grilled cheese, eggs, chicken, ground beef in it. I like the fact that it cooks evenly. There is no variation in the food you're preparing as far as the evenness of cooking. I can't say that about some of my other skillets that you keep moving the food around to get it evenly cooked. An extra bonus is that it's dishwasher safe. An excellent skillet, I highly recommend it to anyone.
Date published: 2016-03-11
Rated 5 out of 5
by
Johnny
from
I like the pan and would like to try different sizes.
This fry pan is used for sticky items because it is easy to clean. Also it heats uniformly.
Date published: 2016-03-05
Rated 5 out of 5
by
JNew
from
Great Skillet
I used this skillet throughout the week for various meals, I finished the week with pancakes. I loved it. All the food was cooking evenly, which is such a great upgrade from the skillets I have. The pan is a good weight for it's size, still easy to handle. Loved it overall!
Date published: 2016-02-29
Rated 5 out of 5
by
sewJane
from
Non-stick AND dishwasher safe!
This is a universal skillet that is great for making any skillet dinner. The size is suitable for most family-sized recipes. Since it can be put into the oven, it will be useful for those dishes that finish in the oven. It would have been nice to have a lid, but a piece of foil will suffice. The non-stick finish is great, and I'm thrilled that it is dishwasher-safe.
Date published: 2016-02-28
Rated 5 out of 5
by
Sand420
from
This is wonderfulness in a pan
I am very pleased with this skillet. I couldn't wait to use it. My first dish was an omelette and it was perfect. Sautéed vegetables and I was in love. Cooks evenly and easy to clean. I look forward to purchasing the other pieces to finish the set.
Date published: 2016-02-27
Rated 5 out of 5
by
Leslie
from
very nice skillet
All of the questions above do not pertain to this skillet but rather something wearable. I find that skillet is comfortable to handle, maybe just a bit heavy but not overly so. I did not try it in the oven but on the surface it's a very good skillet. The sides are not too deep yet deep enough. The handle is very comfortable.
Date published: 2016-02-08
Demos & Guides
guides
Use & Care Guide
Comprehensive information about your new appliance - from getting started to cleaning and maintenance.