Citrus Juicer
Citrus Juicer is rated out of 5 by 21.
Juice citrus fruits quickly and easily with the power of your stand mixer. Simply attach the KitchenAid® Citrus Juicer to the stand mixer hub and get juicing directly into a bowl, pitcher or cup.
Other - JE
Features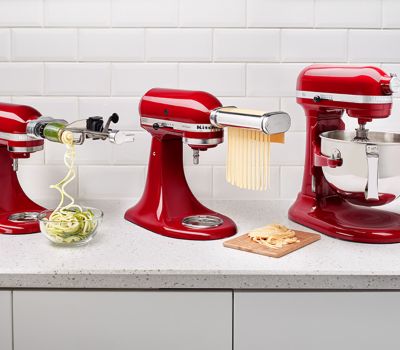 Attaches to Power Hub
Of your stand mixer and uses the power of the motor to run the attachment. Fits all Household KitchenAid® Stand Mixers.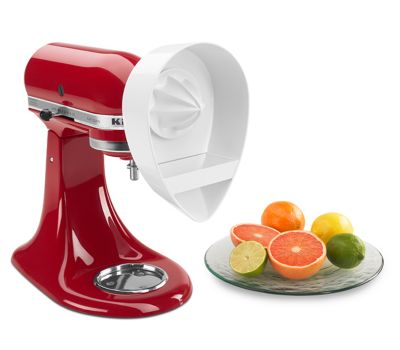 Extracts Juice From Citrus Fruits
From small limes to large grapefruit.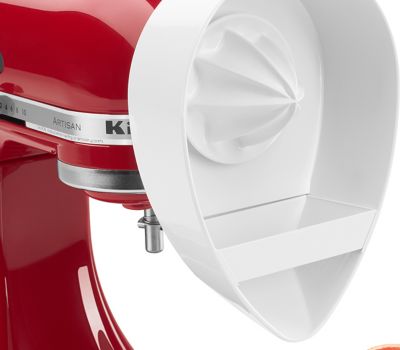 Strainer Basket
Catches seeds and pulp as it extracts juice from the reamer.
Reviews
Rated 5 out of 5
by
CarolynLV
from
Freshly Squeezed Oranges
It was easy to use and we drunk the fresh orange juice perfectly.
Date published: 2018-03-22
Rated 5 out of 5
by
lildeb
from
love it
Despite some of the bad reviews, I wanted to try it. Idid not have any problem with juice running down my arm or with the pulp strainer. I cleaned the strainer when it started to get a little full. It worked nicely, even compared to my electric juicer. this is more compact and I don't have to keep it on the counter
Date published: 2018-03-18
Rated 5 out of 5
by
Chef_Charlie
from
I love it
Got this for Christmas from my Wife - perfect timing as my sister-in-law had just given me a large bag of fresh lemons :) Love it, quick and easy to use, quick and easy to clean. If they could make one improvement it would be great to have a 'with pulp' option...the grid that collects the pips also stops the pulp.
Date published: 2018-01-16
Rated 4 out of 5
by
Nicolef429
from
Mid-large size oranges
This juicer works great for me but I had a few Trial-and-error to work through. No clementine or mandarines because the whole fruit detaches from skin, nothing small or the juices will run down your arm. Other then that I'm happy with it. Not conveniently small but easy to clean. Can't beat $20.
Date published: 2017-11-27
Rated 4 out of 5
by
Jccwc
from
Works decent, but has a few issues
I like that this attachment sets up easily and can be cleaned easily. I can juice the lemons off my tree quickly with this attachment. I got it on clearance so I overlook its issues. One, make sure to have a large pitcher underneath it with a strainer on top if you want to catch all the seeds. Which brings me to issue number two. Seeds slide the plastic strainer that's provided with the juicer hence my recommendation to have a strainer on top of the large pitcher. And three, find the right hand position to prevent juice from running down your arm when pressing the citrus on the juicer.
Date published: 2017-07-14
Rated 3 out of 5
by
Gritsy
from
God reamer until......
I happily attached my reamer to my stand mixer. It worked great until a small piece of metal fell off into the strainer. It is not the large washer but a smaller washer type piece of metal with cut outs. I can not determine where this piece attaches. The attachment still reams, but not well and with a lot of noise. I feel sure this can be remedied, but I am not sure how. Please help.
Date published: 2017-01-17
Rated 1 out of 5
by
Soupy
from
Juicer did not work properly
I was excited to use this as I had looked all over. It doesn't fit properly on my mixer. My mixer got very hot and I have only used it once. I hope it isn't broken. The shaft isn't long enough and thus there is no way to secure both the juice catcher and the juicer. I need to return it.
Date published: 2016-11-23
Rated 4 out of 5
by
Lisa juices
from
I like this juicer, but there is a grease problem
I get bulk supplies of lemons and oranges and like to squeeze and freeze for use later. Once I'm set up, it goes along great and in no time my work is done :) The last couple of times I used it though, oil kept leaking and spraying from the gear shaft. I had to continually keep wiping it away to keep out of the juice.The grease leaks right where my juice is expelling. Can this be corrected? Would replacing the gear shaft fix the problem? When buying my KitchenAid mixer and additional parts, I felt I was investing in the best tools available. I would like to salvage the tool but do not want grease in my juices. Can you help? If we can resolve this issue, I would definitely recommend this accessory to friends and family.
Date published: 2016-05-28
Rated 1 out of 5
by
SG
from
Very poor design
I bought this citrus extractor to avoid having another small appliance on the counter top. Unfortunately, it's so poorly designed that I prefer to use the old style manual citrus extractor for everyday use. Besides the sort of *reasonable* price, I really cannot came up with any pros on this attachment, perhaps the worst from all other KA attachments that I've used. 1) The extractor sits vertically (instead of horizontally) and leaves a very large gap between its spout and the countertop. Unless you use a very large pitcher that sits right under the spout you'll end with juice all over the place 2) The "vertical* design also means that you have to press horizontally against the mixer, which will skid backwards as you press (you may wish to bolt the stand mixer to your counter…) 3) The mesh for the pulp is so small that you need to clean it pressing one orange, otherwise the juice will overflow and get even more mess in your kitchen 3) All- plastic construction with a few cheap and non durable metal parts (the lock washer that goes on the rod broke after one use) 4) The few metal components are not stainless steel 5) Perhaps this was conceived for a 3 handed individual, as you need one hand to hold the fruit, one hand to hold a glass close to the spout and one hand to hold the mixer so that it does not skid backwards I hope KA reads this and eventually come up with a better designed attachment for this purpose.
Date published: 2016-05-05
Rated 2 out of 5
by
S&G
from
Poor design
Several design flaws. Unless you are using a large pitcher, tall enough to be right under the juice,r be prepared for a big mess. This could have been solved by a) having a larger grid to contain the pulp, b) designing the body of the juice extractor in such a manner that the spout could be closer to a smaller pitcher or container. It seems to have been conceived for individuals with 3 hands: one to hold the fruit, one to hold a glass and one to hold the stand mixer so that it does no go backwards when you are pressing your citrus... A horizontal (instead of vertical) juicer would have been certainly a better, albeit more expensive, and less messy idea.
Date published: 2016-05-04
Demos & Guides
guides
Use & Care Guide
Comprehensive information about your new appliance - from getting started to cleaning and maintenance.