Ice Cream Maker Attachment (220V)
Model: KICA0WH
Model: KICA0WH
Ice Cream Maker Attachment (220V)
Ice Cream Maker Attachment (220V)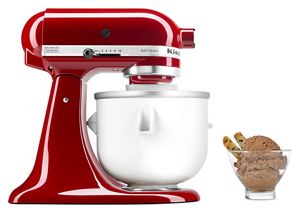 DOES IT FIT IN YOUR SPACE?
Use your camera to view in your room.
UPGRADE YOUR MIXER
FOR BIGGER BATCHES
See how a bowl-lift stand mixer offers more capacity to create.
UPGRADE YOUR MIXER
OUR MOST POWERFUL MIXER
See how the Pro Line® Series helps you take on your biggest culinary challenges.
UPGRADE YOUR MIXER
READY FOR MORE?
Unleash your culinary potential with the Artisan® Series.
CUSTOMIZE YOUR MIXER
BROADEN YOUR BOWL COLLECTION
Choose between glass and stainless steel bowl options.
UPGRADE YOUR MIXER
JUST THE RIGHT SIZE
See how today's smaller mixers help deliver more than ever.
STAND MIXER ATTACHMENTS
AMPLIFY YOUR CREATIVITY
Power Hub attachments are designed to work with any KitchenAid® Stand Mixer.
SHOP SUSTAINABLY
LIKE NEW PERFORMANCE AT A PRICE YOU'LL LOVE
Refurbished appliances are tested to ensure like new quality and performance.
GET MORE FROM YOUR MIXER
FLAT BEATER FEATURES TO INSPIRE & AMPLIFY
Discover five flat beater features designed to help you get more out of your making.
CUSTOMIZE YOUR MIXER
BOWLS FOR EVERY MAKER
Choose between glass and ceramic to find a bowl that matches your unique style.
BY HAND, FROM SCRATCH
Make fresh from scratch pasta at home with the Pasta Roller and Cutter Attachment.
FRESH PREP, SIMPLIFIED
Use the Fresh Prep Slicer/Shredder to easily slice and shred fresh ingredients.
BUYING THE RIGHT BOWL
From capacity to design and finish, find out which bowl to choose.
ADD VERSATILITY TO YOUR COUNTERTOP
Find out all the different things you can do with a countertop oven.
NEW POSSIBILITIES WITH MEAT GRINDERS
Learn all the things you can do with a meat grinder attachment.
FIND THE RIGHT FOOD PROCESSOR FOR YOU
Break down the different sizes of food processors available.
TIME TO CUT THE CORD
A cordless countertop appliance could be just what you need.
YOUR GUIDE TO STAND MIXER ATTACHMENTS
See your creative capacity amplified with these attachments.
GET THE MOST FROM YOUR TOASTER
Learn what to look for when choosing the right toaster for you.
FIND THE BEST BLENDER FOR YOU
Explore the different blenders and decide which one you need.
WHAT IS A GOOSENECK KETTLE?
See how this kettle's unique design can work for you.
WHAT DOES AN IMMERSION BLENDER DO?
Watch how this precision tool can help you in the kitchen.
EXPLORE THE POSSIBILITIES OF PASTA
With your very own Gourmet Pasta Press, you can say goodbye to pre-packaged pasta.
BAKING MADE BETTER
For baked goods, the Sifter + Scale Attachment is your all-in-one baking tool for fluffy, consistent results.
A FRESH TAKE ON RECIPES
Freshen up classic recipes with the Vegetable Sheet Cutter Attachment with Noodle Blade.
MAKE MORE WITH YOUR MIXER
The Stand Mixer and Pastry Beater Bundle have the capacity and tools for every occasion.
MAKE DOUGH WITH LESS EFFORT
Make handmade quality pastry dough, with less effort, using the Pastry Beater Accessory.
GRIND A VARIETY OF GRAINS
Quickly grind through wheat, oats, rice and other grains with the Grain Mill Attachment.
Key Features
Frozen Treats in Under 30 minutes
Thoroughly Incorporates Ingredients into the Mix
Sign in to unlock lower pricing
Protection Plans (Optional)
Flexible Appliance Protection Plans for Your Needs Learn More
WHY SHOP KITCHENAID® APPLIANCES
*Your rate will be 0% or 10–30% APR based on credit, and is subject to an eligibility check. Payment options depend on your purchase amount, and a down payment may be required. Payment options through Affirm are provided by these lending partners: affirm.com/lenders.
Overview
Product Description
Ice Cream Maker Attachment (220V)
KitchenAid Ice Cream Maker Attachment makes up to 1.9 L of fresh ice cream, sorbet and other frozen desserts.
Features
Frozen Treats in Under 30 minutes
Once your ice cream bowl is fully prepped*, quickly and easily make up to 2.0 qts of ice cream, gelato or sorbet in under 30 minutes. *Allow bowl to freeze 24 hours prior to use.
Additional Features
Thoroughly Incorporates Ingredients into the Mix
Watch your ingredients thoroughly mix and process into your favorite frozen treat while the churning dasher does the work of spreading, scraping and mixing.
Easy to Clean Up
Warm soapy water cleans the attachment quickly and easily.
Specifications
Certifications
Model
4.5 Quart, 5 Quart, 6 Quart
Dimensions
Reviews
Rated

5

out of

5
by
EmilyVelvetBlue
from
Came to give 5 stars, shocked at low rating!
I got this attachment for Christmas. I LOVE it. The recipe in the booklet is so buttery smooth and freezes and keeps really well. It's easy, not very messy. I wonder how many of the low ratings were people that don't read the manuals? (I always read the manual cover-to-cover, and I've found this really helps me). So much fun, super impressive, I can't say enough good things about it.
Date published: 2021-12-30
Rated

5

out of

5
by
Vivek
from
Exactly as advertised
This is the perfect attachment. I also love that it is so much cheaper than a standalone ice cream maker. The modular design of the Kitchenaid is second to none.
Date published: 2021-12-06
Rated

5

out of

5
by
Bonnie 54
from
Ice cream maker
I love my ice cream maker it was so easy to make delicious homemade ice cream with my KitchenAid mixer loved it loved it loved it
Date published: 2021-11-15
Rated

5

out of

5
by
Khelmick87
from
Ignore the bad reviews!
The reviews talking about how awful this product is are just written by people that can't cook. This thing is super easy to use and works like a charm. I've had mine for a few years now and it's still going strong!
Date published: 2021-11-01
Rated

5

out of

5
by
corky0494
from
Best Ice Cream!
I bought this about a month ago and have made the vanilla ice cream in the book that came with it and it was delicious! It made so much ice cream and it froze so well. I put it in the freezer about 2 days ahead of time so it got extra cold and then I let it sit out overnight before washing it. I was nervous because of previous reviews saying it broke but I feel like as long as you follow the directions it will hold up well. So far I am very happy I made the purchase.
Date published: 2021-09-19
Rated

5

out of

5
by
TucsonMom
from
LOVE this attachment
I follow the directions carefully and it works perfectly. Even when I cook some recipes - I put them in the fridge or freezer and cool them before making the ice cream. For a while, I couldn't remember if my mixer needed the A or B. Then I discovered that only one of them fits. As for cleaning, I leave it on the counter to thaw completely and then hand wash. Never a concern to crack the bowl when you patiently wait for it to defrost! LOVE this attachment!!!
Date published: 2021-09-13
Rated

5

out of

5
by
Nan52
from
Great product!
After purchasing An ice cream maker attachment for my son, I decided to purchase one for myself. I have found no problems or issues with it. It is very easy to use and works like a champ. Lots of bad reviews out there, but I've had absolutely no issues. Would highly recommend.
Date published: 2021-09-11
Rated

5

out of

5
by
MPWSC
from
Ignore all the bad reviews! We LOVE this!
Received Christmas of 2019 and have used on average twice a month with zero problems. We follow the care directions each time. The bowl is stored in the freezer and we pull it out when we are ready to use it. Typically we make ice cream late in the evening so the bowl sits on the kitchen counter until the next morning in order to thaw completely. Then we wash it dry it and return it to the freezer in the morning. This ensures that we have never cracked the bowl or had any problems with it.
Date published: 2021-08-04
Rated

5

out of

5
by
Pam in Texas
from
Love my new ice cream maker!
Last week I bought the ice cream maker attachment for my KitchenAid mixer at a local department store. I love it! I have made peach-mango sorbet and then blackberry-blueberry-raspberry ice cream. The attachment worked like a charm. I let the bowl sit in the freezer for 15 hours the first time (per instructions) and for about 36 hours the second time. Both batches were complete within 15 to 20 minutes. Again per the instructions, I let the bowl come to room temperature before I washed it (took about 3 hours). One suggestion is to pour in a fair amount of the mix when you begin (bowl is already spinning). Some of the mix adhered to the bowl and did not aerate completely because I poured slowly, but that's a minor fix. Also next time I'll probably stop and scrape the bowl midway (I did not do that with these batches). Anyway, thanks, KitchenAid!!
Date published: 2021-06-28
Rated

5

out of

5
by
Phil612
from
Works great
I have seen many negative reviews because the top attachment has broke. I purchased mine a 5 years ago and still works. I believe they might have a new manufacturer because the one I purchased works great. I would highly recommend buy one.
Date published: 2021-06-09
Rated

5

out of

5
by
Vicki R
from
Best thing ever
My husband and I love our ice cream maker. I know there are some bad reviews but I'm glad I didn't take them as fact but went ahead and ordered. We use it about once a week and my husband just recently told me it was the best thing I've ever bought! Now I want a spare bowl because the only drawback is having to wait 15 hrs before using again.
Date published: 2021-04-10
Rated

5

out of

5
by
Leah747
from
I LOVE this product!
My mom passed her ice cream maker and mixer down to me about 2 years ago, and I've loved using it...Sadly, I've moved a few times and can't seem to find the dasher for the ice cream bowl. I have the piece that drive's the dasher, but not the dasher itself. Anyone know where I can buy just the dasher part?
Date published: 2021-01-17
Rated

5

out of

5
by
Gamzieftwt
from
Ice cream was excellent
I requested and received for Christmas. First time making ice cream was easy and the ice cream was excellent. Followed directions to a "t" and all went well. I love this addition to my Artisan
Date published: 2021-01-17
Rated

5

out of

5
by
ESM526
from
The BEST Kitchenaid Accessory!
I received this as a gift 2 years ago and it is possibly one of the best gifts I have ever received. I make ice cream at least twice a month. I have made Chocolate, Vanilla, Coffee, Buttered Pecan, Mint Chip, Peppermont and Prailines and Cream and all have turned out wonderfully! I have had no problems but you do have to follow the directions.
Date published: 2020-11-25
Rated

5

out of

5
by
MNhockeymom
from
AMAZING ice cream maker!!!!!!
I was skeptical about this product due to the reviews. I am SO happy I ordered this!!!!! It makes the most amazing ice cream. If you read the directions carefully and follow them as written you will not be disappointed!
Date published: 2020-11-22
Rated

5

out of

5
by
Awkwardangie
from
Love love!!
I received this for Christmas last year and have used it at least once per month since. I could not be happier with the ice cream we've made. Delicious! So easy to use and clean. I just leave to bowl in the freezer so it's always ready to go. My teenager has had a great time experimenting with flavor combinations as well.
Date published: 2020-11-13
Rated

5

out of

5
by
Lori1975
from
Love it
I have owned for two years now. We keep it in the freezer so it's ready to go anytime. We always quick cool our mixer in the freezer before freezer and it works like a charm. Then after churning we return ice cream to freezer for 3 hours.
Date published: 2020-08-09
Rated

5

out of

5
by
Katiekat294
from
Wonderful, wonderful attachment!!!
Bought this as a birthday gift for my mom, and she absolutely loves it! We were a little skeptical about purchasing because of how it rates, then discovered a lot of people may just be cleaning it wrong. You MUST let the bowl thaw out before you use warm water to clean it or you might crack the bowl. Makes delicious frozen treats!
Date published: 2020-08-06
Rated

5

out of

5
by
Cake_S
from
Works well!
I've had this for 3 years and use it weekly. Haven't had any issues with it and it works very well!
Date published: 2020-08-02
Rated

5

out of

5
by
Fbohling
from
Treat it right and it will last!
I read all sorts of reviews on this ice cream bowl and glad I got it. I am careful not to expose it to extreme temp changes, starting the mixer before pouring ingredients, using my rubber spatula, when I place the bowl into the mixer arms I do so gently and don't slam it in there like I do my mixing bowls. Maybe I am more careful then I need to be, but it's done so many batches of ice cream at our house! I bought a ice cream maker that was supposed to be the best in the $100-125 price point and the process was no different HOWEVER it was so LOUD. It went back to the store. It takes a bit of learning on what to expect in the various price points of ice cream makers. If you want a great option that's affordable and quiet, go this route. I have been so happy with this attachment as my primary ice cream maker. Just like the title, treat it good and it will do the same. Read the instructions!
Date published: 2020-07-29
Rated

5

out of

5
by
MGT9356
from
IT WORKS BEAUTIFULLY IF YOU FOLLOW DIRECTIONS!
I've used this ice cream maker so many times with dairy free ice cream and regular ice cream. I follow the instructions to a T, don't wash while cold and let thaw completely, don't store in freezer, etc. and I haven't had any issues. Works great and ice cream is delicious!
Date published: 2020-06-23
Rated

5

out of

5
by
Love228
from
Good
I love it me and my girls make ice cream every week.
Date published: 2020-05-21
Rated

5

out of

5
by
Aleksandra
from
It's still working!!!
I'm using this attachment for past 2 years around 40 times and I love it!!!!! We just try old fashion recipe:1 c of milk; 2 tbs sugar mix together and come out wonderful! Summer time I storage this attachment in my freezer ; winter depends of when is needed. Yes you need to be gentle with this attachment why because is made of plastic and I hope it stay with me for another 2 years. my kitchen aid is 10 years old and I love it!!!!! is in used every day ... in summary, I have never had a machine which would lasted with me for so long and being used every day!
Date published: 2020-05-15
Rated

5

out of

5
by
Kitchenaid220
from
Works Great
I just recently purchased ice cream attachment. I read manual and cleaned as it said. I let it come to complete room temp-thaw out over night. Completely dried and put it back in freezer. No issues. I was told that's why people have blue leaking was washing while cold. We shall see! I like it I recommend it!
Date published: 2020-05-14
Rated

5

out of

5
by
AnastasiaT.O
from
Love this!
My sister purchased this attachment and makes healthy amazing desert for her kiddos...it's gonna be my next purchase for sure
Date published: 2020-04-29
Rated

5

out of

5
by
Taly4011
from
I love ice cream
I just recieved this ice cream make. I read all the directions and sat it in my freezer for 2 days. My son and I made the vanilla ice cream and it was amazing. This attachment is easy to use and easy to clean. Can't wait to make more this week
Date published: 2020-04-18
Rated

5

out of

5
by
ThriftyShopper
from
I like this attachment
I know some people have said they aren't happy with this attachment, but I really like it. I haven't had any leaking problems, and it's so much easier than a stand-alone ice cream maker. The ice cream came out just as creamy and tasty. It's all in the recipe, and I have a good book of recipes. I think I'll get one of these for my daughter.
Date published: 2020-03-02
Rated

5

out of

5
by
Dani1234
from
wonderful attachment.
always i dream to make handmade ice cream as a chef. So cool attachment. The package arrive in excellents conditions! 100% recommended!
Date published: 2020-02-25
Rated

5

out of

5
by
Tlc21
from
Wonderful
I'm so happy with this. Never dreamed I would have one
Date published: 2020-01-08
Rated

5

out of

5
by
Chris P. Cook
from
Real Ice Cream
We have made our first batch of vanilla ice cream with strawberries. Oh, it is so darn good. Make certain that everything is cold. We put the bowl in the freezer for more than 15 hours to make certain that it was very cold. Then it was pretty simple. We used the whisk attachment in the regular stainless steel bowl to mix the ingredients before removing the ice cream bowl from the freezer. It was so easy to set up and then let it do it's magic over the next 20-30 minutes.
Date published: 2020-01-07
y_2022, m_9, d_28, h_1
bvseo_bulk, prod_bvrr, vn_bulk_3.0.34
cp_2, bvpage2n
co_hasreviews, tv_7, tr_647
loc_en_US, sid_KICA0WH, prod, sort_[SortEntry(order=RATING, direction=DESCENDING), SortEntry(order=SUBMISSION_TIME, direction=DESCENDING)]
clientName_kitchenaidbrand
bvseo_sdk, java_sdk, bvseo-4.0.0
CLOUD, getReviews, 7ms
REVIEWS, PRODUCT
Bundle summary&nbsp (&nbspitems)
If Purchased Individually*
*Offer subject to change. Limit one use per order. Valid for bundles delivered to a single U.S. address. Bundle savings based on current pricing available from KitchenAid.com. Only valid for new orders on KitchenAid.com.
See how we handle Returns
.
Item added to the compare list, you can find it at the end of this page