Ceramic Pot for Slow Cooker (Fits model KSC6222 and KSC6223)
Model: W10443093G
Model: W10443093G
Ceramic Pot for Slow Cooker (Fits model KSC6222 and KSC6223)
W10443093G
Model: W10443093G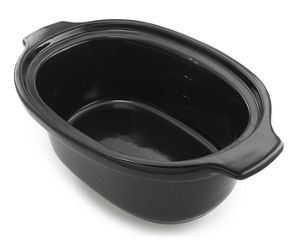 DOES IT FIT IN YOUR SPACE?
Use your camera to view in your room.
Key Features
Replacement part for Slow Cooker
Sign in to unlock lower pricing
Protection Plans (Optional)
Flexible Appliance Protection Plans for Your Needs Learn More
WHY SHOP KITCHENAID® APPLIANCES
*Your rate will be 0% or 10–36% APR based on credit, and is subject to an eligibility check. Payment options depend on your purchase amount, and a down payment may be required. Payment options through Affirm are provided by these lending partners: affirm.com/lenders.
Overview
Product Description
Ceramic Pot for Slow Cooker (Fits model KSC6222 and KSC6223)
KitchenAid® Ceramic Pot for Slow Cooker (Fits model KSC6222 and KSC6223)
Features
Replacement part for Slow Cooker
Additional Features
Reviews
Rated

3

out of

5
by
Dstraughn826
from
Awesome UNTIL...
I was so thrown after receiving this as a wedding gift and enjoyed it So much until one day despite very careful care to my product there is a very big cracked down the middle..... When I went to go search for a replacement insert I was so disappointed to find that it's been discontinued and also a little bit upset that such an expensive product does not seem to have a replacement insert. I'm also somewhat upset that despite very careful care, that this product is damaged, as I've always held kitchen aid brand in high regard and thought I'd have no issues with a quality product. Very very disappointed on this one!!
Date published: 2019-09-26
Rated

3

out of

5
by
melissa
from
Absolutely loved this slow cooker
i Loved this slow cooker! i have had it for a couple of years, the size was great for my family of six. when the insert cracked i was just going to buy another insert no big deal. (that is until i started searching for a replacement) i even checked out the stores locally I would have bought whole new unit but couldn't find any. Please help Kitchenaid!!!
Date published: 2017-07-09
Rated

3

out of

5
by
Vera
from
Slow cooker liner
The slower cooker is stylish and wonderful to u but it has a hairline crack in the liner. I am extremely careful with the liner, as I am with all my things, so I don't know how it happened.
Date published: 2017-02-08
Rated

3

out of

5
by
SweetChef44
from
KSC700SS
This was my favorite slow cooker till just a short while ago. It was a gift from my mother-in-law for my birthday and worked fabulously until I went to wash it, after it completely cooled (I baby'd this thing especially after finding out the cost of it), and found a crack on the bottom inside of the bowl. With the cost of this product, I expected it to last longer than just several uses.
Date published: 2016-11-23
Rated

3

out of

5
by
Lynn the Cooker
from
Was Nice
My Model number is: KSC7000, I Loved this slow cooker when I first got it, and it lasted me quite a while, however now that my insert has two cracks in it, which is fine, I understand this happens, but now its impossible to find a replacement insert. So over all, I am unhappy. although this was a nice slow cooker.
Date published: 2016-10-17
Rated

3

out of

5
by
sbren1979
from
Cracked
I received this crockpot as a gift. The ceramic insert has a crack and it looks as though it's been discontinued and I can't order a replacement part. My model number is KSC700SS0
Date published: 2016-10-13
Rated

3

out of

5
by
Jackiemal
from
Loved my crock pot but now unusable.
I loved this crockpot! I received it as a gift. I'm very sad to learn they are out of replacement parts for it and it now has to go in the garbage.
Date published: 2016-10-06
Rated

3

out of

5
by
KC COOK
from
Great slow cooker, BUT
We loved this slow cooker, it does a fantastic job of cooking without over cooking. Only problem is our ceramic pot recently cracked and broke and now it looks like there is no replacement for the cooker. Great brand, but frustrating it looks like we need an entire new cooker since they don't hve parts for their appliances.
Date published: 2016-08-24
Rated

2

out of

5
by
Anonymous
from
Cracked insert w no trauma
I loved my kitchen aide- we used it often for about a year. While washing w/o bumping it, it cracked in my hands completely cool. I was bummed but thought I would order a new insert only to find them out of stock with a large number of reviews experiencing the same issue.
Date published: 2021-02-02
Rated

2

out of

5
by
Veronica516
from
Worked great until the crock cracked while cooking
I noticed a lot of complaints about the pot cracking. This is clearly a flaw in the pot itself. This needs to be corrected. We have all complained about the same thing and there is no replacement for it. This model came highly regarded by Cooks' Illustrated but I'm sure they didn't know the pot would crack while cooking on low. I'll be sure to read reviews before I buy another.
Date published: 2021-02-01
Rated

2

out of

5
by
CarlozoTheGreat
from
Great until it cracked.
This was a birthdays present and was awesome for about a year and a half until it cracked. As most have said, we are careful with cleaning and use to preserve this, but a crack happened regardless. After months of hunting a replacement it's disheartening to learn I have to toss the whole thing and buy a new crockpot. I've always heard great things about kitchenaid but this leaves something to be desired considering my parents have crockpots they've been using since I was a kid but this allegedly nicer one couldn't survive 2 years of less frequent use. Don't get me wrong, it's big, it looks nice, and it worked well until the bowl cracked (and would still be awesome if I could get a replacement bowl) but if that's all the lifespan it has, it's a subpar product by comparison.
Date published: 2021-01-09
Rated

2

out of

5
by
Sylvigirl
from
Cracked pot
I can't believe the pot cracked right across the bottom. I love my crock pot and I'm so careful with it. I'm so upset, I use it every weekend. Good Housekeeping says best value is Black and Decker. I guess I'll try that one. Sadness...
Date published: 2020-10-12
Rated

2

out of

5
by
Linka
from
Sad there is no replacement insert for ksc700ss0
I liked the slow cooker used it about 4 times before there was several hairline cracks in the liner. Came here to order a replacement to find there is none guess I will do some research and buy a different one. Kind of expected more from Kitchen aid brand!
Date published: 2020-07-25
Rated

2

out of

5
by
Disappointed at Xmas
from
Another cracked insert
My husband bought this for me for Xmas and I loved it. It was the perfect size for my large family and now without a replacement part available it looks like it was a waste of money. It seems to be a defect of the product that they crack so frequently. I'd appreciate it if I could get a response from the company.
Date published: 2019-12-21
Rated

2

out of

5
by
Granny soup maker
from
Love slow cooking, but.....
I've had my slow cooker for almost 2 years. About a month ago I had it going and "pow", the ceramic insert cracked. Luckily I was using a liner so my meal was salvaged and there was no leakage into the cooker itself. I'm very sad that the ceramic insert is not available from KitchenAid and I'm watching for it's return. Stupidly expensive from other dealers so if I can't get it here I'll have to buy a different cooker.
Date published: 2019-12-14
Rated

2

out of

5
by
Ariana-91
from
Good Slow Cooker but Pot Cracks super easily!
This was given to us as gift about a year and a half ago. We were using it every few weeks and had good results. Then noticed that the ceramic pot has cracked (not sure how that could have happened with normal use). Now it leaks and we can't use it, and there is no replacement part available. I'm very disappointed with the quality of this products after seeing so many good reviews.
Date published: 2019-05-01
Rated

2

out of

5
by
ALB63
from
Ceramic pot is disappointing
While I have loved the crockpot overall--the size is great for big groups--I have had to replace the ceramic pot twice and now that I need a third one, it is out of stock and I can't find it through any other stores. The cracking of this pot seems like a design flaw and it's too expensive to keep replacing. I hope your engineers figure this one out as I prefer to use KitchenAid whenever possible.
Date published: 2019-04-24
Rated

2

out of

5
by
AnnOC
from
Great crock pot - insert cracked in less than 1 ye
I received this a a gift a while back, finally took it out of the box and have been using it for less than a year (maybe 20 times tops) and the ceramic insert is cracked. I take very good care of it and it cracked while it was in use while making chili yesterday. I hope someone will contact me to let me know what to do, since no replacements are available. Seems like a very common problem, so I sure hope there is a solution. Thanks.
Date published: 2019-03-18
Rated

2

out of

5
by
Slowest cooker
from
Ceramic pot broke easily,replacement OUT OF STOCK?
Quite liked the design of this and it worked well for six months until the ceramic cracked. Despite searching high and low, I cannot find a replacement. Throwing away an entire stainless steel appliance because you can't produce a 20 dollar piece of replacement ceramic is terrible
Date published: 2019-01-18
Rated

2

out of

5
by
flipclan
from
Ceramic pot is cheap
The crockpot insert is not very sturdy. I didn't have mine for very long before there were cracks near where both the handles are. It's not the cheapest crockpot either so I was very disappointed. And the crazy thing is that to replace it in Canada means spending about what I would if I bought a whole new slow cooker. Frickin' crazy!
Date published: 2018-11-04
Rated

2

out of

5
by
Valerie2
from
Defective ceramic insert
I have used my slow cooker approximately half a dozen times. I love its features but it is leaking. When I take the crock out I see that the ceramic glaze is imperfect and has lines in it which leak liquids. This is not a crack but an imperfection in the finish.
Date published: 2018-10-03
Rated

2

out of

5
by
Merrillspack
from
Slow cooker nice, but wish replacments parts where available
I have the KSC700SS0 which has worked great for years, my pot has a crack now rendering the product useless. i wish KA would maintain an inventory of ceramic pots so that i dont have to render the whole unit useless when the unit itself works such a waste. I understand that ceramic inserts will crack over time and would hapilly replace it if the option exists
Date published: 2017-01-15
Rated

2

out of

5
by
Jan
from
disappointed
I got this a while ago ceramic insert was cracked after 3rd use...I normally love kitchen Aid I have lots but this was disappointing...
Date published: 2016-12-05
Rated

2

out of

5
by
T
from
Disappointed
Unfortunately disappointed in product. Only use a dozen or so times.. Rubber seal on lid actually deteriorated on one side of hinge. Ceramic pot cracked while making soup to the point where broth seeped through onto countertop. Given the cost of this unit I am very disappointed with quality.
Date published: 2016-11-22
Rated

2

out of

5
by
Sexime
from
Hairline crack
I received the 8 qt. slow cooker as a gift. I noticed a hairline crack when I washed it after the first use....I could feel the line as I was washing the insert. I LOVED this slow cooker and to learn that there is no replacement insert, upsets me. I've looked into other brands and they just don't compare. i guess I will settle for another brand that is also an 8 qt.
Date published: 2016-10-17
Rated

2

out of

5
by
Theresa
from
Cracked ceramic pot - for the second time!
I love this slow cooker (I have the 7-quart version) except the ceramic pot has now cracked for the second time! I replaced it once and have been even more cautious with the second pot but this one has developed a crack too. Now we can't use it either. Definitely frustrating. I'm not sure what we will do now, because I don't want to replace the pot again.
Date published: 2016-09-29
Rated

2

out of

5
by
Violinmo
from
Too many problems
This pot works well when it is not broken. It my case this is the third crack that I have had to deal with. Paid full price to replace it twice and now it isn't available. Over the phone the kitchen aid rep simply tried to sell me one of the newer models at a discount. Not happy overall and will most likely think twice before I spend another dollar on a kitchen aid or affiliated product.
Date published: 2016-05-10
Rated

2

out of

5
by
Cat
from
Another dissatisfied customer
I've had my slow cooker for a couple years and it needs a replacement ceramic insert however it's not available. After reading the reviews I can see I am among the many whose crock has cracked. Initially mine cracked after only a couple uses but not all the way thru so,I continued to use it. Several months ago another crack appeared and at first I thought it was my fault that there was spillage in the stainless steel cover but it's leaking from the cracks. I really like the ease and options this slow cooker offers and at the price I paid for it I didn't expect it to break down so quickly. Now when it needs a new insert there's none available! From what I am reading it sounds like this is a manufacturing defect and kitchen Aid needs to do the responsible thing if they want to keep customers and get good reviews and replace these defective ceramic pots. I have other kitchen aid products but if they don't right this wrong I will never buy another item or recommend their products.
Date published: 2016-04-10
Rated

2

out of

5
by
John
from
Replacement Not Available
I will start by saying that we were very happy with our slow cooker. It has served us well over the last couple years. Unfortunately, the ceramic pot broke and Kitchen Aid is not offering a replacement. Sure, they list it on their site, but you cannot order it. I have been trying for 2 months now to find a replacement pot with no luck. Looks like I will have to purchase a complete new slow-cooker and it will NOT be a Kitchen Aid.
Date published: 2016-03-02
Rated

2

out of

5
by
kitmcd
from
cracked crock
I have been luckier than some, but my crock cracked after about a year of use. So probably used about 25 times. I got online to order a replacement and find you are out of stock. So now what? Have to buy a whole new crockpot? If so, won't be kitchenAid.
Date published: 2016-02-25
y_2023, m_3, d_22, h_22
bvseo_bulk, prod_bvrr, vn_bulk_3.0.34
cp_2, bvpage2n
co_hasreviews, tv_0, tr_125
loc_en_US, sid_W10443093G, prod, sort_[SortEntry(order=RATING, direction=DESCENDING), SortEntry(order=SUBMISSION_TIME, direction=DESCENDING)]
clientName_kitchenaidbrand
bvseo_sdk, java_sdk, bvseo-4.0.0
CLOUD, getReviews, 50ms
REVIEWS, PRODUCT
Bundle summary&nbsp (&nbspitems)
If Purchased Individually*
*Offer subject to change. Limit one use per order. Valid for bundles delivered to a single U.S. address. Bundle savings based on current pricing available from KitchenAid.com. Only valid for new orders on KitchenAid.com.
See how we handle Returns
.