Displaying 1 out of 1 items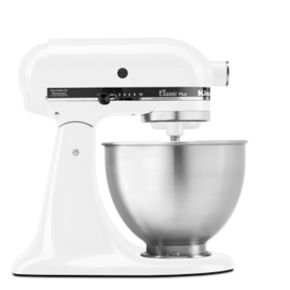 Top Features:

Close

Power Hub:

Turns your stand mixer into a culinary center. With more than 15 optional attachments use the power of your stand mixer to help you make fusilli pasta from scratch, shred a block of parmesan cheese in seconds and so much more.

Close

4.5-Qt. Stainless Steel Bowl:

The 4.5-Qt stainless steel bowl offers enough capacity to mix dough for 6 dozen cookies, 3 loaves of bread or 6 pounds of mashed potatoes in a single batch. The bowl is also dishwasher-safe for quick and easy cleanup.

Close

59-Point Planetary Mixing Action:

For thorough ingredient incorporation.
Displaying 1 out of 1 items