5-Qt. Tilt-Head Coated Flat Beater
5-Qt. Tilt-Head Coated Flat Beater is rated out of 5 by 114.
The coated flat beater is perfect for quickly and thoroughly mashing potatoes, mixing cake batter and cookie dough and so much more. The flat beater is top-rack dishwasher safe. Fits models K45SS, KSM75, KSM95, KSM150PS, KSM152PS and KSM155GB.
Other - K5THCB
Features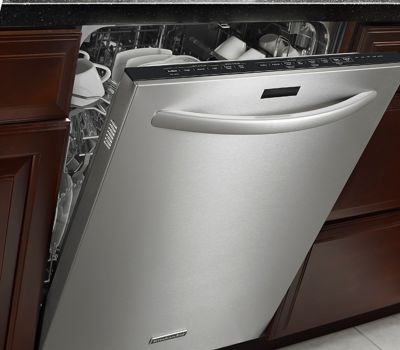 Dishwasher Safe
Dishwasher Safe
Specifications
Configuration and Overview
Stand Mixer Type
Tilt Head
Stand Mixer Capacity
5 Quart
Reviews
Rated 1 out of 5
by
LJO65
from
CHIPS
Chipped chipped chipped and I thought maybe I was too rough when I washed it. Not so. Kitchen Aid you need to do something about this.
Date published: 2018-02-27
Rated 1 out of 5
by
Jbeanut
from
chipped coated flat beater
Same here, my beater chipped too after about 5 uses. So disappointed in this product.
Date published: 2018-01-27
Rated 2 out of 5
by
mporter
from
Beater chips
I've had mine for years, and the coating is chipping off. As I was scooping dough I found a piece of the coating in my cookie dough. Stainless steel option would be great!
Date published: 2018-01-22
Rated 2 out of 5
by
ktutt
from
Chipping of blade will eventually happen!
I am a food and nutrition teacher and care for 5 tilt-head mixers. All but two of these beaters have chipped in the last 3 years. They do get a lot of use, but not as much as you would think. I wish there were an alternative for replacement, such as a stainless steel beater, that will not chip. I have not had any problems with the dough hooks or metal whips that come with them. We NEVER put these in the dishwasher, always hand wash them. Poor design of the coating.
Date published: 2018-01-13
Rated 1 out of 5
by
P-Fam
from
Chipped + no alternative = frustration
My kitchenAid is over 25 years old...and I love it....but I don't love the fact this flat beater has a problem that has not be addressed by the company. No solution!
Date published: 2018-01-11
Rated 1 out of 5
by
llinh
from
Bad coated flat beater
I received a brand new KitchenAid - 5 Qt Professional 5 Plus mixer a few days ago as a Christmas present. I found the coated flat beater chipped when opening the box. It does not seem like it's ever been used. Also, it is hard to put the mixing bowl in place.
Date published: 2017-12-27
Rated 1 out of 5
by
Jann & Sherry
from
Beater doesn't last
The beater works great, BUT very quickly begins to chip, even while cating for it EXACTLY as the manufacturer suggests. I also cannot seem to find a warranty on it.
Date published: 2017-12-27
Rated 4 out of 5
by
TAM71
from
Chipped beater
It sounds like this is a common problem with the beaters and dough hooks that are enamel coated. I found the chip laying on the counter, from the flat beater, and I haven't even used it once. I've only owned the stand mixer for less than a month! Just wrote to Kitchenaid in hopes that they will take care of it promptly. Of course, that doesn't help me with Christmas baking this weekend! I love the mixer but can see problems with any parts with enamel coating down the road!!!!
Date published: 2017-12-22
Rated 1 out of 5
by
Jibber
from
Please offer a Stainless Steel version
I have the white coated flat beater and it ruined a batch of Russian Tea Cookies we were making. It had about an inch of the coating peeled off into the cookie batter. Luckily my sister in law has the same mixer so I headed over there and borrowed her beater. I checked it out before we started, no chips! So we made the full batch with no issues. On the second batch, the coating chipped! Luckily we caught it early enough so I could pick out the pieces and not ruin another batch. What other options do we have? The pewter/aluminum paddle that turns everything black? KITCHENAID, Please make a stainless steel version for the 5qt mixer!
Date published: 2017-12-21
Rated 2 out of 5
by
rosecarrot
from
dsmith
I love my KitchenAid stand mixer but the coating on the coated flat beater is chipping. From reading the other reviews, it appears to be a common problem. Possibly why the newer models are stainless steel.
Date published: 2017-11-24