5-Qt. Tilt-Head Coated Flat Beater
5-Qt. Tilt-Head Coated Flat Beater is rated out of 5 by 105.
The coated flat beater is perfect for quickly and thoroughly mashing potatoes, mixing cake batter and cookie dough and so much more. The flat beater is top-rack dishwasher safe. Fits models K45SS, KSM75, KSM95, KSM150PS, KSM152PS and KSM155GB.
Other - K5THCB
Features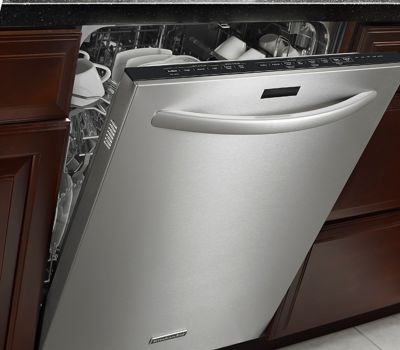 Dishwasher Safe
Dishwasher Safe
Reviews
Rated 2 out of 5
by
rosecarrot
from
dsmith
I love my KitchenAid stand mixer but the coating on the coated flat beater is chipping. From reading the other reviews, it appears to be a common problem. Possibly why the newer models are stainless steel.
Date published: 2017-11-24
Rated 1 out of 5
by
Jbaker
from
Unusable chipped beater
I love my mixer but it's hard to use with a chipped beater. I expected more from Kitchenaid.
Date published: 2017-11-23
Rated 2 out of 5
by
SueNY
from
Chipped enamel coming off beater and dough hook
I love love love my KitchenAid mixer, but I've had it only about 4 yrs., and the enamel recently starting chipping and flaking off my flat beater. Tonight I was making homemade rolls for Thanksgiving, and after using the dough hook, I took it off the mixer to wash and saw that there are several areas of missing enamel. Couldn't take a chance that it might be in my dough, and now I have to replace both the flat beater AND the dough hook because I don't dare use either. I'm so disappointed and thought the quality of the attachments would have been better and longer lasting.
Date published: 2017-11-22
Rated 1 out of 5
by
Sodie
from
Coating peeled off`
I purchased this mixer to replace my old one. I am very pleased with the mixer, but you can't imagine how I felt when I was making cupcakes for a wedding shower and notices the coating missing from the flat beater. I had to make different cupcakes. Not very happy! I would recommend the mixer, but do not use the flat beater.
Date published: 2017-10-06
Rated 1 out of 5
by
sundance
from
KitchenAid Coated Flat Beater chips too easily
Yesterday the Attachment Hub loosened and fell into my zucchini bread batter, initially unnoticed by me. As the beater hit it, it unbalanced the mixer bowl and I quickly shut the mixer off, discovered the problem and removed the Hub from the batter. Unfortunately I didn't notice until washing it that, in coming into contact with the flat beater for even a brief period of time, it had chipped off a 1/4" section of coating on the bar. Had to discard the batch as there is no information regarding the composition of the bar coating, and can't imagine it is anything we would want to consume. A better design would be plain stainless steel or aluminum, yes? Or something that cannot chip.
Date published: 2017-09-15
Rated 2 out of 5
by
Esther
from
Chipped Beater & Whisk Attachment
I got my second Kitchenaid Stand Mixer as a wedding present. After a few months of use, one day while I was making whipping cream, I noticed that there were weird metallic colours in my whipping cream. To my shock, my beater attachment's paint had worn off and now was going into my food. This was the same case for my whisk attachment. Some dark metallic paint (?) was rubbing off from the whisk attachment! I don't know what they changed but my first Kitchenaid Mixer (from 8+ years ago!) has had no problems like this new one! Ugh!
Date published: 2017-09-13
Rated 5 out of 5
by
Momma Bear
from
Chipped beater
I have had my Kitchenaid mixer for years and love it. However I am not happy with the flat beater. It has started to chip and I am afraid if i use it the white stuff will end up in my food. I had to order a new beater that I have not gotten yet. Hopefully it will last
Date published: 2017-08-04
Rated 2 out of 5
by
REM
from
The mixer works well, the beater flakes off
I love the mixer, but I would recommend getting an after-market beater blade (and dough hook, really) that is not coated in this material. It chips and flakes off. To give you an idea, the bottom of my beater has worn away and upper edges are flaking off. To make matters works, my dough hook is flaking away around the top, not where it would get rubbed putting it on the machine, but the outside edge. This is ending up in my batter, which is disturbing.
Date published: 2017-07-31
Rated 4 out of 5
by
sonia the baker
from
attachment quality of late
have had my kitchenaid for over 30 yrs! just now i am faced with having to replace the 'coated' paddle..has started not to peel but just wear away, having said all that i know many of my friends that purchased new mixers are not happy with the quality of the new ones! even the motors are failing!! don't know why Kitchenaid is not on top of this but if i have to one day i will buy a different brand!! Kitchenaid is not the only company that manufactures mixers...lots of excellent brands from Europe and elsewhere..so i recommend that the company take our complaints seriously, although, i personally have not had a problem with mine and i don't plan on buying a new just for the sake of a 'new' color.
Date published: 2017-07-15
Rated 2 out of 5
by
Mimi
from
Again, bad beater
I love my KitchenAid mixer!!!! I hate the beater!!! I bought my mixer in December, so excited to finally own a KitchenAid, dream come true. Unfortunately, like everyone else, the beater has to be replaced. I have carefully hand washed mine since buying it in hopes it would last because I heard about having to replace them. It's not fair that it has to be done especially when you hear of the much older models lasting forever it seems but what is one to do? If you want a KitchenAid mixer, you have to put up with this flaw because there will be nothing done about it, because money can't be made if it lasted like the older models.
Date published: 2017-07-03