Professional-Grade Nonstick Double Baguette Loaf
Enjoy the French-favorite baguette without the need for an international plane ticket! The double baguette pan even comes with a recipe for the perfect baguette. After a bite from your own freshly-baked warm baguette, you might think you landed in Paris!
Other - KBNSO2XBL
Features

Professional-Grade Aluminized Steel Construction
The core of this bakeware is steel to provide durability and warp resistance, while the surface is aluminum to provide even-heating for best results. Combined with the .8mm thick gauge, KitchenAid offers professional-grade performance for your very own kitchen.

Swiss-Engineered Multi-Layer Nonstick Coating
Featuring ILAG Nonstick, this bakeware provides perfect results everyday. The Swiss coating is composed of multiple layers, each engineered to deliver durability, extreme nonstick release, and a glossy finish. With nonstick so good, there's no need to grease your pans any more.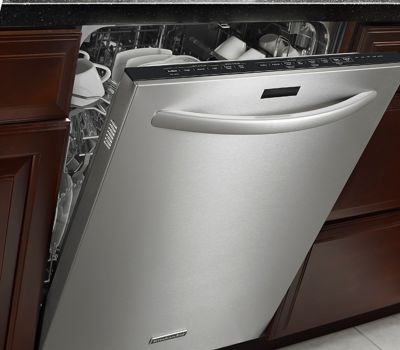 Dishwasher Safe for Everyday Use
Baking can get messy, but now cleanup is a snap. KitchenAid's Professional-Grade bakeware is safe for the dishwasher, helping you focus on the art of baking instead of the task of cleaning up.

Designed to Last a Lifetime
Features like folded corners, straight walls, and bar reinforced edges prevent this bakeware from bending or warping, making results perfect even over years of use.

PTFE Free
Nonstick coating is PTFE and PFOA free for a health-friendly approach to bakeware.