Ceramic 3-Piece Nesting Mixing Bowl Set
Prep work is now easier and beautiful with these nesting mixing bowls. They're made of durable non-porous porcelain to stand up utensils of all types. Now you can accompany the stand mixer you've grown to love with prep bowls built of the same quality.
Empire Red - KBLR03NBER
Features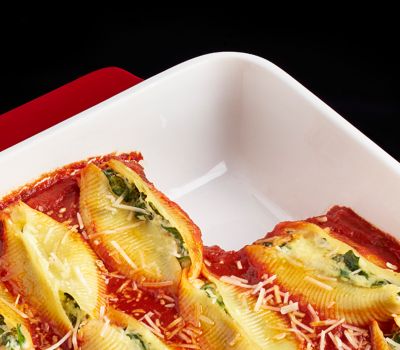 Ultra Durable Non-Porous Construction
KitchenAid ceramic bakeware is made of non-porous vitrified porcelain. It's the end result of a proprietary blend of materials put through a ultra-high heat firing process, creating an elegant glass-like surface made to withstand everyday abuse.

Microwave and Freezer Safe
This bakeware is safe for cooking or reheating food in the microwave. You can even use it for storing prepared meals in the freezer for reheating or cooking at a later time.

5-Year No Chip Warranty
Never worry if your ceramic bakeware is built to last. KitchenAid stands behind the product by offering a no-hassle 5-year chip resistant warranty for every ceramic bakeware piece.