2.0-Quart Stove Top Kettle with Full Stainless Steel Handle
2.0-Quart Stove Top Kettle with Full Stainless Steel Handle is rated out of 5 by 36.
Quickly and easily boil water on your stove top with this well-crafted porcelain enamel kettle, for a variety of drinks, soups, hot cereals and more, every day.
Mandarin Orange - KTEN20SBDO
Features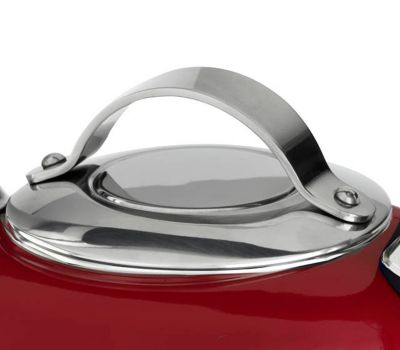 Easy to Fill and Clean
With the removable lid.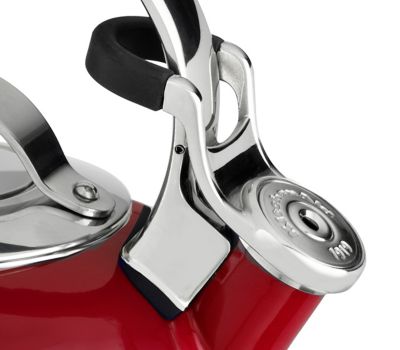 Simple to Pour
In a single motion, with the thumb-press spout - simply tip, open and pour.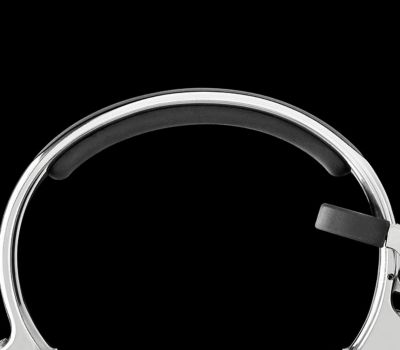 Soft Grip Polished Stainless Steel Full Handle
Sturdy, yet comfortable, and easy to grip.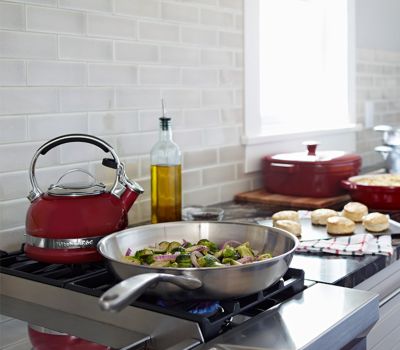 Vibrant, Colorful Porcelain
Available in a variety of colors and coordinates or matches a variety of KitchenAid products.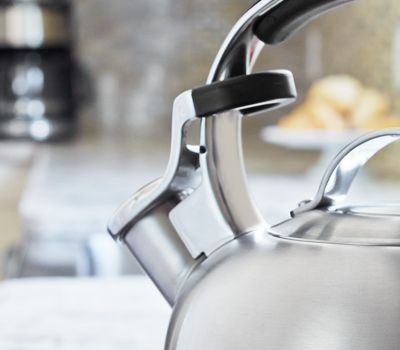 Clear, Audible Whistle
So you know exactly when your water has come to a boil.
Specifications
Features
Spout Control
Thumb Press
Trim Band
Stainless Steel
Show More Specifications
Reviews
Rated 4 out of 5
by
Jxsnb
from
Attractive
Replacement for a 3QT KitchenAid Kettle that finally gave up the ghost. Love the design, however it does not whistle until the water is way above boiling point. Far too hot before it whistles in my opinion. Love the warranty on this product and the customer service is top notch.
Date published: 2018-02-15
Rated 5 out of 5
by
L8start
from
Good Looking & Loud
The kettle is easy to fill and the cover on the spout is easy to open. That's a good feature because when the water boils the whistle is LOUD. That too is a good thing because it's easy to get distracted and forget that the kettle's on the burner. There's no ignoring this whistle. The kettle feels heavy for its size and the stainless steel band around the circumference makes it look sleek.
Date published: 2017-12-28
Rated 1 out of 5
by
Anonymous
from
Shocking Fail
Drips when pouring; handle too hot for gentle hands after boiling "You had one job to do..."
Date published: 2017-09-17
Rated 3 out of 5
by
Marty
from
Kettle Dribbles water when pouring
Hi I love the look and feel of my kitchen aid stove top kettle but the handle gets hot and when pouring the kettle dribbles water back down the outside of the spout and onto the bench, I contacted Kitchen aid Australia who were happy to replace the one i have but, wouldn't you know it they don't have a green one and they aren't importing any more. So do I purchase another from the states and take the risk that it won't leak or do I just put up with what I have??
Date published: 2017-09-08
Rated 1 out of 5
by
EK
from
The kettle designers have clearly never actually used this!
Kettle handles should not be made of metal!! They heat up and are very impractical. Poor design!!
Date published: 2017-06-21
Rated 1 out of 5
by
angie
from
Looks great, boils water, No Whistle.
I received this as a gift from my kids, I wish I had returned it immediately, but I loved the look and it was a welcome gift. I noticed when there was no whistle. All I hear is the sound of steam rushing through the whole, but you have to be standing right next to it to hear it. I use the kettle daily now because I switched to tea rather than coffee, I'm aggravated first thing every morning when getting ready for the day because often the water has boiled down too much by the time I get to it. I don't want to standby while having a busy morning. Kettles are meant to whistle!
Date published: 2017-06-03
Rated 5 out of 5
by
Rose
from
Great Tea Kettle
Beautiful looking tea kettle. Boils water better and quieter than expected.
Date published: 2017-05-26
Rated 5 out of 5
by
Kim
from
Mom's best friend
So mom's flying in to visit and what arrives days before she gets here....a KitchenAid kettle. That's right. The lady couldn't live without her tea and knew we needed one. This kettle both looks and works great! The whistle is loud enough to hear, but not so ear piercing it's going to send your dogs in a tizzy. Once again, it's great quality, easy to clean, and something that will last a lifetime!
Date published: 2017-05-05
Rated 1 out of 5
by
Lia
from
RUSTING SPOUT
I purchased this tea kettle in Jan 2015. I was ok with the product until I recently noticed rust developing on the inside of the spout. This kettle has a design flaw that allows water to gather and sit within the spout to promote the growth of rust. My other issues, as some other reviewers have stated, is that the whistle is not very loud on this product - whether it is partially full or over half full. You also need a mitt to handle the kettle once it's hot enough. I have always been a big fan of KitchenAid products with about half of my kitchen appliances making that statement - but this simple kettle disappoints me the most. This product only has a 1 year limited warranty. For the price tag and my diligence of care, a kettle should not start rusting this early. I'm giving this one star because it is a very aesthetically pleasing addition to the kitchen stove and it is a good weight.
Date published: 2017-04-27
Rated 1 out of 5
by
Tea drinker
from
THE KETTLE IN RED-LOOKS CAN BE DECEIVING (very disappointed!
We are a tea drinking family. My wife purchased a Kitchen aid (KTEN20SBER) Red 2.0-Quart Kettle with Full Stainless Steel Handle and Trim Band. It is suppose to have a steam whistle, but from the very beginning, it has not whistle but once or twice. We think that the Polished Stainless Steel Thumb-Press Spout does not close tightly. The design is poor because you can burn your thumb and fingers on the thumb press and kettle lid. IT IS HIGHLY UNSAFE AND CAN BURN YOU! Looks aren't everything!
Date published: 2017-03-12