Ceramic 8" Chef
Ceramic 8" Chef is rated out of 5 by 6.
Tough-Grade, Stays Sharp, Ceramic. For chopping, dicing, slicing — the workhorse of knives for every chef, everyday. Lifetime limited warranty.
Black - KKCER08CHBL
Features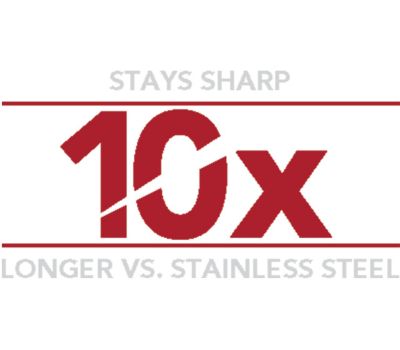 Stays Sharp Blade
Our ceramic cutlery maintains their ultra sharp performance up to 10x longer versus stainless steel knives*.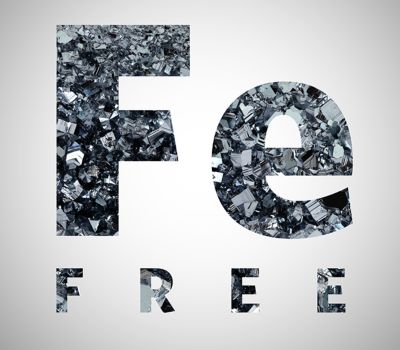 Rust-Free Guarantee
Our pure ceramic knives won't rust or corrode from regular cleaning because they are free of metallic ions. They also won't corrode food, oil and acids like traditional steel knives.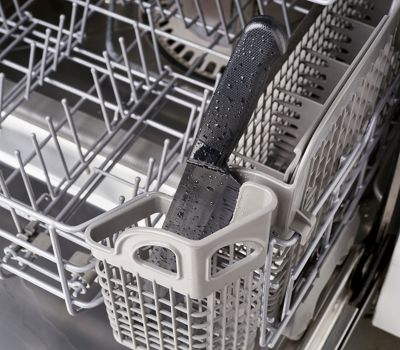 Dishwasher Fearless™
We love dishwashers. In fact, we encourage you to wash our ceramic cutlery in the dishwasher as often as you like. That's because we always torture test our ceramic cutlery so you can rely on it for carefree, dishwasher-safe cleaning.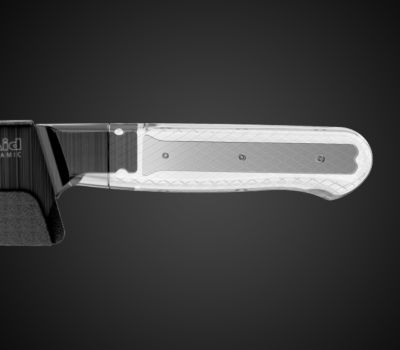 Weighted Handle
Properly weighted to feel like the stainless steel knives with the superior sharpness of a ceramic knife.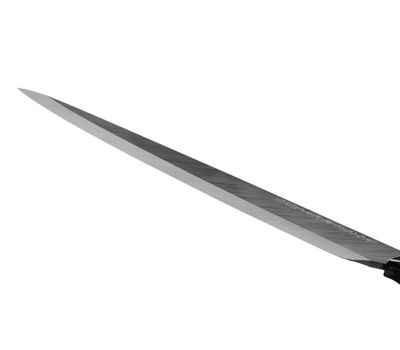 Precision Diamond Ground Edge
The cutting edge of each of our ceramic knives is thoughtfully designed from tip to heel, giving you a control during every step of your meal preparation.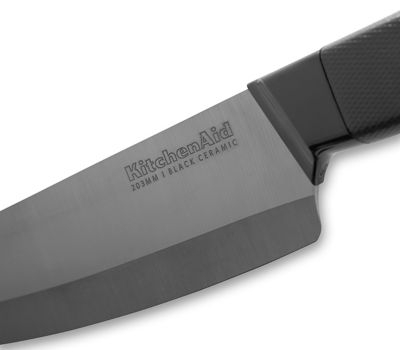 Tough-Grade Black Ceramic
The advanced material and technology that goes into our ceramic blades makes them second only to diamond in hardness, and extremely wear resistant. Plus they're substantially lighter than stainless steel knives allowing for easy maneuverability no matter the cutting angle.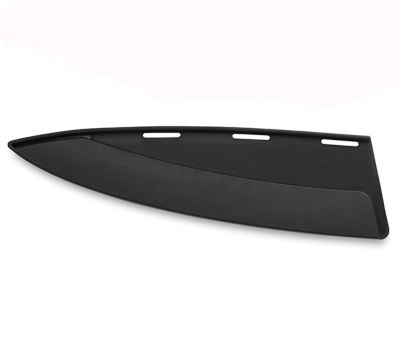 Sheath Shield
The hard plastic blade shields that come with our ceramic cutlery keep knife edges clean, and provide scratch-free convenient drawer storage. Plus they slip on and off in seconds, making instant blade protection hassle free.
Specifications
Features
Knife Construction
Press Molded
Handle Construction
Weighted Handle Construction
Show More Specifications
Reviews
Rated 5 out of 5
by
Mickeyfreak
from
Perfect!!
Needed a new larger knife and this one will be perfect!!
Date published: 2017-01-09
Rated 5 out of 5
by
Tombodian
from
Great Knife
Really, it's a great knife. Seems better made than most ceramic knives and really, really is sharp. If you don't use the included sleeve I see cuts in your future from trying to get it out where ever you store it. Dishwasher safe makes it all good.
Date published: 2016-10-01
Rated 5 out of 5
by
Jan
from
Ceramic 8" Chef
KitchenAid does not disappoint. I have owned Cutco, Chicago Cutlery, Henkel, and an assortment of high end brands; However, the KitchenAid Ceramic 8" Chef Knife surpasses them all. I have used this knife no less than ten times in the past week and have never been disappointed with its performance. I will be purchasing the entire KitchenAid Ceramic Knife set. Thank you KitchenAid!
Date published: 2016-09-30
Rated 5 out of 5
by
Tombodian
from
Great Knife
Have used this knife for about a month now and it has turned into the go to knife for cutting raw meat. Goes through raw beef like magic.
Date published: 2016-09-25
Rated 5 out of 5
by
Cindy
from
This is a very good Chef's knife
A very good knife. I used it with vegetables, meat and fruit. Worked perfectly. At first, the handle felt differently than my others knives, but soon it was comfortable too.
Date published: 2016-09-21
Rated 4 out of 5
by
Lexxi
from
Nice knife! Well Balanced
So far, this knife is a nice addition to my kitchen. I haven't had it long, and I have a serious set of German steel knives that it's up against but i DO like that it is dishwasher safe (which they aren't). It is a bit big for my hand, but that's a personal preference, not a fault of the knife. It is, however, well balanced and feels good in the hand.
Date published: 2016-09-21
Demos & Guides
guides
Warranty Information
A complete description of your warranty coverage, and contact information for service and support.