Ceramic 5" Santoku
Ceramic 5" Santoku is rated out of 5 by 10.
Tough-Grade, Stays Sharp, Ceramic. All-purpose Japanese style knife has a solid, sturdy razor's edge for absolutely any kind of nonstop slicing and chopping. Lifetime limited warranty.
Black - KKCER05SKBL
Features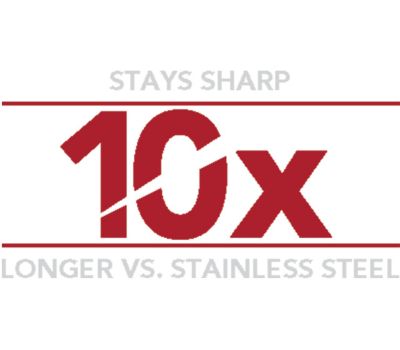 Stays Sharp Blade
Our ceramic cutlery maintains their ultra sharp performance up to 10x longer versus stainless steel knives*.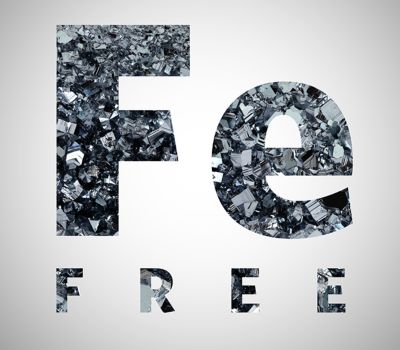 Rust-Free Guarantee
Our pure ceramic knives won't rust or corrode from regular cleaning because they are free of metallic ions. They also won't corrode food, oil and acids like traditional steel knives.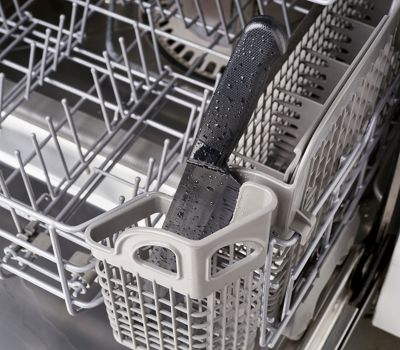 Dishwasher Fearless™
We love dishwashers. In fact, we encourage you to wash our ceramic cutlery in the dishwasher as often as you like. That's because we always torture test our ceramic cutlery so you can rely on it for carefree, dishwasher-safe cleaning.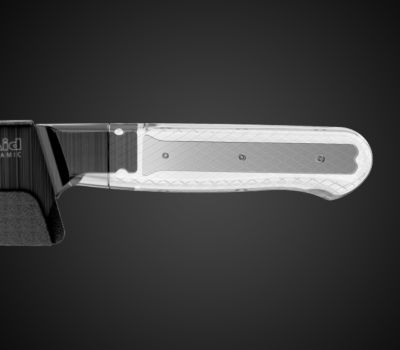 Weighted Handle
Properly weighted to feel like the stainless steel knives with the superior sharpness of a ceramic knife.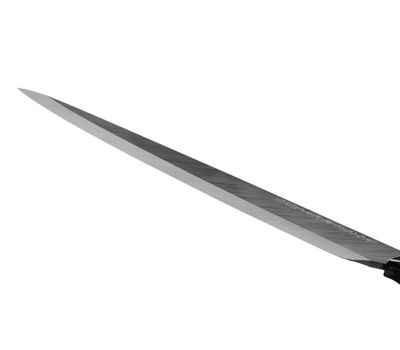 Precision Diamond Ground Edge
The cutting edge of each of our ceramic knives is thoughtfully designed from tip to heel, giving you a control during every step of your meal preparation.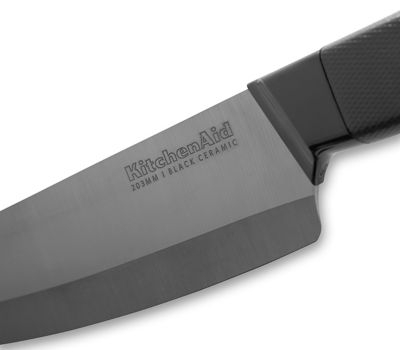 Tough-Grade Black Ceramic
The advanced material and technology that goes into our ceramic blades makes them second only to diamond in hardness, and extremely wear resistant. Plus they're substantially lighter than stainless steel knives allowing for easy maneuverability no matter the cutting angle.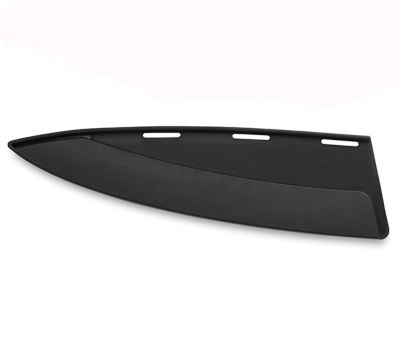 Sheath Shield
The hard plastic blade shields that come with our ceramic cutlery keep knife edges clean, and provide scratch-free convenient drawer storage. Plus they slip on and off in seconds, making instant blade protection hassle free.
Specifications
Features
Knife Construction
Press Molded
Handle Construction
Weighted Handle Construction
Show More Specifications
Reviews
Rated 5 out of 5
by
D.Jines
from
Very sharp knife!
This knife is so sharp! I love it! It is able to easily and quickly cut food items very thin.
Date published: 2016-10-16
Rated 4 out of 5
by
Irelandaise
from
Santoku away!
I liked how it handled and cut veggies and meats. Do not like the cover because, with only 3/4 of the knife covered, it makes me feel as if I could accidentally cut my hand
Date published: 2016-10-04
Rated 5 out of 5
by
Kat
from
Sharp, Smooth Cutting Knife. Excellent for every day use
It is the sharpest knife that I own. It cuts through tomatoes and all vegetables with ease. I love that it has a knife sleeve for safety. I would preer the sleeve was angled so when you put the knife into it, it angled away from the palm of your hand. You just have to be careful. Love the finish of the knife and the grip. Would buy more of these knives for sure.
Date published: 2016-09-29
Rated 5 out of 5
by
Lisa
from
High quality and very sharp
This knife was the best. I haven't had it for long but so far it's very durable and is just as sharp as the day I took it out of the package. I love the way the handle feels in my hand. It feels comfortable and safe.
Date published: 2016-09-27
Rated 4 out of 5
by
Charlie
from
A great little knife
I received this knife a while ago and use it every day. It's still just a sharp as the day I got it. I would recommend this product to all my friends and family
Date published: 2016-09-25
Rated 5 out of 5
by
JB
from
Great Knife!
I received this knife to review free of charge and I love it. It is my new go to knife for everything, especially cutting raw chicken. It easily cuts through skin, fat, and tendons without having to saw through.
Date published: 2016-09-24
Rated 4 out of 5
by
Dee
from
Ceramic 5" Santoku
I like the knife. Only thing I would want different is it to be 5.5 inches long instead of 5
Date published: 2016-09-24
Rated 5 out of 5
by
kava85
from
great knife
knife cut great, easily sliced through vegetables and cleaned up great - love that i can put it in the dishwasher
Date published: 2016-09-24
Rated 5 out of 5
by
Paula Thornton
from
Santoku's high end performance
I've had the Santoku knife for almost one month now and I'm very pleased with the product. It's lightweight and very sharp, which makes cutting and chopping an easier task. I chop and cut a lot of vegetables and fruits (I make homemade baby food for my 16 month old and I make a lot of soups and stews for me and my husband) and this knife is great for what I need. After chopping a lot of veggies my hands don't feel tired and sore because the knife is very lightweight. And so far the blade hasn't dulled at all. It just didn't work out very well with meats, but maybe it's because it's not designed for that purpose. And I wish the knife was a little bigger/longer because for larger vegetables (butternut squash, accorn squash, spaghetti squash, etc), it's a little hard to cut them open and work on the cutting/ dicing. But overall I highly recommend the product and I am very happy with it!
Date published: 2016-09-21
Demos & Guides
guides
Warranty Information
A complete description of your warranty coverage, and contact information for service and support.