36-Inch 4 Burner with Griddle, Gas Rangetop, Commercial-Style
36-Inch 4 Burner with Griddle, Gas Rangetop, Commercial-Style is rated out of 5 by 26.
From crepes in the morning to flaky salmon at night, you'll appreciate the versatile Even-Heat™ Chrome Electric Griddle that allows you to do more in the space you have. This 36-inch rangetop has commercial styling and four burners including two 20K Ultra Power™ Dual-Flame Burners and a simmer/melt burner that is an ideal choice for keeping sauces warm.
Stainless Steel - KGCU463VSS
Features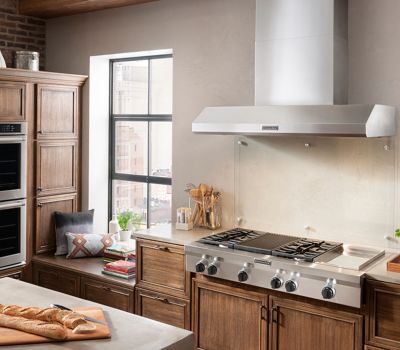 Commercial-Style Design with Bold, Heavy-Duty Look and Robust, Die-Cast Black Control Knobs
Provides you with the look and performance that comes from professional, restaurant-quality appliances.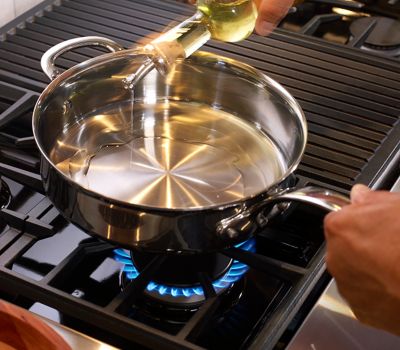 20K BTU Ultra Power™ Dual-Flame Burner
Our most powerful and versatile burner gives you two levels of gas flame. At full power, it can generate up to 20,000 BTUs for searing and stir-frying.
Two 15K BTU Professional Burners
Give you the power to quickly boil water, perform high-heat cooking techniques, and get restaurant-quality results at both high and low temperatures.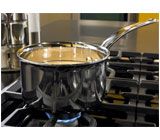 5K BTU Simmer/Melt Burner
Allows you to keep your delicate sauces and gravies warm without scorching and at its lowest setting it can be used for melting.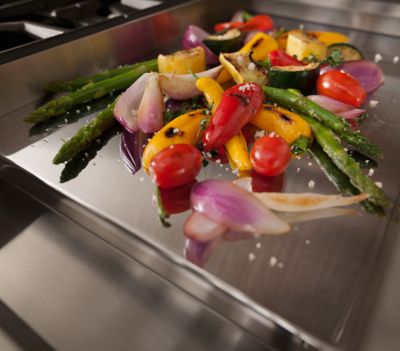 Even-Heat™ Chrome Electric Griddle
Lets you stir fry without a wok and gives you another option for preparing delicate fish like salmon. The griddle has a commercial-quality, chrome-infused steel surface that evenly distributes heat and is easy to clean.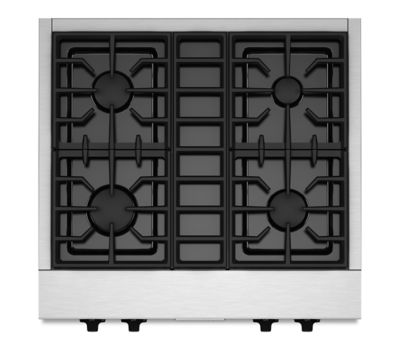 Continuous Surface with Heavy-Duty Grates
Make it easy to move cookware from one burner to another without having to lift them. The durable cast-iron grates add to the commercial appeal.

LP Conversion Kit Included
Allows you to convert the cooktop so it can be used with LP gas.
Specifications
Configuration and Overview
Surface Material
Porcelain Coated Steel
Number of Elements-Burners
4
Cooktop Element Style
Sealed Burner
Installs Over Built-In Oven
No
Cooktop Features
Center Front Type
Griddle
Left Front Power
20,000 BTU
Left Front Type
Ultra Power™ Dual-Flame Burner
Left Rear Power
15,000 BTU
Left Rear Type
Professional
Right Front Power
15,000 BTU
Right Front Type
Professional Burner
Right Rear Power
5000 BTU
Right Rear Element-Burner Type
Simmer
Grate Details
Cast Iron Grates, Continuous, Matte Finish
Controls
Heating Element On Indicator Light
No
Hot Surface Indicator Light
No
Show More Specifications
Reviews
Rated 2 out of 5
by
Ralph the pilot
from
Looking To Make Changes
Pros: Burners work great and the area around the burners are easy to clean. Cons: the electric griddle takes Forever to heat, temperature is off from setting, and the unit requires an hour to clean.
Date published: 2016-06-12
Rated 5 out of 5
by
Jim
from
Looks Great
We debated buying the range/oven combo, but decided on the cook-top. Glad we did. The style looks great, nice style and functional.
Date published: 2015-11-06
Rated 1 out of 5
by
Sick and disgusted
from
Electric Griddle is a nightmare
I have the unit with the Even-Heat Chrome Electric Griddle and everything sticks and is a nightmare to clean. I called and did not receive a good solution to the problem. This unit is too expensive to not work properly.
Date published: 2015-10-29
Rated 5 out of 5
by
Teri71
from
Looks fantastic, and works great!
Just built a new house with all Kitchenaid appliances. This cooktop is first class! I love the look, the size and the use! I haven't used the griddle yet, but the burners are super. There are different sizes for different cooking needs. I love it!
Date published: 2015-04-27
Rated 3 out of 5
by
Cat Daddy
from
Looks GREAT.....BWTM......
Had all KITCHENAID appliances installed in my brand new home. Love the quality but have a few "issues" that should not be in a + $3,000 cooktop. First - The Griddle is a BEAR to clean and almost impossible to use without food sticking to the surface. While any food that contains grease will cook fine... MAN-O-MAN....what a mess to clean. A Blanchard cooking surface would transform the cooktop. Further...you have to cover the surface when cooking on the burners because it will get covered with anything that splatters out of a pot or pan. Many crevices and mating surfaces for food to lodge in that makes it even more difficult to clean. Second - Only the flame on the largest burner can be adjusted down low enough for a super-low-simmer. The small simmer burner....uh....NOT! Whatever you place on that burner...in the lowest flame position....will boil. Don't get me wrong. The materials and workmanship are TOP NOTCH but the design and functional usefulness is a real head scratcher. I love to cook and am getting along OKAY but would be so much more enjoyable if I didn't have to deal with all of this. If I had it to do over, I would NOT order with the griddle. It looks great but simply ain't worth it to use. I will be experimenting to find a way to use it because it is a fantastic idea and would be extremely helpful in many instances.
Date published: 2015-03-20
Rated 5 out of 5
by
DonnaGo
from
Stovetop w/Griddle
We built a new home and had the option of Kitchenaid or JenAir, since we've had Kitchenaid products before and never had problems, there was not another choice to make! We love it!!!
Date published: 2014-12-15
Rated 5 out of 5
by
Juliewith3
from
Great Features
We chose this stovetop for our new house! Very powerful and looks beautiful and professional in our new kitchen!
Date published: 2014-12-09
Rated 4 out of 5
by
Susie M
from
Great stove.
We bought this stove for our new home 4 months ago. We like it except the grill in the middle takes 15 minutes to warm up and is difficult to clean.
Date published: 2014-10-27
Rated 5 out of 5
by
HB Don
from
Never Eat Out Again
I have always wanted a gas cooktop and griddle and now have one. We are so happy with our new KitchenAid cooktop and it works great. Looks luke we wont be eating out anytime soon.
Date published: 2014-08-03
Rated 5 out of 5
by
Dozersmom
from
the ultimate splurge
i love my new cooktop with grill, it is easy to clean, by far the best burner pattern and arrangement, was well worth the extra cost and it looks beautiful and my kitchen looks so classy and high end. i had to convert it to propane and the kit is included. the griddle is electric and a little slow to heat up. the large knobs are fantastic and so easy too work with.
Date published: 2014-05-08
Rated 5 out of 5
by
SpicyP
from
LOVE this Cooktop
This is my dream cooktop. It is so well designed, with high powered burners and an easy to clean griddle. I love the low simmer setting.
Date published: 2014-01-13
Rated 5 out of 5
by
Tex1
from
Great product, griddle great for pancakes, tortillas
Excellent product. Gas burners are great. I have only used griddle for pancakes, so far. Easy to clean. Very solid looking. My kitchen looks commercial with the vent hood over this cooktop.
Date published: 2013-12-23
Rated 5 out of 5
by
wis22
from
easy to use, easy cleanup. quality for your money.
This cooktop is good quality for the cost. It is priced well below other cooktops and offers the same performance.
Date published: 2013-12-21
Rated 5 out of 5
by
Shorty69
from
This product has great fixtures and easy to use.
I like the 4 gas burner with griddle, but would like the griddle to be on the side instead of in the middle of each of the two eyes on each side. If you are cooking anything the griddle gets dirty real easy. I have a cover to go over the griddle while cooking on the eyes.
Date published: 2013-11-05
Rated 2 out of 5
by
Missy27
from
Love the gas but...
Look, I really love the gas cooking and I've never cooked on gas before this appliance. The burners are great and the griddle does heat evenly but..I. I would never recommend this model. If I have to do this all over again, I wouldn't. I would get the model with six burners. The griddle is impossible to cook on and impossible to clean. You can't brown meat then expect to cook eggs on top of that and you can't clean in between. The griddle takes 15 minutes to heat up, 2 hours to cool down in order to clean. We cook a lot of omelets and they stick. We've tried everything. I was warned from a friend who has the same cooktop and I should have listened. I clean according to directions and it takes me all day to return it to the pretty shiny chrome that it is. Today was my third time to cook on it. Last time I thought I had ruined it. Browning meat left a large cloudy spot in the middle. That was after 3 hours of scrubbing with everything as suggested. I finally got the thing clean at 4 in the afternoon after cooking breakfast. I finally used Whinks cooktop cleaner for glass cooktops. It is recommended for metal as well. I tried again today and this will be the last time I use it. I just don't have hours in the day to clean this thing. I'm really disappointed. It was not as advertised from the supplier. Buy the six burner and use a counter or stovetop griddle. The gas portion is great. Keep in mind that the stainless scratches easily. Our plumbers ruined the stainless front before we ever moved in. Cover well during construction. I was warned of that as well. Live and learn.
Date published: 2013-06-29
Demos & Guides
guides
Installation Guide
Instructions for unpacking and installing your appliance, including electrical requirements and necessary tools.
Dimension Guide
Detailed dimensions of your new appliance with space requirements for the area surrounding it.
Warranty Information
A complete description of your warranty coverage, and contact information for service and support.
Use & Care Guide
Comprehensive information about your new appliance - from getting started to cleaning and maintenance.
In order to read a PDF file, you must have Adobe Acrobat reader installed on your computer. You can download the latest version at the Adobe website.
Show More Guides