36-Inch 5 Burner Gas Cooktop, Architect® Series II
Ratings
36-Inch 5 Burner Gas Cooktop, Architect Series II is rated out of 5 by 85.
This stainless steel gas cooktop has low profile grates that create a flush look that integrates with the countertop. With features like an 18K BTU professional dual tier burner and 6K BTU simmer burner, the cooktop accommodates a multitude of cooking styles - from precise simmering to sautéing and searing.
guides
Installation Guide
Instructions for unpacking and installing your appliance, including electrical requirements and necessary tools.
Dimension Guide
Detailed dimensions of your new appliance with space requirements for the area surrounding it.
Use & Care Guide
Comprehensive information about your new appliance - from getting started to cleaning and maintenance.
Instruction Sheet
Instruction Sheet
Warranty Information
A complete description of your warranty coverage, and contact information for service and support.
In order to read a PDF file, you must have Adobe Acrobat reader installed on your computer. You can download the latest version at the Adobe website.
Show More Guides
Below are only the articles for your model.
Search within results:
Parts
To buy replacement parts for your appliance, > See parts.
Accessories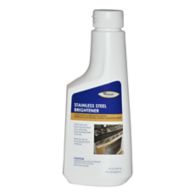 Part # W10252111
This stainless steel brightener works with all brands including: Whirlpool, KitchenAid, Maytag, Amana, and Estate. It easily and effectively brightens stainless steel, chrome, copper, aluminum and brass surfaces. It removes heat and discoloration and yellowing. It is safe for use on food preparation surfaces.
MSRP: $8.99
Low-Profile Full-Width Cast-Iron Grates
Integrates with the countertop, creating a more streamlined look.
18K BTU Professional Dual Tier Burner
Produces a high output for searing and reduces to a low output for simmering sauces. The ability to use a small inner ring makes it ideal for getting more precise simmering.
6K BTU Simmer Burner
Allows more accurate simmer control at the lowest setting, and is ideal for cooking smaller quantities of food, using smaller pots and pans.
Additional Features
Electronic Ignition and Automatic Reignition
Lights burners with an electric spark instead of a pilot light for more reliable performance and relights the burner if the flame is blown out.
LP Conversion Kit Included
Allows you to convert the cooktop so it can be used with LP gas.
Configuration and Overview
Surface Material
Stainless Steel
Number of Elements-Burners
5
Cooktop Element Style
Sealed Burner
Installs Over Built-In Oven
Yes
Cooktop Features
Center Front Power
18000 BTU
Center Front Type
Professional Dual Tier
Left Front Power
10,000 BTU
Left Front Type
Sealed Burner
Right Front Power
10,000 BTU
Right Front Type
Sealed Burner
Right Rear Power
7000 BTU
Right Rear Element-Burner Type
Sealed Burner
Grate Details
Cast Iron Grates, Continuous, Matte Finish
Show More Specifications
Rated 5 out of 5
by
Robyn1
from
Large cooking areas
The multiple burners are a great feature, especially the simmer burner in the middle. Had to adjust the flames to a lower flame after it was installed which made it a more gentle flame.
Date published: 2015-02-05
Rated 2 out of 5
by
realtorPam
from
Disappointed
I bought this cook top a year ago for my new home. I've been cooking with gas now for 25 years, and was sold on gas over electric. This is a higher end unit, and I can no longer cook anything without it burning. There is no such thing as simmer on this unit, even on the middle burner where it says simmer. When the tech came to repair my lemon KA refidg I asked him to see if he could make an adjustment on the burners, and he said sure, only to find out there is no way to adjust the burners. He thought this was strange. I notice many of the other reviews have the same complaint...the others probably don't cook much, so they don't notice it. Also the the shiny rim around the burners seems like it's plastic and it's impossible to clean. All so disappointing. I'm convinced all this newly designed stuff is all just fluff, and you're better off with the older technology on many things today.
Date published: 2015-01-23
Rated 2 out of 5
by
LBELL
from
Constant humming buzzing noise negates any positive feature
I had this installed a couple of days ago and was concerned about a constant moderately loud humming sound coming from the power supply for the pilots. I looked up "troubleshooting" in the manual and it states right there that this is a normal feature of this product. So, if your kitchen is not in your principle residence, or is far away from any other room, or you are hearing impaired, this model might work for you. It is unacceptable to me.
Date published: 2015-01-19
Rated 4 out of 5
by
qbob
from
Great Cooktop But..............
We ordered this cooktop with out new home and it's been the best cooktop we've ever owned and has been everything it's advertised to be. However we do have one issue with it and that is keeping the control knobs and the area right around the control knobs clean. The knobs are located adjacent to the cooking area and as a result they are constantly getting splattered with grease etc. and because the knobs and the surface immediately around the knobs is not stainless steel they are quite frankly difficult and awkward to clean particularly when the grease is under the knob itself. The area under and around the burners is all stainless steel because each burner can for all intents and purposes be completely disassembled this area is very easy to keep and is one of the features of this cooktop we really like. If only the knobs and the area around the knobs were the same and in fact I'd really appreciate KitchAid getting back to me with a suggestion as to how best to keep these areas clean.
Date published: 2015-01-04
Rated 5 out of 5
by
dale62
from
Good lines
I really like the way this looks. It's all the cook top that we will need.
Date published: 2014-12-19
Rated 4 out of 5
by
linnz
from
you can use all 5 burners!
I bought this a few months ago and am happy I did. I really like the set up of the burners because they can all be used at the same time. It looks impressive and is impressive.
Date published: 2014-12-17
Rated 5 out of 5
by
cshamo77
from
Great Cooktop!!!
I love to cook and this cook top makes it that much more fun. I really like the slow cook or simmer burner. Lots of room on the cook top to cook anything you want.
Date published: 2014-12-17
Rated 5 out of 5
by
Bigtrout
from
Great stove
We were not sure what type of gas cooktop to buy; however, we are happy we bought the kitchenaid. We love it!
Date published: 2014-12-16
Rated 5 out of 5
by
Susiemm
from
Makes me want to cook all the time
I replaced a very old five burner gas cooktop and I couldn't be happier. Having the flat grates doubles my counter top space which I can use for cooling racks too. The controls in front are easy to use and the gas is easy to control. Perfect in every way.
Date published: 2014-12-02
Rated 4 out of 5
by
gejack
from
Great BTU get the job done
I moved into new development 2 months ago and purchased this cooktop. So far so good...
Date published: 2014-12-01
Rated 5 out of 5
by
PghMomToThree
from
Excellent Cooktop
I bought this cooktop when we renovated our kitchen and we are very happy. The flames are well distributed and results in even cooking. Easy to clean. The only negative is that the power burner is so strong that it is often too strong even on the lowest setting. This is really for items that you want to cook at a high temperature. It would be nice if the middle burner was a little more flexible.
Date published: 2014-12-01
Rated 5 out of 5
by
DVTandMDR
from
Best cooktop I have ever had!
Have had this for a little over a month and I don't know how I cooked all these years without it. Great value, easy to use, easy to keep clean and it looks great! Solid grate makes cooking so much easier. Using it with LP gas and love the savings of a pilotless ignition. There is a heat level for anything you wish to cook.
Date published: 2014-11-16
Rated 5 out of 5
by
nikiWi
from
Love it
Love the size and it is easy to clean. It is hard to get a low simmer.
Date published: 2014-11-13
Rated 5 out of 5
by
cook 117
from
Easy to use & clean
Purchased this for my new home. Looks amazing and is very easy to use.
Date published: 2014-11-13
Rated 5 out of 5
by
farmer1
from
This thing is a beast!
Love this cooktop. A little hard to keep clean and the big center burner doesn't light on it's own. You have to light the smaller one first, then "blow" the flame to the outer ring. Could use improvement there. Once you get it lit, there is serious heat coming out. It's great!!
Date published: 2014-11-10
Rated 5 out of 5
by
raggedy ann
from
Gormet cooktop!
Bought the cooktop about a month ago. It has been a dream to cook on. It is so easy to clean and looks beautiful!
Date published: 2014-11-10
Rated 5 out of 5
by
Lucy21
from
kitchenaid - 36 inch 5 burner, gas cooktop, architect Series
I bought this product in August and had it installed in September. Love this cooktop. It is a bit more delicate - already have some scratches, but let's face it, if you are one to use your cooktop, this is enevitable
Date published: 2014-11-10
Rated 5 out of 5
by
Marie14
from
Great Product!
This is my 2nd Kitchen-aid gas cooktop. I love it!! Works great, looks great and although this one is new, I had the last one for 8 years without trouble and it still looked and worked great.
Date published: 2014-11-10
Rated 5 out of 5
by
Benz
from
Can't beat cooking with this gas on this cook top!
We chose this cook top for our new because of its styling, a very contemporary look, its value, a great price, and our previous experience with Kitchenaid products.
Date published: 2014-11-09
Rated 2 out of 5
by
Does not apply
from
stainless steel cooktop
stainless steel cooktop shows everything & scratches way too easily---ithis is a new home construction.
Date published: 2014-11-08
Rated 5 out of 5
by
Bill102
from
Excellent versatile cooktop
A versatile cooktop. Easy to use. Love the center dual burner.
Date published: 2014-11-08
Rated 4 out of 5
by
Ukdeb
from
Looks fabulous!
A big step up for me from a regular old kitchen stove. I like the choices of burner size for different pots and pans. The flame regulator is too hot on the lowest settings, it is almost impossible to simmer, it's boil or off! I'm surprised how difficult it is to clean without scratching
Date published: 2014-11-08
Rated 4 out of 5
by
ShaPa
from
Love it!
This cooktop much more heat control than my last stove, a designer series Viking range. And it's easy to clean.
Date published: 2014-11-06
Rated 5 out of 5
by
wili
from
very functional
This is the one counter top range I like. It is very functional with various power of burners. I like the most powerful burner is in the middle of the range which great for venting out those smoke and oil and keep my kitchen clean.
Date published: 2014-11-02
Rated 5 out of 5
by
bfm823
from
love it
After having an electric , I am thrilled to be cooking with this gas stovetop.
Date published: 2014-11-02
Rated 5 out of 5
by
ronney
from
easy to clean and burners are appropriate height
I purchased the stovetop this spring. Very pleased with the height of the grates above the flame. Also easy to clean.
Date published: 2014-10-30
Rated 4 out of 5
by
Jnk30
from
good design
I bought as part of my kitchen applicant replacement. Like the design and the BTU output. Powerful burners. Cook very fast. However, I would like to have better marking and feel on the switches. Like giving a click on each stage would be good. Be able to lock the switches while not using also would be good too.
Date published: 2014-10-29
Rated 4 out of 5
by
park ranger
from
Product Works
The cooktop is a new purchase and is the only one of 5 brand new Kitchen Aid appliances which has not required service within a short time since installation.
Date published: 2014-10-29
Rated 4 out of 5
by
The c
from
Looks great, cleans up easily.
We bought the stove in August and are very pleased with our purchase. Cooks great and is easy to clean.
Date published: 2014-10-27
Rated 4 out of 5
by
MKale
from
Average range, looks good.
This upgraded range was part of an appliance upgrade that we selected with our builder. I like the fact that it is 5 burner. The starter works well. Heating is even. I use the center burner to boil a big pot of water for pasta and I don't think the water heats up any faster on this burner than on a smaller 4 burner GE stove that I had (both natural gas). I do like the look. One annoying hiccup- you have to make sure everything is aligned just right with the plates, after cleaning or the starter intermittently clicks when the burner is on. Once you turn off and fiddle around with the top plate it seems to stop it. This has happened to me everytime the cleaners have cleaned.
Date published: 2014-10-17