39 DBA Dishwasher with Fan-Enabled ProDry™ System and PrintShield™ Finish
39 DBA Dishwasher with Fan-Enabled ProDry System and PrintShield Finish is rated out of 5 by 228.
Enjoy the outstanding performance that only comes from the combination of thoughtful features like a Fan-Enabled ProDry™ System, Third Level Rack and a Bottle Wash with flexible nozzles that can be inserted in deep items to ensure every dish comes out spotless. Plus, the fingerprint and smudge resistant PrintShield™ Finish helps your dishwasher look pristine, too.
Black Stainless - KDTE334GBS
Features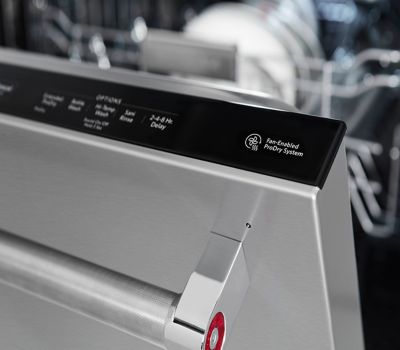 Fan-Enabled ProDry™ System
Delivers the best drying3 performance without rinse aid2 by using a recessed heating element and a fan to draw moisture out of the wash tub when using either the ProDry™ or Extended ProDry™ Options.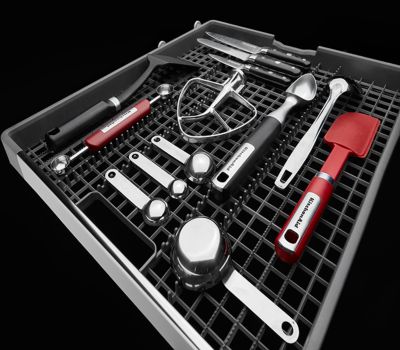 Third Level Rack
Adds 35% more space1 and makes it easier to clean long and flat cooking tools like spatulas and serving utensils, as well as items like food processor blades and mixer beaters, while freeing up space in the lower two racks.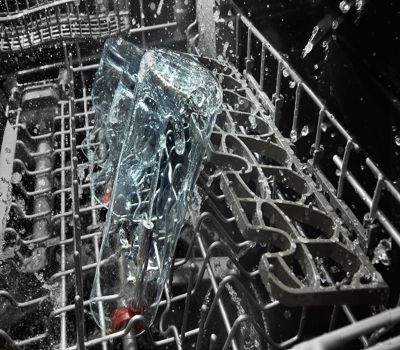 Bottle Wash Option
Provides spray nozzles in the upper rack that can be placed deep inside tall or odd-shaped items like bottles, glasses and vases to thoroughly clean them. Each nozzle is adjustable so it can be positioned to accommodate a wide variety of dishes.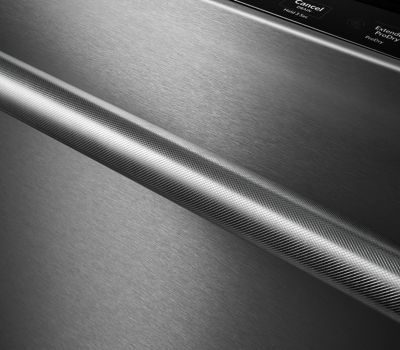 PrintShield™ Finish
Resists smudges and fingerprints. The specialized coating for stainless steel is easy to clean with just water and a soft cloth, so you can spend more time cooking and less time cleaning up the kitchen.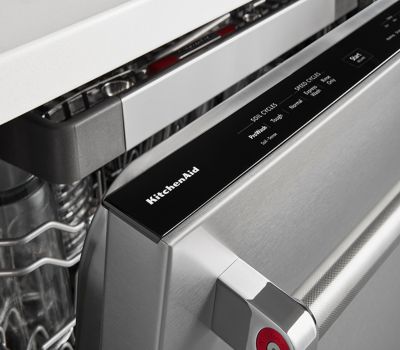 ProWash™ Cycle
Determines the ideal cycle for washing dishes based on soil level and then makes real-time adjustments to achieve the best cleaning performance.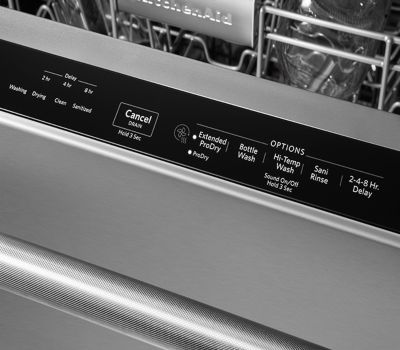 Extended ProDry™ Option
Extends the ProDry™ cycle time for more thorough drying performance.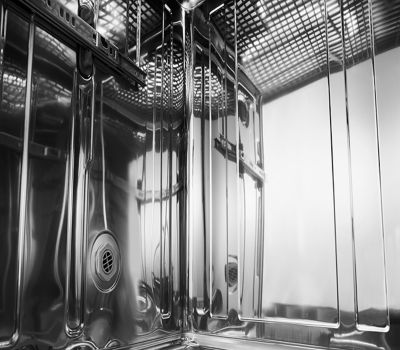 Durable Stainless Steel Interior
Offers the beauty and benefits of stainless steel for the dishwasher interior. It resists streaks, stains and odors while retaining heat to help improve drying performance.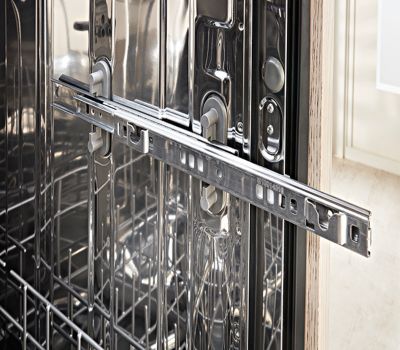 SatinGlide® Max Rails (Upper Rack)
Creates a smooth, premium feeling when pulling out the upper rack, particularly with heavy loads.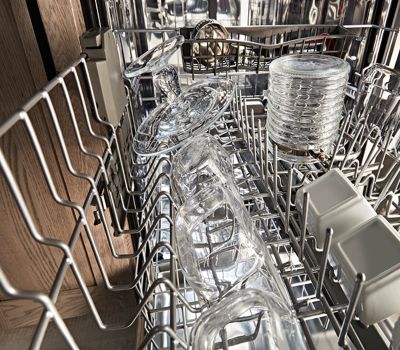 2 Rows Fold-Down Tines in Upper Rack
Adjustable tines can be shifted into one of three positions to accommodate deep or wide dishes.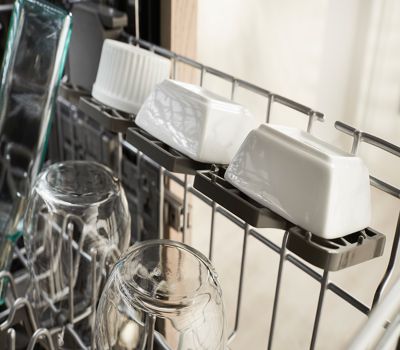 Fold-Down Shelf with Stemware Holder
Provides extra room in the upper rack that's perfect for additional cups, wine glasses, or longer items like utensils and spatulas.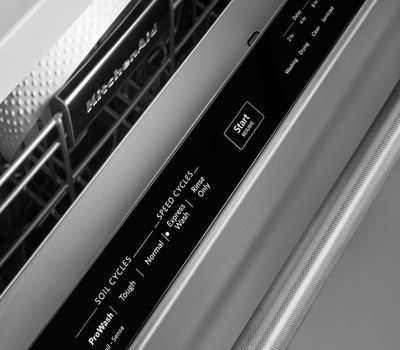 Express Wash Cycle
Quickly and effortlessly handles soiled dishes in less time.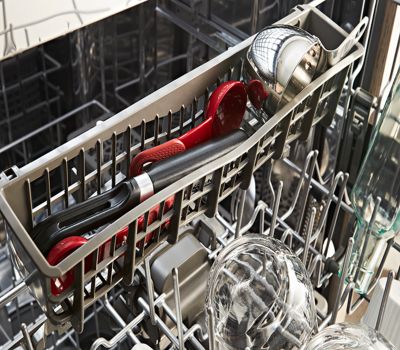 Utility Basket (Upper Rack)
Provides a dedicated space for small items such as small lids and utensils.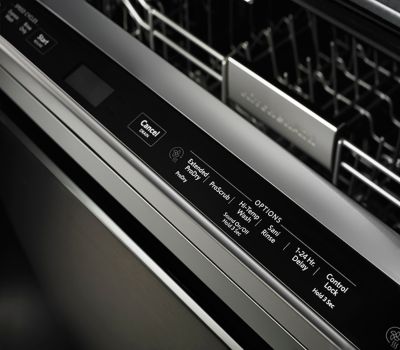 Sani-Rinse Option
Heats the final rinse water to 155°F, eliminating 99.999% of food soil bacteria.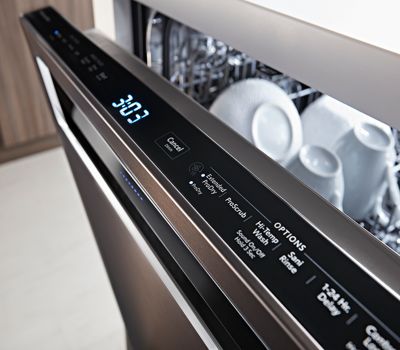 Concealed Controls
Offers tucked away controls on top of the dishwasher door, providing clean, uninterrupted front panel lines that help you match other appliances.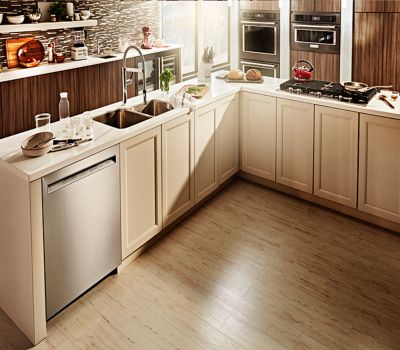 Premium Adjusters in Upper Rack
Raise and lower the upper rack with ease to accommodate tall items.
Filter-Based Wash System
Provides exceptional cleaning and drying, with wash arms designed to send just the right water pressure to key areas of the dishwasher.
Specifications
Configuration and Overview
Energy Star® Qualified
ENERGY STAR® Qualified
Cycle Selections
Express Wash, Normal, ProWash™, Rinse Only, Tough
Option Selections
2-4-8 Hour Delay, BottleWash, Extended Dry, Hi Temp Wash, ProDry™, Sani Rinse®
Water Filtration System
Removable Filter
Extras
1-Plastic Cup Shelf, 4-Stemware Holders
Adjustable Upper Rack
2 Position
Number of Place Settings
14
Controls
Automatic Temperature Controls
Yes
Control Type
Electronic Touch
Exterior Status Light
White
Dimensions
Depth With Door Open 90 Degree
49 1/2
Show More Specifications
Reviews
Rated 4 out of 5
by
Mainegirl302
from
Can't Beat Kitchenaid Quality
We had our last Kitchenaid for 13 years and used it a minimum of twice a day. Motor finally gave out. No question we would buy another. Super quiet, dries great! My only issue was the price- I little too high of you ask me.
Date published: 2018-02-13
Rated 5 out of 5
by
HomeTech
from
Great Dishwasher
Very quiet, can hardly tell it's running. Cleans well and looks good.
Date published: 2018-02-13
Rated 5 out of 5
by
Mr mom the homemaker
from
Love our Kitchenaid dishwasher
Beautiful quiet great controls well designed loading areas, what else do you want in a quality appliance?
Date published: 2018-02-13
Rated 5 out of 5
by
keljonma
from
Quiet Clean
This dishwasher has many wash and dry features, and does an excellent job of cleaning the dishes. However, what makes this dishwasher perfect is that it is so very quiet when operating. No matter where I am standing in our small galley kitchen, I have to see if the lights are on to tell that it is working. My husband and I have already recommended the KitchenAid 39 DBA dishwasher to several of our friends and co-workers looking to replace their machines.
Date published: 2018-02-13
Rated 5 out of 5
by
Kelc
from
Quiet super cleaning dishwasher
This brand was highly recommended by a friend. After much reading and reviewing I purchased my Kitchenaid. The bottle wash feature is brilliant!! It is perfect for my water bottles and my salad dressing jar. I cannot believe how quiet this dishwasher is. My only negative comment, which is very minor, I don't love the style of the handle.
Date published: 2018-02-13
Rated 5 out of 5
by
Michelemark
from
Works great
Very quite, love this dishwasher..................
Date published: 2018-02-13
Rated 4 out of 5
by
Grumpy2
from
Extremely Quiet !
I love my new dishwasher. It is EXTREMELY Quiet I can't hardly tell it's on !! My only complaint so far is the first two times I washed dishes in it, I didn't use the included sample of the dish drying liquid. (Not sure what it's called) and my dishes were still wet at the end of the cycle, even a few days later when I finally got around to emptying the dishwasher. When I did use the liquid, everything was much dryer ! I just can't understand, if this dishwasher was one with the "dryer" in it, why are the dishes not DRY without the liquid ????
Date published: 2018-02-12
Rated 5 out of 5
by
ETHN
from
Love it
I have had this dishwasher for one month so far and I love it. I especially wanted a quiet dishwasher as we have a small house with an open floor plan so noisy appliances can be heard everywhere in the house. This dishwasher is so nice a quiet. I can have it running while watching TV and not notice it. It has a nice modern clean look. The dish have always come out clean and I have found the bottle washer handy.
Date published: 2018-02-12
Rated 5 out of 5
by
MikeAndDeb
from
Quiet, Solid Cleaning Machine
We bought this about a month ago, and are quite happy with it. We reviewed and then went to stores and looked at multiple manufacturers, and at different levels within each brand, and settled on this one. 1. KitchenAid is top of the line for all "maytag built" machines. 2. We wanted a heat-dry option, which the European ones don't offer. 3. The Fast Wash is great - yes it used more water and power, but when you need to shorten the cycle-time, it really gets everything clean quickly. 4. The extra "Third tray" has been very useful - we put utensils up there, then we do not need to put in the basket in the lower section, so we have more room down there for larger items - really recommend the third tray. 5. It is very quiet - sometimes we might hear the water jets bouncing off of a metal pan, but the mechanics of the washer itself are super quiet. Good choice.
Date published: 2018-02-12
Rated 5 out of 5
by
old how
from
kitchenmaid-39 dab dishwasher
the motor in our 20 year kitchenaid was starting to get very noisy and living 70 miles from town my wife and replaced the washer while we were still able rather than replacing a motor on the old dishwasher.
Date published: 2018-02-12
Rated 5 out of 5
by
lmkaufman
from
Great features, cleaning and quiet as heck
Nice solid design with clean front. Cleans great and it cannot be heard at all. Lots of features and the third row is a nice bonus (except I forget to check it sometimes). Installed easy, however must supply your own 1/2" NPT supply line to 3/4" coupling for supply (remember before leaving hardware store if you have a 1/2" supply line).
Date published: 2018-02-12
Rated 5 out of 5
by
Kstrobel92
from
Quiet!
We have owned this unit for about two months, and although we don't use it often as we prefer to wash dishes, when we do use it we cannot even tell it's on. This unit is quiet and quite effective at getting the dishes clean.
Date published: 2018-02-12
Rated 5 out of 5
by
LaureninAustin
from
Excellent Performance!
The extent of features, quality of the wash and the quietness of operation make this dishwasher outstanding! I absolutely love it!
Date published: 2018-02-12
Rated 5 out of 5
by
Nateor
from
New dishwasher
We have had this dishwasher for a month. It is the quietest DW that we have ever had, and is cleaning the dishes great.
Date published: 2018-02-08
Rated 5 out of 5
by
Randy33
from
KitchenAid Dishwasher - Great buy!
Is very quiet and works great. I would definitely buy again.
Date published: 2018-02-08
Rated 5 out of 5
by
mob*
from
Quiet
The racks slide easily and it is quiet. Well organized interior.
Date published: 2018-02-07
Rated 5 out of 5
by
Jberrysg
from
SUPER QUIET!
BEST DISHWASHER EVER! Bought this a month ago and am completely sold on Kitchenaid.
Date published: 2018-02-07
Rated 4 out of 5
by
blessed4d1
from
Dries Great
Looks good. Dries great...but door doesn't open flat, so it's a little awkward when putting in dishes. Maybe it's because it's so new, I don't know.
Date published: 2018-02-07
Rated 4 out of 5
by
JP63049
from
Nice
Loving my new super quiet dishwasher, only 4 stars because my old dishwasher had a short side on the upper rack so cookie sheets & jelly roll pans could fit in the rack below
Date published: 2018-02-06
Rated 5 out of 5
by
Gracie Grace
from
So quiet! Love the silverware tray. Super clean.
It looks good, is very quiet, cleans well, and has great features (silverware tray, wine glass holders, bottle washers/injectors!
Date published: 2018-02-06
Rated 4 out of 5
by
Nrauser
from
Quiet and cleans well
This dishwasher is so quiet you will not even notice that it is on. It holds a ton of dishes and cleans very well. My only complaint is that even with the extended pro dry, and it doesn't dry very well.
Date published: 2018-02-06
Rated 5 out of 5
by
Anonymous
from
Super Quiet!
This dishwasher is so quiet you don't even know when it's running! Dishes come out squeaky clean!
Date published: 2018-02-06
Rated 5 out of 5
by
NFROG
from
Super Quiet
Bought it a couple weeks ago. Still getting use to it, but like it
Date published: 2018-02-05
Rated 5 out of 5
by
Stephvan56
from
CLeans Well and is So Quiet!!
I have never owned a KitchenAid appliance before but I LOVE this dishwasher! I didn't realize my old dishwasher wasn't getting things as clean as they could be! This dishwasher REALLY Cleans!!! And it is soooo quiet, we have to look at the light to make sure it is on! So glad I went with this KitchenAid dishwasher!
Date published: 2018-02-05
Rated 5 out of 5
by
jfphx
from
very quick cleans dishes great
I bought this dishwasher a few weeks ago. It cleans the dishes very well, is super quiet. nice features
Date published: 2018-02-05
Rated 5 out of 5
by
myoste
from
Great diswasher
Super quit washer Great features Third rack is great
Date published: 2018-02-05
Rated 5 out of 5
by
Lorrac
from
Super quiet
I installed this dishwasher about a month ago with only minor modifications needed (The opening was a little small). As advertised, I wonder at times if I turned it on its so quiet. The dishes, so far, come out spotless. Living off the grid, I am pleased that it doesn't have a huge impact on our electrical system when it's on. One minor irritant, it requires a 90 degree adapter to go from hose thread to a compression fitting and you don't find that out til you open the box. Who hooks a garden hose to their dishwasher? Adjustable tines on the lower rack would be nice. So far, a nice addition to the kitchen.
Date published: 2018-02-05
Rated 5 out of 5
by
Boris
from
Quiet and Effective
I purchased this model after doing a lot of research and after running several loads of dishes through this KitchenAid, my wife and I are completely satisfied with this selection. The quiet operation is a definite benefit when other conversations are happening in the kitchen area and we certainly appreciate this model getting the dishes completely clean!
Date published: 2018-02-05
Rated 5 out of 5
by
Delilah
from
It works!
Dishes are clean. Have been living with old failing product. Great
Date published: 2018-02-05
Rated 5 out of 5
by
Marie 529
from
So many Great Features
I love having a third rack, and the light indicator on the outside of the door is great, now I know what cleaning stage the machine is running on. I bought a Kitchenaid Dishwasher in June of 2003 and it worked very well,and it looked like it was brand new on the outside,the only thing was that the wire racks were really rusted out, and those racks were the second set that I had.
Date published: 2018-02-05
Demos & Guides
guides
Use & Care Guide
Comprehensive information about your new appliance - from getting started to cleaning and maintenance.
Installation Guide
Instructions for unpacking and installing your appliance, including electrical requirements and necessary tools.
Energy Guide
Information about the efficiency of your appliance, including energy consumption and annual costs to operate.
Dimension Guide
Detailed dimensions of your new appliance with space requirements for the area surrounding it.
Warranty Information
A complete description of your warranty coverage, and contact information for service and support.
In order to read a PDF file, you must have Adobe Acrobat reader installed on your computer. You can download the latest version at the Adobe website.
Show More Guides
(3) Among leading premium brands, with rinse aid.
(2) Among leading premium brands; models KD(T/P)M334G, KD(T/P)M354(E/G) & KDTM384E
(1) Compared to KitchenAid® dishwashers without a third level rack.