NEW
22.7 Cu. Ft. Counter Depth Side-by-Side Refrigerator with Exterior Ice and Water
22.7 Cu. Ft. Counter Depth Side-by-Side Refrigerator with Exterior Ice and Water is rated out of 5 by 237.
The sleek design of this 22.7 cu ft. side-by-side refrigerator features the Preserva® Food Care System. Its two independent cooling systems help keep food fresh while the FreshFlow™ Air Filter minimizes odors, and the Produce Preserver delays over-ripening. The counter-depth gives the high-end look of built-in refrigerators and the Professionally-Inspired Design features Satin Textured Handles and the KitchenAid® Medallion.
Monochromatic Stainless Steel - KRSC503ESS
Features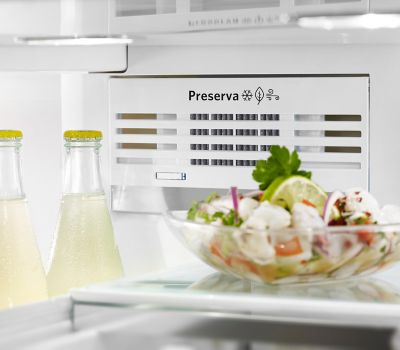 Preserva® Food Care System
Two independent cooling systems provide a dedicated refrigeration unit to help keep food fresh longer, and a separate system for frozen food. The FreshFlow™ Air Filter helps minimize odors while the FreshFlow™ Produce Preserver helps delay over-ripening.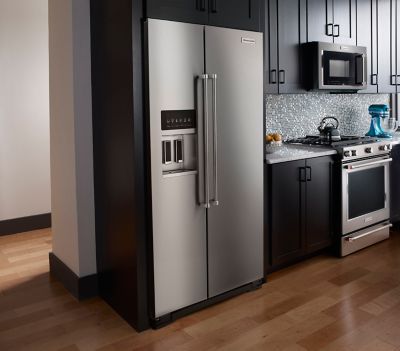 Counter-Depth
Gives the high-end custom kitchen look of a built-in refrigerator.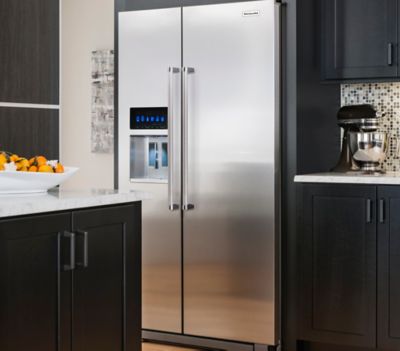 Professionally-Inspired Design
Combines a bold blend of professionally-inspired styling with sleek touches for the home. This beautiful side-by-side refrigeration unit features Satin Textured Handles and the KitchenAid® Badge, a symbol of uncompromised quality.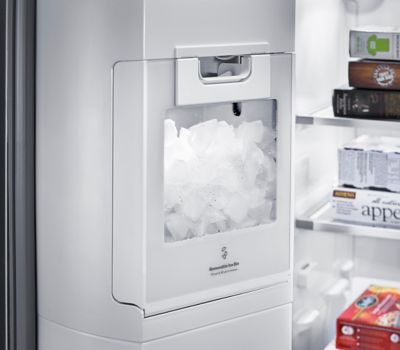 In-Door-Ice® System
Adds interior room in the refrigerator with an ice bin that mounts on the inside left door of the refrigerator, keeping it out of the refrigerator compartment and allowing for extra shelf space.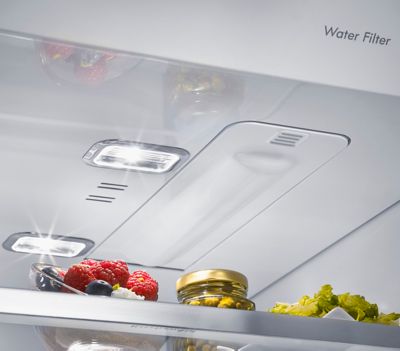 LED Lighting
Uses less energy than incandescent bulbs. Multiple lights are purposefully placed throughout the refrigerator and freezer, making it easy to find items at a glance.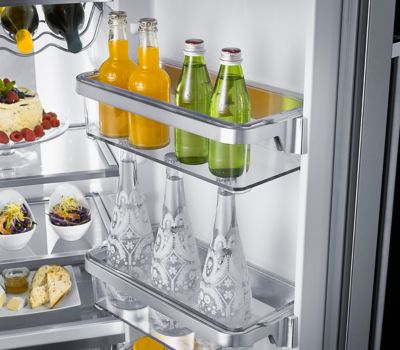 Adjustable Spill Resistant Shelves
Prevents messes from spilling over into other parts of the refrigerator. In place of a lip that can trap foods, the shelf edges are nano-etched with a finely texture surface that contains spills and lets you use the whole shelf from edge-to-edge.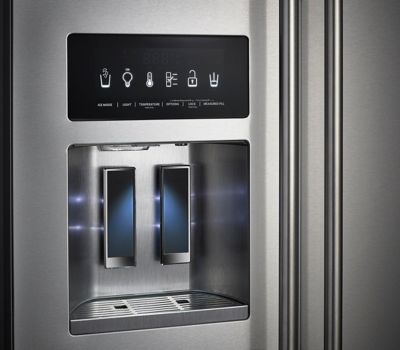 Exterior and Ice and Water Dispenser
Provides freshly filtered, great tasting water and ice that can be conveniently found right in the refrigerator door.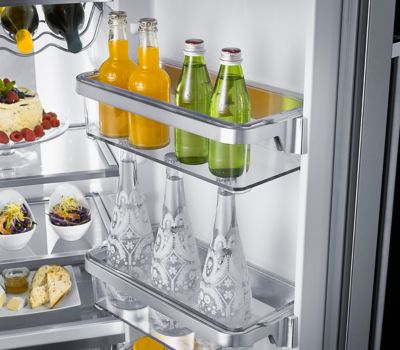 Clear Door Bins with Metallic Accents
Allow you to see labels right through the bins, helping you keep condiments and other items organized. Each bin is removable, making it easy to pull out, chop up and store an amazingly fresh produce, and simply slide back into the fridge.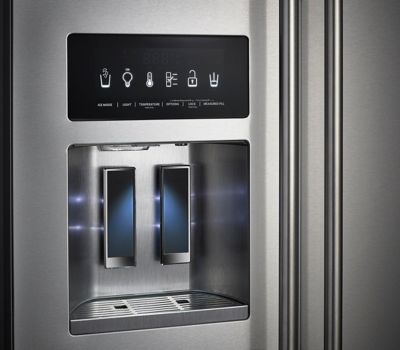 Measured Water Fill
Displays and automatically dispenses water in ounces, cups, or liters. It can be programmed to pour a measured amount, helping make food prep easier. It can even be set up to fill essential items on a daily basis like a coffee pot or a water bottle.
Specifications
Configuration and Overview
Refrigerator Type
Side-by-Side
Refrigerator Capacity
13.65
Energy Star® Qualified
No
Dimensions
Height To Top Of Cabinet
71
Depth With Door Open 90 Degree
45 7/8
Depth Excluding Doors
24 3/16
Depth Closed Excluding Handles
27 1/2
Width with Doors Closed
35 3/4
Capacity
Refrigerator Capacity
13.65
Features
Number of Interior Shelves
4
Spill-Proof Glass Shelves
1 Fixed Full Width, 3 Adjustable Full Width
Humidity-Controlled Drawers
1 Full-Width
Temperature-Controlled Drawers
No
Non Climate-Control Drawers
1 Full Width
Door Bins
1 Dairy, 2 Adjustable Gallon, 2 Adjustable Two-Liter
Freezer Features
Interior Shelves
1 Fixed Full Width Glass, 3 Adjustable Full Width Glass
Freezer Drawer-Basket
1 Full Width Lower Plastic, 1 Full Width Upper Plastic
Door Bins
3 Fixed Full-Width
Filtration and Dispensing
Dispenser Type
Exterior Ice and Water
Dispenser Options
Control/Child Lock, Filtered Water, Measured/Metered Fill, Night Light
Ice Maker
Factory Installed
Show More Specifications
Reviews
Rated 5 out of 5
by
Caveman Kurt
from
Great features
Perfect piece of equipment, looks great in my kitchen, fits everything
Date published: 2018-02-05
Rated 5 out of 5
by
mepoor2
from
quality refrigerator
So far so good. Like it a lot . Nicely like interior. Can see everything
Date published: 2018-01-31
Rated 5 out of 5
by
Laws
from
Great Fridge!
We have had this fridge for 4 weeks so far, and no issues. We were looking for a counter depth fridge with two compressors, and this is a great option. The food stays fresh and at the appropriate temperature.
Date published: 2018-01-30
Rated 5 out of 5
by
SPS_531
from
Keeps food fresher!
This fridge was installed less than a month ago, so we are very much still in the honeymoon phase with it. But so far, I'm amazed at how much fresher it keeps produce. Because it is the extra tall model, it has a built-in look and provides ample storage. I also enjoy the measured fill function on the water dispenser.
Date published: 2018-01-30
Rated 5 out of 5
by
Anonymous
from
sexy fridge - solid!
excellent design, solid handles PERFECT love the functionality
Date published: 2018-01-30
Rated 4 out of 5
by
Bossrjc
from
Side by Side works best!
This refrigerator fit into our remodel easily and works great. So far.
Date published: 2018-01-30
Rated 5 out of 5
by
Jackl22
from
Attractive and roomier
Nice looking and functional.This replaced a similar kitchen aid,I like this one much better.There's plenty of room and nice led lighting.
Date published: 2018-01-30
Rated 3 out of 5
by
Mcwymer
from
Inside is smaller then we thought
We love Kitchenaid but after having this model we were disappointed on the inside space of it!
Date published: 2018-01-29
Rated 5 out of 5
by
Gene R
from
Side by side Counter Depth
Excellent product ! Far superior to my past fridges.
Date published: 2018-01-29
Rated 5 out of 5
by
nolaguru
from
love my new fridge
It is so beautiful, well lit and the freezer is to die for
Date published: 2018-01-29
Rated 4 out of 5
by
Anonymous
from
Pretty roomy for a counter depth frig!
So far I love this refrigerator. Wow, I actually have ice cold milk! Love the ice cube dispenser, lots of space inside, everything stays fresher and it is so much better than my last refrigerator. The unit is very quiet. The one thing that annoys me is that when you clean the outside of the unit you see streaks no matter how much you try and buff it out. Other than that I am very happy with my purchase.
Date published: 2018-01-29
Rated 5 out of 5
by
prowood
from
Great lookin fridge
I replaced my 20 CuFt French Door Kitchenaid with this. what a difference! Much better use of space.
Date published: 2018-01-29
Rated 1 out of 5
by
vivi
from
Beware - Not the Kitchenaid quality I used to know
We purchased in November 2013. Just after the one year mark, drawer fronts broke off, several LED lights not working. Inside plastic is thin; dropped a carton of yogurt and it cracked the inside of the refrigerator - not the flimsy carton! Last summer it was a faulty compressor, took several days off work and almost a month with no freezer before it was repaired. Now two water line fittings cracked and our wood floors are ruined. I did buy extended warranty, what a racket - I have to wait for a diagnosis appointment (I can see the cracked fittings where the water is coming out, took a photo, they are not interested) then a review to see if they will cover, then another appointment to fix, if they decide to cover. At least two days off work for me and a minimum of two weeks to repair. I've had Kitchenaid for most of my life and been satisfied. Purchased the counter depth side-byside model in 2002 for our previous home, lived with it until we moved 11 years later. Loved it, so bought the 2013 version. The 2013 product is beyond disappointing.This will be my last Kitchenaid appliance.
Date published: 2018-01-16
Rated 5 out of 5
by
Nova Mike
from
Love this refrigerator
We bought this model 503 refrigerator in December 2017. It was part of a kitchen remodel and replaced a 10 year old KitchenAid (not a thing wrong with the old one except it was black and the wife went stainless on the remodel). I wanted nothing to do with a french door refrigerator. The ice maker is in the upper portion in the refrigerator door. Everyone we spoke too lamented how poorly their ice maker worked due to its location. The answer was this side-by-side. My wife wanted a counter depth model too. We checked out so many different models in a number of locations near us. This model was perfect. The amount of usable space is amazing. The unit can move back forth with a light effort. The ice maker works great! Different things matter to different folks but I got my ice maker, the wife got her gorgeous counter depth refrigerator. We think this is a great product and looks so nice with other KitchenAid appliances.
Date published: 2018-01-07
Rated 5 out of 5
by
Tim2000
from
Finally back to a useful fridge
Couldn't stand the French door fridge that came with our house. Lots of shelves, freezer actually holds things, this is nice.
Date published: 2017-12-31
Rated 5 out of 5
by
Rob23
from
Very quiet
It is working just as we hoped and expected it to. We bought a extra freezer shelf and refrigerator door bin to maximize the interior space and now it holds plenty.
Date published: 2017-12-29
Rated 4 out of 5
by
DaveQ
from
Nice Refrigerator
Everything works good so far. Interior is a little smaller than my old refrigerator of the same size. The measured water fill is a nice feature!
Date published: 2017-12-26
Rated 1 out of 5
by
mrsj
from
This is the WORST PRODUCT I HAVE EVER BOUGHT.
I have had this product for a year now. First delivery- scratch on the door. Replaced door, still has scratches, door doesn't line up with the fridge side. Ice machine leaks all over. replaced ice machine. Loud. Now has completely stopped working. I quit. No more Kitchen Aid for me.
Date published: 2017-12-17
Rated 1 out of 5
by
JoePC
from
Terrible design and very poor reliability
I bought this fridge and in the first year the ice machine had to be replaced then it broke again a few months later and they told me I had to replace the freezer door. They couldn't get a door in stock so I was given 75% of the retail price paid and now have to buy a new fridge. Besides the complete lack of reliability, the drawers are tiny and the design is terrible.
Date published: 2017-12-12
Rated 4 out of 5
by
Eeyorel
from
Not flexible
Shelves and bin are not really adjustable. Basically one shelf missing and you can decide which spot you want it to be missing from. Veggie bin extremely small. Water in door not cooled. Is nice looking, except side are gray colored plastic
Date published: 2017-12-10
Rated 4 out of 5
by
mark20
from
nice looking fridge
just got it. nice look. great lights inside. side by side are the easiest to use. Kitchenaid promo on cost made it a value. they got rid of the sliding shelves (liked those) and bins since to be made of low quality plastic (versus older models)
Date published: 2017-12-07
Rated 5 out of 5
by
krissyB
from
happy camper
Great modern design! Fingerprints do not show as easily and I love the light on the water dispenser at night.
Date published: 2017-12-06
Rated 2 out of 5
by
Merrie
from
Jury's Out
I'm not completely sold on my $1200 fridge. It's been kind of lemon.
Date published: 2017-12-03
Rated 5 out of 5
by
Larrybele
from
Great features
Need a replacement for my old one, and I'm very happy for my new purchased
Date published: 2017-11-30
Rated 5 out of 5
by
Harley 99
from
Great product
Great buy, has a quality look. Solid construction and modern features
Date published: 2017-11-23
Rated 4 out of 5
by
Anonymous
from
2-month review
I had reservations before purchasing this model due to the reviews I had found on different forums. There were statements that the unit had a very loud and noisy compressor and water pump. I even was intending to purchase a sound barrier mat to place under unit due to we have wood floors which transmit noise and vibrations more intently. BUT, I am very pleased to admit I have none of the compressor and pump noises as stated by most of the forums. (KNOCK-ON-WOOD). The unit works as expected.
Date published: 2017-11-19
Rated 5 out of 5
by
fridge
from
Great look
I bought it month ago n love it. it is beautiful and quite.
Date published: 2017-11-19
Rated 5 out of 5
by
Aunie
from
Happy customer
The controls are excellent, the fridge lights-up perfectly & the settings are right on.
Date published: 2017-11-17
Rated 5 out of 5
by
DonnaO
from
so quiet
love my new KitchenAid fridge. It's got a smaller footprint than the one it replaced but the inside space is quite comparable and it's so quiet--the only time we hear it is when it's making ice
Date published: 2017-11-09
Rated 5 out of 5
by
Viji
from
One cool fridge!
We bought it three months ago and we are very happy
Date published: 2017-11-09
Demos & Guides
guides
Use & Care Guide
Comprehensive information about your new appliance - from getting started to cleaning and maintenance.
Warranty Information
A complete description of your warranty coverage, and contact information for service and support.
Installation Guide
Instructions for unpacking and installing your appliance, including electrical requirements and necessary tools.
Dimension Guide
Detailed dimensions of your new appliance with space requirements for the area surrounding it.
Energy Guide
Information about the efficiency of your appliance, including energy consumption and annual costs to operate.
In order to read a PDF file, you must have Adobe Acrobat reader installed on your computer. You can download the latest version at the Adobe website.
Show More Guides