30-Inch 4-Element Induction Double Oven Convection Range
30-Inch 4-Element Induction Double Oven Convection Range is rated out of 5 by 121.
This powerful induction double oven range features a Steam Rack that offers the ability to add moisture to the oven, enhancing cooking results. It produces flawless cooking results with Even-Heat™ True Convection. The unique bow-tie design and convection fan ensure the inside of the entire oven is heated to, and stays at, the perfect temperature. The ovens are a combined 6.7 cu ft., providing an extra-large capacity and the ability to cook at a separate temperatures.
Stainless Steel - KFID500ESS
Features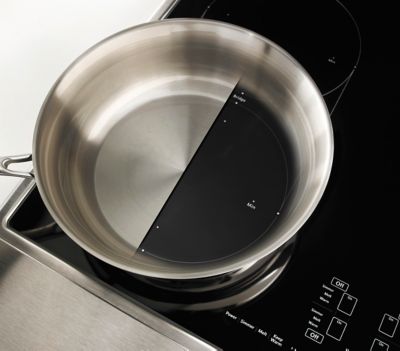 Induction Cooking Elements
Ranges with induction elements offer quick, efficient response similar to gas burners. By using electromagnetic energy to generate instant heat directly to your cookware, you are able to rapidly boil water and get more precise results.
Steam Rack
Offers the ability to provide additional moisture to the inside of the oven, enhancing cooking results.

Even-Heat™ True Convection
Produces flawless results. The unique bow-tie design and convection fan ensure the inside of the entire oven is heated to, and stays at, the perfect temperature.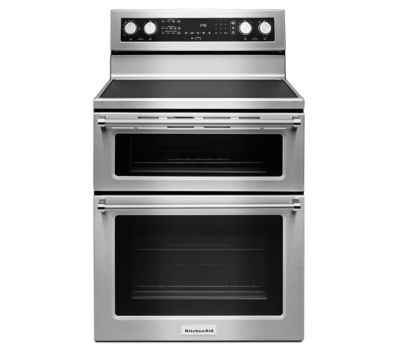 Professionally-Inspired Design
Combines a bold blend of professionally-inspired styling with sleek touches for the home. This double oven range features Satin Textured Handles and the KitchenAid® Badge, a symbol of uncompromised quality.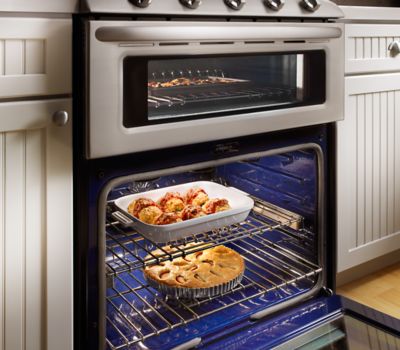 6.7 Cu. Ft. Total Capacity
Provides an extra-large combined cooking capacity for preparing multiple dishes at once and gives you the flexibility of separate temperature zones.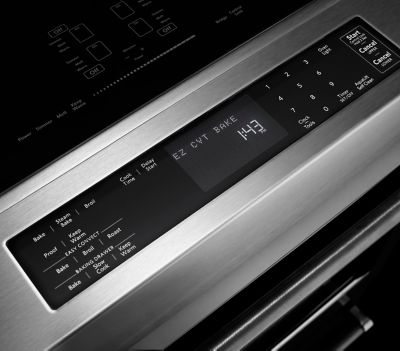 EasyConvect™ Conversion System
Takes guesswork out of convection cooking by ensuring you can get exceptional results when experimenting with new or familiar recipes.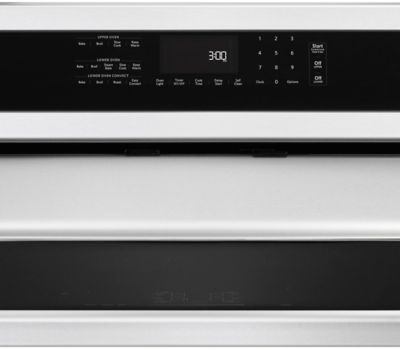 Glass Touch Controls
Offer an intuitive, easy-to-use touch screen experience.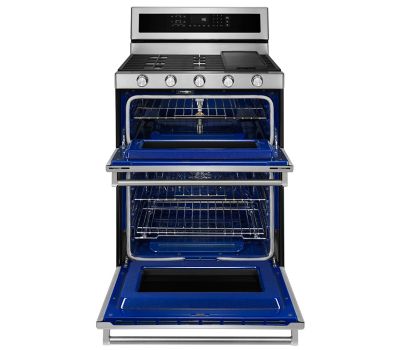 SatinGlide® Rack
Move smoothly in and out, allowing effortless loading and unloading, even with large or heavy dishes.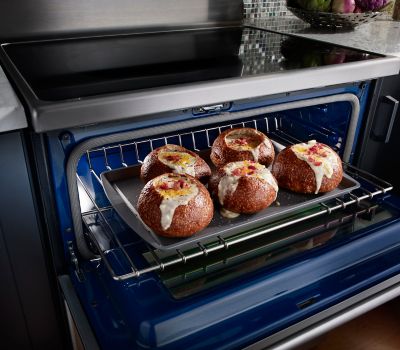 Hidden Bake
Covers up the baking element, making it easier to wipe away spills.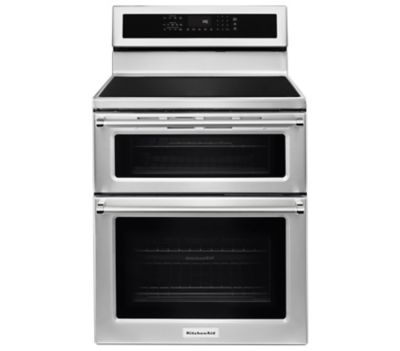 Stainless Steel Cooktop Trim
Provides a seamless transition to other surfaces and enhances the look of edges around stainless steel cooktops.

11" Even-Heat™ Ultra Element
Delivers consistent heat across the cooktop, including fast boils, precise simmering and exceptional melting.
Specifications
Configuration and Overview
Fuel Type
Electric Induction
Range Type 
Freestanding Double Oven
Cooktop Features
Cooktop Element Style
Induction
Cooktop Surface Color
Black
Cooktop Surface Material
Ceramic Glass
Number of Cooking Element-Burners
4
Left Front Element-Burner Power
1800W
Left Front Element-Burner Size
6"
Left Front Element-Burner Type
Single
Left Rear Element-Burner Power
3700W
Left Rear Element-Burner Size
11"
Left Rear Element-Burner Type
Single
Right Front Element-Burner Power
2500W
Right Front Element-Burner Size
7"
Right Front Element-Burner Type
Single
Right Rear Element-Burner Power
1800W
Right Rear Element-Burner Size
6"
Right Rear Element-Burner Type
Single
Oven Features
Automatic Convection Conversion Temperature Adjust
Yes
Heating Element On Indicator Light
Yes
Hot Surface Indicator Light
Yes
Power On Indicator Light
Yes
Oven Rack Type
1 Max Capacity, 1 Gliding Roll-Out, 1 Steam Rack
Self-Cleaning 
Self-Cleaning
Oven Control Location
Backguard
Oven Cooking System
Thermal Upper-Convection Lower
Bake Element Power
2000W Both
Broiler Element Power
3600W Both
Broiler Location
Top of Oven
Convection Element Power (watts)
1600
Convection Element Type
Fan
Convection Functions
Bake, Broil, Roast
Lower Oven Capacity (Cu Ft.)
4.2
Upper Oven Capacity (Cu Ft.)
2.5
Number of Oven Racks
1 Upper-2 Lower
Number of Rack Guides
2 Upper-5 Lower
Controls
Selections
Control Lock, Cook Time Indicator, Delay Start, Easy Convect Conversion, Keep Warm Setting, Sabbath Mode, Slow Cook, Steam Bake
Show More Specifications
Reviews
Rated 5 out of 5
by
Cookandbottlewasher
from
Liberated from gas!
Even better control than gas without the fumes. Love the two ovens, everything comes out perfectly.
Date published: 2018-01-29
Rated 5 out of 5
by
powder
from
easy clean
One month in use: 1. fabulous cleanup. The surface does not get hot, so cleanup is like washing a mirror- no scrubbing at all! 2. Fast: no using the microwave to boil water- stove is twice as fast. 3. Kitchen stays cool, a plus in Florida. 4. Love having the controls at front. No knobs to clean around, and no splatter when using controls. Drawback: only one pot and kettle are usable. Await Cuisinart bonus gift. meantime bought transfer plate, which works fairly well for non-magnetic smaller pots.
Date published: 2018-01-29
Rated 5 out of 5
by
Travis83
from
Great Oven
We have had this range for a little while now and we absolutely love it.
Date published: 2018-01-29
Rated 2 out of 5
by
Maggiebrooks
from
Unhappy with oven
Just purchased . Spill from. Yam has left mark on Porcelain , manual says high heat can cause stains and pitting so how does the self clean cycle work ? Nothing will get it off
Date published: 2018-01-19
Rated 5 out of 5
by
Terry2000
from
Better than Gas burners!
I just relocated to another town, and the house we moved into had a conventional electric ceramic-top stove. I felt as if I should go take a nap while the burners heated up, and the stove-top stayed very hot for quite a while. Our old house had gas burners; I loved those because of the instant control one has over the heat applied to the pan. Our neighborhood doesn't have gas available, so I opted for this stove with induction burners and I love it! I have just as much control over the heat applied to the pan, but no worries about open flames or searing-hot surfaces under the pan to burn on accidental spills. Pans heat up extremely fast; it's even faster than our gas stove was at boiling water. Since induction heats the pan directly, it does not heat the ceramic surface which then, in turn, heats the pan. So the heat is very quick, totally controllable, and the ceramic surface is easy to clean if a spill should occur because it doesn't get hot enough to burn food on. The one downside to induction is that one must use a pan with magnetic properties... no glass, copper or aluminum pans. If a magnet will stick to the bottom of the pan, that pan will work on an induction burner. I do wish this model had the ability to link burners to allow the use of a large grill or griddle (there is a drop-in model that does have that feature). The double ovens are nice, and I like the "steam" bake feature although I have not used that yet. My one complaint about the ovens are that they cannot be set to a low enough temperature to proof bread (at least, I haven't figured out how). One "feature" took a little getting used to... if you place a pan too close to the surface burner control area on the stove-top, the stove starts beeping.
Date published: 2017-12-30
Rated 5 out of 5
by
Watchfan
from
Fantastic
Oven was delivered a week ago and I couldn't be happier. Great features, easy to use and I love the Easy Convet function. It's so nice to be able to cook 2 items at different temperatures and times.
Date published: 2017-12-28
Rated 5 out of 5
by
MDMTahiti
from
Much better than expected!
We decided on this range because our new condo does not have gas available. We are most happy that we did this - the cook top is FAST and is much more responsive that gas and is super easy to clean. We love the double ovens. This is the only double oven induction range we could find and primarily use the top oven which is super convenient and heats up fast. The lower oven we used to convection roast a prime rib and it was fantastic. We find temperatures are spot-on. Just love the beautiful blue interior. The fit and finish is very good. We found putting a silicone mot on the cook top helps the pans not to slide and does not effect the cooking speed. The self cleaning cycles are easy and work perfectly. We even got a new set of KitchenAid cookwear as a bonus gift! WE COULD NOT BE HAPPIER WITH OUR NEW RANGE!
Date published: 2017-12-25
Rated 5 out of 5
by
GMaLisa
from
Love Double Ovens
I am extremely happy with my new range. I wanted a double oven and an induction cooktop so this was one of the very few affordable options. It bakes very evenly. I love being able to cook at 2 different temperatures. I also like the keep warm setting. I also love the easy glide shelf that makes getting pans and dishes in and out of the oven. Mine preheats quickly. I read others who said it took a long time. I turn it on, put my recipe together and it is ready to bake. The only issue that I am getting adjusted to is the fan running long after I have turned off the oven. The quick boil is amazing for boiling potatoes, pasta, or any food that requires boiled water. Cuts the cook time down a lot. Overall I am very satisfied with this range and look forward to using for years to come.
Date published: 2017-12-24
Rated 4 out of 5
by
RegP
from
Great
I have only been using this range for a couple of weeks. I have not had a chance to try all the different features the oven has. I have cooked using the cooktop and done some baking in both the top and bottom oven. Gotta love induction cooking. It is life changing. I don't think I would ever go back to gas. The 4 star given is for the cooktop panel that is located on the cooktop. I wish there are knobs as this panel is somewhat annoying. Overall, this is a great range.
Date published: 2017-12-19
Rated 4 out of 5
by
Ksyl
from
Really like it
I've had the range about 3 weeks and so far really like it. i wish the promotional cookware would arrive sooner than the promised 4-6 weeks however. I read negative reviews that said there was a 'buzz' noise with the stovetop but haven't experienced this; also Read that it took too long to preheat and the oven fan was noisy - neither have been problematic for me. The only thing I don't like is that it's not flush with the back wall - it sits forward 2 3/4 inches which means if something falls back there the range has to be moved forward a LOT to retrieve it. Dealer said it's because of the size of the power cord (which is huge incidentally) If not for this, I would give it a five stars.
Date published: 2017-12-18
Rated 5 out of 5
by
4Dawgs
from
Perfect
We wanted a double oven induction range to replace our double oven electric. This is a great range! We love the control of induction and the ovens heat to and maintain the temperatures. Great baking results. So glad we purchased.
Date published: 2017-12-18
Rated 5 out of 5
by
Lobo10
from
Induction Double Oven Convection Range
I am very please with my cook stove. I love the two ovens and the induction cooktop.
Date published: 2017-12-13
Rated 5 out of 5
by
Induction Happy Guy
from
Better than gas or conventional electric!
Bought this same Kenmore model with gas cooktop several years ago and loved it. But we moved and the buyers stated "stove must stay" for the deal to go through! So shopped for range for our new house and went with the same model with induction cooktop. LOVE IT! Faster and better control than gas. Great slow simmer also. Love so select a numeric setting rather than looking at the size of the flame! Ovens are great also - -use the smaller one most of the time but convection oven below was great for batches of Christmas cookies.
Date published: 2017-12-09
Rated 5 out of 5
by
b reno
from
Best Range in over 50 years
My research brought me again and again to this specific product. Induction cooking is amazingly fast and easy. Cleanup a snap, 2 ovens for separate temperature control dishes, and audible alerts to keep me notified. My only recommendation would have been to have the largest cooking ring in front but that is mainly due to my short statue and limited reach.
Date published: 2017-12-07
Rated 4 out of 5
by
ChiefSully
from
Excellent value for induction cooking - small flaw
We bought this oven when we purchased our new home. We had always had a propane range prior to moving here, but found that there was not piping for gas. I was loathe to buy an electric range, but had heard good things about induction cooking. We weren't disappointed, the range heats pans extremely fast. A pot of water boils in less than a minute, and because it's induction, the cook top around the pan never gets hot, making spills easy to clean up. The oven portion cooks as you'd expect from an electric oven, but the convection oven feature is nice. The only somewhat-annoying thing about it is that while the induction is functioning, there is a low buzzing sound. One bit of advice from our experience: Inspect the blue porcelain interior of the oven, particularly at bends. Our first model had a manufacturing flaw where the porcelain had developed a bubble that cracked the first time we went to clean the oven, exposing the steel frame of the oven. We contacted Kitchen Aid (Whirlpool) and they replaced the unit once one of their repair men had come out to inspect the damage. It took a few weeks longer to get the replacement than planned due to an error on the local distributor's part, but the new unit is perfect and we're very happy.
Date published: 2017-12-05
Rated 5 out of 5
by
AnnaGemma
from
In love
I am absolutely in love with this oven, especially with the induction cook top. It heats up the food so evenly and super fast. The controls are really easy to use and very intuitive. I love the extra timer on the cook top and how easy it is to clean. Wonderful piece of equipment.
Date published: 2017-12-04
Rated 5 out of 5
by
Rhinedog
from
Love the induction surface
I do not have gas available and wanted a stove with more precise heat control. Wow! This range is great. Took very little time to get used to the setting and be able to cook wonderful dishes. Just wish the large cooking surface was front right rather than back left. The ovens also work wonderfully.
Date published: 2017-10-27
Rated 4 out of 5
by
zannewmass
from
So happy I chose this range
One huge pot of water that boils in 3 minutes will be all it takes for you to love this range. And there's so much more. Have owned this range for about a month. Looking forward to mastering induction cooking
Date published: 2017-10-20
Rated 4 out of 5
by
Boss Lady
from
Pleasantly surprised
Except for the chip of porcelain on the inside of the oven that we can't figure out where it came from, this oven bakes cookies to perfection, the induction top boils water in record time and it looks beautiful. Still getting used to temperatures in settings as you would with any new range but thus far it's the best of the Kitchenaid appliance trip I bought with our remodel. Bakes evenly which is wonderful! The fan stays on for an extremely long time afternoon use, which takes some getting used to.
Date published: 2017-08-18
Rated 2 out of 5
by
Don
from
Stove top good, ovens are very bad
The stove top is efficient and does what an induction should. I find the under-the-glass controls tricky and sensitive, but otherwise things are ok. The problem is with the ovens, and I bake a lot. I have now had the oven preheating for 55 minutes and it has just reached 450. If you decide you would like to lower the temperature when something is in the oven usually flips back into preheat mode, which means the top element comes on, burning the top of your dish. The upper oven tends to burn things... useful only on very low heat as a warmer or for something where high heat is fine. Once you have turned the oven off the cooling fan runs for more than an hour. A little thing that also bugs me is that it takes two or three pushes to get through the steps to turn the oven timer on or off. Also there are too many steps in turning on the individual oven controls.
Date published: 2017-08-18
Rated 5 out of 5
by
Liz
from
Love this oven
I bought this oven and now I do not know how I lived without it. The cooking is so even and the stove top heats up so fast. Am truly glad I spent the extra money to upgrade.
Date published: 2017-07-20
Rated 5 out of 5
by
Blue3jet
from
Very quick to boil water. Gets pots cooking fast.
I promised my wife we would get an induction range we checked on several models and she chose this one. so far she loves the range except she has to watch closely because it brings things to cooking so fast.
Date published: 2017-07-07
Rated 5 out of 5
by
Anne
from
LOVE IT!!
We bought this a month ago and have no complaints at all. Love the small oven and have only used it so far. I've used 3 of the 4 elements on the stove top and they work great, heats up water very quickly, provides even heat for cooking and cools down quickly.
Date published: 2017-06-09
Rated 4 out of 5
by
Teresa
from
Love
I particularly like the power boost to bring thing up to temp fast. The cook top is hard to keep looking clean and fingerprint clear.
Date published: 2017-05-15
Rated 5 out of 5
by
RonSal
from
Amazing cooking experience
Everything I hoped it would be. Better than the gas stove I thought I wanted. Amazing cooking experience.
Date published: 2017-05-04
Rated 5 out of 5
by
Zerlinger
from
This oven has everything!
My old electric oven's power supply caught on fire on Christmas day and ruined dinner. Found this oven that has all the bells and whistles I was looking for like induction and convection. I have cooked a few meals on it and I find it easy to operate. Looking forward to next Christmas to use this oven.
Date published: 2017-04-26
Rated 5 out of 5
by
GPA
from
extremely fast range top
Wow! The cook top is even faster than I expected. We did a test with 4 cups of water in an electric teapot and 4 cups in a teapot on the smallest burner. The range top was really faster. Cleanup is a breeze because the top does not get hot enough to burn food on. The fan does blow for a while after cooking, but can be shortened by leaving the oven door open. (A minor inconvenience). The 2 ovens are useful for 2 people (small oven) or both ovens for family time or dinner parties. Great choice so far. GPA
Date published: 2017-04-24
Rated 5 out of 5
by
Phyllis
from
Heats food quickly!
Purchased this range at the same time as my dishwasher and refrigerator. Heats food quickly and is very easy to use.
Date published: 2017-04-22
Rated 5 out of 5
by
JB
from
Double Oven with Induction Range and All Digital Touch
Best Quality Kitchen Upgrade Possible within the Same Existing Space! This March 2017 Install perfectly filled the space of the 3 year old Sears Kenmore with a 5 minute slide in and connect and ready to use install. We were extremely impressed with fact that we instantly had two ovens with two sizes with different features which was perfect for cooking multiple items at different temperatures simultaneously for our first Large Easter Dinner! The functionality gain was amazing. Also, the Instant on Induction top with quick touch digital settings allowed us to cook multiple dishes in a fraction of the time compared to previous large meals. Since Easter, I often use an Induction Popcorn Popper that instantly pops corn without burning nor clean up mess for a quick movie snack. The delivery and install of this Kitchen Aid double oven with induction top replacement was also FREE and easy! Highly recommend!!!
Date published: 2017-04-21
Rated 5 out of 5
by
Frank
from
Great features
Had only a week but have used both ovens and all burners.all work fantastic,burners heat up very quickly adjustments are instant.ovens baked very good.only draw back is the timer only dins once. Thanks
Date published: 2017-04-17
Demos & Guides
guides
Installation Guide
Instructions for unpacking and installing your appliance, including electrical requirements and necessary tools.
Warranty Information
A complete description of your warranty coverage, and contact information for service and support.
Dimension Guide
Detailed dimensions of your new appliance with space requirements for the area surrounding it.
Use & Care Guide
Comprehensive information about your new appliance - from getting started to cleaning and maintenance.
In order to read a PDF file, you must have Adobe Acrobat reader installed on your computer. You can download the latest version at the Adobe website.
Show More Guides