NEW
36" Electric Cooktop with 5 Radiant Elements
36" Electric Cooktop with 5 Radiant Elements is rated out of 5 by 34.
Even-Heat™ Technology allows this 36-inch cooktop to deliver consistent power for exceptional results without hot spots and cool areas. A large, 10-inch Even-Heat™ Ultra Element can deliver up to 3200 watts of power and features a range of simmer settings. One of the 6-inch elements will not exceed 100 watts making it ideal for keeping foods warm before serving.
Stainless Steel - KECC664BSS
Features

12''/9'' Double-Ring Round Element
Lets you use different cookware sizes at one location. When using large, 12-inch cookware the entire element surface is used. For smaller cookware, you'll use only the 9-inch inner element.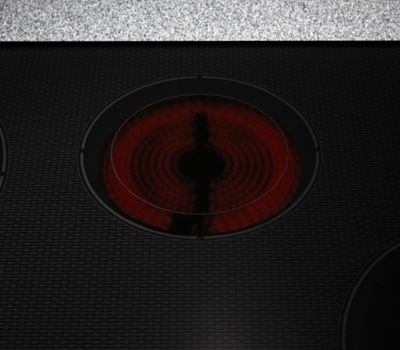 8''/6'' Double-Ring Round Element
An additional double-ring element that maximizes your cooktop surface by allowing you to efficiently use smaller cookware.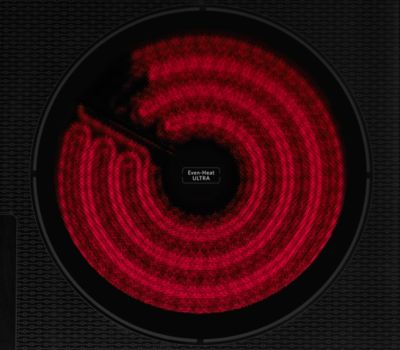 10'' Even-Heat™ Ultra Element with Even-Heat™ Simmer
Provides more versatility for high and low temperature cooking techniques. Even-Heat™ Technology maintains a constant supply of power without hot or cool spots and delivers a range of simmer settings.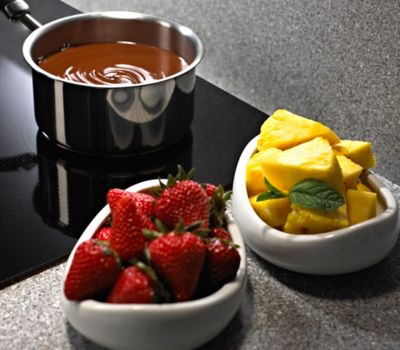 6'' Even-Heat™ Element with Even-Heat™ Melt
Combines the benefits of Even-Heat™ Technology with a dedicated setting that reaches the low temperatures needed to melt chocolate or butter without scorching.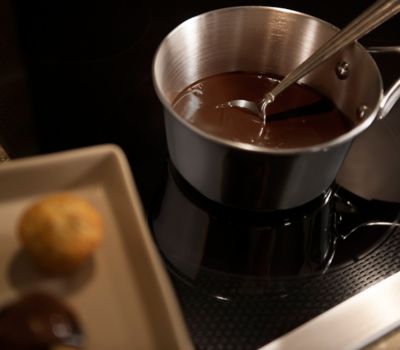 6'' 100W Keep Warm Element
An element that keeps the power at less than 100 watts so delicate sauces can stay warm without being overcooked.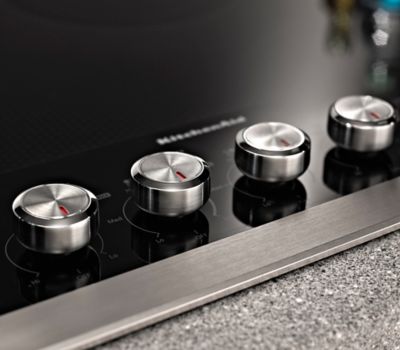 Metal Control Knobs
Have a premium look and feel that reflects the quality that is built into the cooktop
Specifications
Configuration and Overview
Surface Material
Ceramic Glass
Number of Elements-Burners
5
Cooktop Element Style
Radiant
Installs Over Built-In Oven
Yes
Cooktop Features
Left Rear Power
2700W/1900W
Right Rear Element-Burner Type
Single
Controls
Heating Element On Indicator Light
Yes
Hot Surface Indicator Light
Yes
Show More Specifications
Reviews
Rated 4 out of 5
by
Misswyo
from
Looks good
We have had this cooktop for about a year now. It looks great! I wish the warming burner was just a regular burner. We end up using the burners in the back of the stove top more often than those in the front. Would be more convenient if the layout was swapped.
Date published: 2016-10-09
Rated 5 out of 5
by
LR
from
Great Looking Cook Top
I love the look - I wanted a reasonably priced stove with stainless steel edges and after seeing this unit decided to go with the stainless steel knobs that this unit has vs. push controls on more expensive units. I think the stainless steel knobs just brought class to the cooktop and made it compliment my other new stainless steel products. (Bought the Kitchen Aid package). I have been a little apprehensive to use it from previous reviews that it scratches and hard to clean. I have found so far - you do have to clean it daily and water alone won't do it if you want it to shine. You have to use a glass cook top cleaner and paper towel to remove spots. (its in the manual as well) Then I wipe it down with a very soft cloth to shine it up and so far continues to look like new. I just need to train the rest of the household to do the same - haha.
Date published: 2016-09-09
Rated 5 out of 5
by
Annie's cooking
from
What a GREAT purchase! Never had a cooktop cook so evenly !
This cook top is so easy to work with-easy to manage heat settings and cooks evenly!! Bought Kitchen-Aid built in oven and microwave as well, with same great cooking results! Kitchen-Aid products for us from now on!!
Date published: 2016-08-29
Rated 4 out of 5
by
KG670
from
Looks Good
I prefer gas range, but this cook top seems work well so far. I looks good on the counter and heats very quickly.
Date published: 2016-08-08
Rated 5 out of 5
by
none
from
i am happy to purchase my new cooktop is
I bought this month and i am happy I did. mi kitchen looks radiant is a good element.
Date published: 2016-08-06
Rated 4 out of 5
by
Doreen
from
Sleek
Its use with two different burner heat places was a little confusing at first
Date published: 2016-06-10
Rated 3 out of 5
by
windjammer
from
heat indicator lights should be near the source of heat
i bought the stove top a few months ago, replacing a 40 year old appliance. the burners work well and there is a lot of flexibility. however, the indicator lights are all in the front and you cannot tell what burner is hot by sight unless you have just turned it on. For many this would not be a problem, but it is for me, and i have burnt myself a few times. it is also difficult to keep clean
Date published: 2016-05-01
Rated 5 out of 5
by
Lizzy
from
Looks beautiful in my new kitchen
Bought it some time ago, love it. Looks great in my new kitchen.
Date published: 2016-05-01
Rated 5 out of 5
by
Lisa
from
Great cooktop
Great cooktop! Heats up well and the temp adjusts well. The controls are easy to use and the layout of the cooktop is good. Looks very nice
Date published: 2016-03-14
Rated 5 out of 5
by
Cathy
from
36-Inch, 5 Element Electric Cooktop w/Even-Heat Technology
I purchased this cooktop a few months ago, replacing an older KitchenAid cooktop, and I am very pleased with it. It took me a little while to become comfortable with using its flat surface instead of the metal burner-type cooktop. But, as I've used it more and more, I don't think I could go back to the other, older type.
Date published: 2016-02-05
Rated 4 out of 5
by
Baby Boomer
from
Sleek, with great options
For 5 burners you get lots of options. Some are dual (large and small), some heat fast and hot, some best for low melting temps or for keeping warm. Heats evenly with good control. Easy to keep clean. Sleek and attractive in a minimalist kind of way.
Date published: 2016-02-05
Rated 4 out of 5
by
RT
from
Modern and Clean Looking
Have been using new cooktop for 2 months and are happy with its performance. It has taken a few weeks to learn how to use it. It has quite a few more features that our old range top had. Have much better control of temperature as it adjusts to how it is set so temperature remains constant.
Date published: 2015-12-15
Rated 5 out of 5
by
Hard Armor Mike
from
great product
fastest heat to boil of any stove I've owned.
Date published: 2015-10-08
Rated 5 out of 5
by
Martha
from
Just what I was looking for
I bought this a month ago and it is very easy to use and is exactly what I was looking for.
Date published: 2015-09-26
Rated 5 out of 5
by
Jim the papa
from
Great features and arrangement of burners
The even heat burners are the best feature of the cook top. Having the large burner on the back is a plus with a little grand daughter in the house. She can't reach the burner that is used the most often.
Date published: 2015-09-16
Rated 1 out of 5
by
MLS
from
The worst cooktop ever!
My husband bought this cooktop to replace a previous Kitchenaid electric cooktop, which worked well and was easy to clean and keep looking nice. This "new and improved" version is the worst product I have ever experienced. It is impossible to clean and keep shiny, even a tiny amount of grease smears over the entire cooktop even if you've only sprinkled a small amount of condiments in food preparation, and is generally disappointing (that's being kind). If this had been the first Kitchenaid cooktop I had ever purchased, it would be my last. Furthermore, I will ditch this thing as soon as I can.
Date published: 2015-08-31
Rated 4 out of 5
by
EllenL
from
Easy cleanup
Just purchased. The flat top is very easy to clean. I don't like the knobs because it is difficult to clean around them.
Date published: 2015-04-24
Rated 2 out of 5
by
v_review
from
Useless features
My wife hates this cooktop. We were considering to return it gave up and now she is trying to get use to it. First thing is that one of the front burners is not really a burner. It is a warming plate. Why? Why would one want to have a warming plate at the most useful location?? Second, it heats up kind of slow. Our previous equivalent Kenmore cooktop was boiling water faster than this one. Third, control knobs are not very intuitive and not consistent. Every time you want to turn it on you have to look if you need to turn it right or left and if you would jump from low heat to high heat scale on that burner. Bottom line: It looks nice, but functionally it is not user friendly.
Date published: 2015-04-13
Rated 5 out of 5
by
cb40
from
I am in love!
so easy to use and keep clean! quick to heat up...
Date published: 2015-04-07
Rated 3 out of 5
by
Susan26
from
Had to call for service after just 2 months
I thought kitchenaid products would be more reliable and better built!
Date published: 2015-03-07
Rated 5 out of 5
by
TNdiane
from
Beautiful Appliance
This cooktop is sleek, looks great and cooks efficiently. The keep warm burner is a nice feature.
Date published: 2014-12-18
Rated 2 out of 5
by
ptb06
from
User Unfriendly
This product was part of a Kitchen Aid package option when we built a new home. I had a similar Kenmore product previous to this one and liked it much better. The product is very user unfriendly and I am very unhappy with Kitchen Aid, which has always been know as top appliances. Main problems: 1) dials heating of low to high are opposite of most products and contradictory to reading left to right, 2) warming element is on front, not back, of cooktop leaving fewer burners for active use, 3) lack of metal seal at edge of cooktop allow crumbs and other trash to get under edge, and 4) heat adjustments are unnecessarily complicated for maximum cooking quality. I have ruined numerous foods due to complications of dials.
Date published: 2014-11-06
Rated 5 out of 5
by
sprout
from
Easy to take care of
I bought this stove top a month ago. I love the easy way to care for it. I've never had an electric range before but I am learning how to adjust my cooking. It heats up fast and cooks quickly. It's so easy to clean up after.
Date published: 2014-07-31
Rated 5 out of 5
by
Philip16
from
much improved from older model.
I replaced my electric stove top with a newer model. I have perfect control now with the heat. No more burning of sauces and I am able to simmer sauces too... plus easy cleanup of the stove top. I couldn't be more pleased!
Date published: 2014-04-29
Demos & Guides
guides
Oven and Cooktop Combinations
Oven and Cooktop Combinations
Warranty Information
A complete description of your warranty coverage, and contact information for service and support.
Installing Oven Under Cooktop
Installing Oven Under Cooktop.
Use & Care Guide
Comprehensive information about your new appliance - from getting started to cleaning and maintenance.
Installation Guide
Instructions for unpacking and installing your appliance, including electrical requirements and necessary tools.
Dimension Guide
Detailed dimensions of your new appliance with space requirements for the area surrounding it.
Instruction Sheet
Instruction Sheet
In order to read a PDF file, you must have Adobe Acrobat reader installed on your computer. You can download the latest version at the Adobe website.
Show More Guides