36" 5 Burner Gas Downdraft Cooktop
36" 5 Burner Gas Downdraft Cooktop is rated out of 5 by 28.
This 36" gas cooktop includes Downdraft, an integrated ventilation system that doesn't require a separate hood. The cooktop features a 17K BTU professional burner to achieve both high heat needed for searing and low simmer settings. The 5K BTU Even-Heat™ Simmer Burner enables precise simmering and melting while the 300 CFM exhaust rating means the venting can handle it all.
Stainless Steel - KCGD506GSS
Features

Downdraft Ventilation
Integrates the ventilation system into the cooking surface so that a separate hood is not needed. Smoke and odors can be removed and taken outside or filtered and recirculated inside. A duct-free kit is available for purchase separately.

17K BTU Professional Burner
Provides the ability to use high-temperature cooking methods such as searing, stir-frying, and wok cooking as well as low temperatures suitable for simmering.

5K BTU Even-Heat™ Simmer Burner
A diffuser plate allows more control of the flame at the lowest setting, for more precise simmering and melting.

300 CFM Exhaust Rating
Handles the venting requirements of high temperature cooking techniques like pan searing and stir-frying.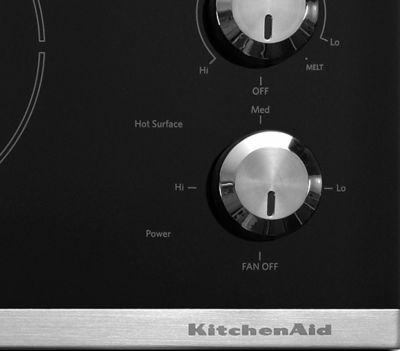 3-Speed Fan Control
Can be precisely matched to cooking needs, effectively removing steam, grease, and odors from the air.

15K BTU Professional Burner
Reaches the high temperatures required to quickly get liquids to a boil and for high-temperature cooking techniques including getting a great sear on meat.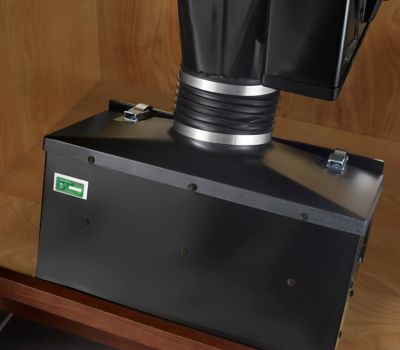 Convertible to Duct-Free Ventilation
Allows a downdraft cooktop to be placed nearly anywhere in the kitchen using a duct-free conversion kit (not included). This filters and recirculates the air without running ductwork, ideal for kitchens with installation restrictions or ducting limitations.

Melt Cap
Melt chocolate or butter, simmer delicate sauces, or poach eggs on a low-power burner, thanks to a wider burner cap that shields and diffuses the flame to produce a gentler, low-power heat.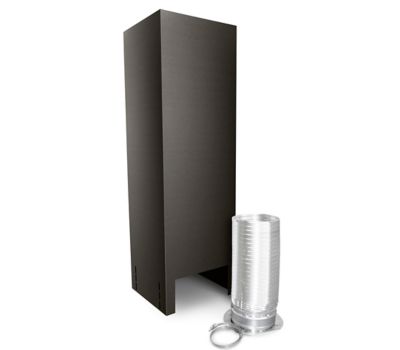 Electronic Ignition and Automatic Re-Ignition
Lights burners with an electric spark instead of a pilot light. For more reliable performance, burners are relit if the flame is blown out.

Stainless Steel Knobs
Enhance the look of the cooktop surface with sturdy construction that adds to their premium feel.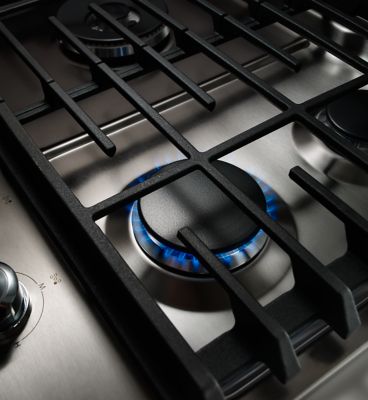 Full-Width Cast-Iron Grates
Enhance the beautiful look of the cooktop and allow easy movement of cookware around the entire cooking surface.

LP Conversion Kit Included
Allows you to convert the cooktop so it can be used with LP gas.
Specifications
Configuration and Overview
Surface Material
Stainless Steel
Number of Elements-Burners
5
Cooktop Element Style
Sealed Burner
Installs Over Built-In Oven
No
Cooktop Features
Center Front Power
15000 BTU
Center Front Type
Sealed Burner
Center Rear Power
12,500 BTU
Center Rear Type
Sealed Burner
Left Front Power
10,000 BTU
Left Rear Type
Even-Heat™
Right Rear Power
17,000 BTU
Right Rear Element-Burner Type
Burner
Grate Details
Cast Iron Grates, Continuous, Matte Finish
Controls
Heating Element On Indicator Light
No
Hot Surface Indicator Light
No
Show More Specifications
Reviews
Rated 5 out of 5
by
GigiDorDor
from
Superior Quality & Design
This cooktop fit our needs & expectations perfectly. I would highly recommend.
Date published: 2017-11-02
Rated 5 out of 5
by
Beebs
from
Great and easy to clean, very important to me!
Wonderful product, very easy to clean and looks so elegant. I am so happy with this stove top, and the rest of the kitchen has kitchen aid appliances also. looks so nice!
Date published: 2017-11-02
Rated 5 out of 5
by
Satisfied cook
from
A Downdraft that works
I'm thrilled with our new cook top, the 4 different levels of heat, one continuous surface and a downdraft that is quiet and actually works.
Date published: 2017-10-31
Rated 5 out of 5
by
philip87
from
Excellent quality
This has been a great addition to our kitchen. Highly recommended
Date published: 2017-10-26
Rated 4 out of 5
by
NA
from
NA
Finally got the stovetop installed. had to convert from electric to gas. I like it so far however when I was looking to purchase I wanted the knobs to be all on the right side.
Date published: 2017-08-09
Rated 5 out of 5
by
Suzy
from
Stunningly beautiful
Finally installed and I love it. So happy that we chose this cooktop.
Date published: 2017-08-07
Rated 5 out of 5
by
Jimmj james
from
Oh yeah....
Was looking for something that cooks the way I cook.... and this was it....
Date published: 2017-07-30
Rated 2 out of 5
by
JP
from
Controls are poor.
I have had this cooktop for a couple of months now. It looks nice but the controls function poorly making it difficult to use. The first 50% of burner control range does not reduce the flame at all. Almost all of the flame control is limited to the lower 10% of knob range. This lack of control makes this product a poor choice. What is sad is that a better selection of control (relatively minor part) would have made this a much better product.
Date published: 2017-07-27
Rated 5 out of 5
by
Bird
from
I don't love inanimate objects, but if I did, I'd love this!
I had been without a cooktop for about three months. My old one was so unpredictable that I'd quit cooking on it. Finally, my son and daughter (who both live out of state and came for a visit) shamed me into getting a new one. I've never been so glad to be shamed before! I have enjoyed getting back into the swing of things.
Date published: 2017-07-13
Rated 1 out of 5
by
Not Excited So Far
from
Tried it once and it left soot on my pans and the burners...
Tried it once, it left soot all over the grate, burner tops, pans...had to call a service agent to come out, they are coming tomorrow. Service call fee...who knows!?!?!?!
Date published: 2017-07-12
Rated 5 out of 5
by
Woodie
from
Kichenaid 36" Gas Cooktop w/downdraft
I searched for a cooktop with a built-in downdraft system for months. Of all the cooktops I reasearched this particular KitchenAid was declared the best by many industry experts. After installing it and using it for a month, I can affirm the claims. It's functional, extremely well designed and built, and most importantly the downdraft system is amazing. It pulls the steam vapor and odors out of the kitchen really well. I'm very pleased!!
Date published: 2017-07-04
Rated 5 out of 5
by
Philip
from
Best choice to replace a 36 inch downdraft gas cooktop
The cooktop has burners that range from 5 BTU to 17.5 BTU to provide rapid cooking and boiling. The downdraft if quite strong without distorting the flame. Gorgeous with great grates. Hard to clean the switches. Stainless surface cleans easily with Simple Green or Affresh cooktop cleaner.
Date published: 2017-06-26
Rated 5 out of 5
by
JSeverns
from
Best Product Ever!!!
What a great Product! Very, very user friendly...great use of the space for 5 burners...easy, easy clean-up! Just wondering why it took so long for use to purchase one!
Date published: 2017-06-26
Rated 5 out of 5
by
Lori
from
Beautiful cooktop! I just love it!!
To be honest, when I saw this cooktop on the computer, I didn't care for the look of it. There weren't many options to choose from and did eventually order it. I am SO glad I did! Everytime I walk into my kitchen, I just have to glance over to look at my new, beautiful cooktop! There isn't anything I don't like about it. It's easy to clean, it's so quiet and it looks great! I highly recommend it -
Date published: 2017-06-17
Rated 5 out of 5
by
JR
from
Wonderful Gas Cooktop, looks great in the kitchen
My wife and I recently purchased the Kitchen Aid 5- burner gas cooktop with downdraft venting. We are very pleased with its style, appearance and performance and thus far have not experienced any problems. We previously had a Kitchen Aid electric cooktop installed and converted to the gas cooktop. What a world of difference and glad we made the change.
Date published: 2017-06-16
Rated 4 out of 5
by
Tink
from
extra high power burner on side is great!
I bought it about 2 months back and really enjoy the high BTUs. Only downside is burners are much closer than I expected. Also, one thing I would change is make a removable tray for the downdraft filter so easier to clean up the food that falls down
Date published: 2017-06-13
Demos & Guides
guides
Warranty Information
A complete description of your warranty coverage, and contact information for service and support.
Dimension Guide
Detailed dimensions of your new appliance with space requirements for the area surrounding it.
Installation Guide
Instructions for unpacking and installing your appliance, including electrical requirements and necessary tools.
Use & Care Guide
Comprehensive information about your new appliance - from getting started to cleaning and maintenance.
In order to read a PDF file, you must have Adobe Acrobat reader installed on your computer. You can download the latest version at the Adobe website.
Show More Guides