Classic Plus™ Series 4.5 Quart Tilt-Head Stand Mixer
Classic Plus Series 4.5 Quart Tilt-Head Stand Mixer is rated out of 5 by 3346.
Make up to 6 dozen cookies in a single batch with the KitchenAid® Classic Plus™ Series 4.5 Quart Tilt-Head Stand Mixer. This mixer also features 10 speeds to thoroughly mix, knead and whip ingredients quickly and easily. For even more versatility, use the power hub to turn your stand mixer into a culinary center with over 10 optional hub powered attachments, from food grinders to pasta makers and more.
White - KSM75WH
Features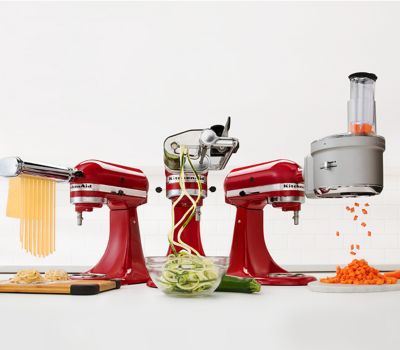 For Everything You Want To Make™
Turn your stand mixer into the culinary center of your kitchen. With over 10 different attachments, you can make everything from fresh pasta to burgers, veggie noodles, ice cream and more.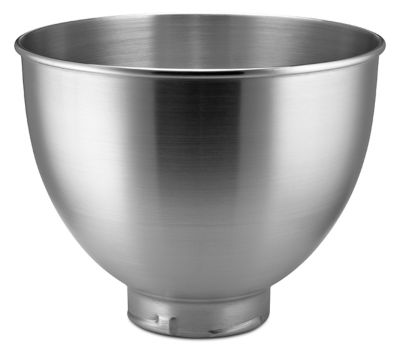 4.5 Quart Stainless Steel Bowl
Enough capacity to mix up to 6 dozen cookies, 3 loaves of bread or 6 pounds of mashed potatoes in a single batch.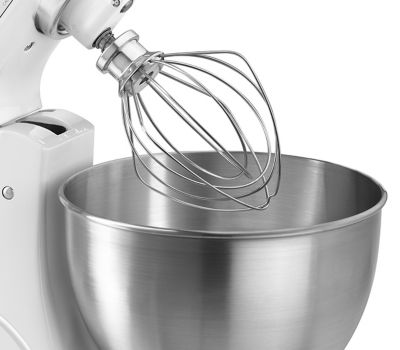 Tilt-Head Design
For clear access to the bowl and attached beater or accessory, to easily add ingredients. Locking the head into place during operation keeps the beater-to-bowl contact close and efficient.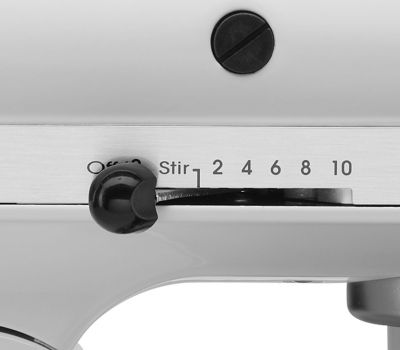 10 Speeds
With enough power for nearly any task or recipe, whether you're stirring wet and dry ingredients together, kneading bread dough or whipping cream.

Model KSM75 includes
(1) Coated Flat Beater, (1) Coated Dough Hook, (1) 6-Wire Whip
Specifications
Configuration and Overview
Bowl Capacity (Quarts)
4 1/2
Design
Bowl Finish
Brushed Stainless Steel
Direct Drive Transmission
Yes
Includes
Included Accessories
6 Wire Whip, C - Nylon Coated Dough Hook, Nylon Coated Flat Beater
Show More Specifications
Reviews
Rated 5 out of 5
by
Marciakl
from
Love everything about it
My sister sent it to me as a surprise gift. I have wanted one for 40 years
Date published: 2018-02-24
Rated 5 out of 5
by
JackBinimbul
from
Brought me out of the stone-age!
I've been a home cook/baker for the majority of my life. I've also worked in professional kitchens. My home kitchen, however, has always been lacking in supplies. When I first had the chance to work with a KitchenAid stand mixer at work, I was sold immediately. I had to save up since it's a bit purchase, but it was worth every penny. Gone are the days of attempting to mix cookie dough with a hand mixer! No more will I labor over soft meringue! Not only can I kneed bread in half the time now, I can do dishes simultaneously! Since getting this mixer, I've been able to put out much more consistent, delicious and more complex dishes and baked goods. I can't imagine ever going back.
Date published: 2018-02-23
Rated 5 out of 5
by
So What
from
Replacement
This is about a replacement for a 30 year-old Kitchenaid stand mixer with a fixed head that finally worked itself to death. If this one holds up as well it will out live us by at least a decade and deserve all five stars. Has all the power it needs and the attachments are top quality. Our old attachments for griding, pasta, etc all fit too! Thanks, Kitchenaid.
Date published: 2018-02-23
Rated 4 out of 5
by
paulaboo
from
Love it
I love my mixer but wish the bowl had a handle on it.
Date published: 2018-02-23
Rated 5 out of 5
by
Rich1212
from
Excellent Mixer
I bought this mixer a month ago, and I'm very happy with it. I had been using a much less professional appliance, so this baby is a pleasure to use!
Date published: 2018-02-22
Rated 3 out of 5
by
LouiseDon
from
Gets Hot when kneeding dough
I find this overheats when I kneed dough. In fact the first one I had spontaneously combusted after 1 week. I think I really "kneed" a more heavy duty mixer. I wish I would be able to put the bits in the dishwasher after using it. I use this almost every day I love it and I now know to kneed for a bit, let it cool down, then press go again.
Date published: 2018-02-22
Rated 4 out of 5
by
Sheila225
from
Always wanted one
Having recently retired, I now have time to spend in the kitchen and this is one of my first purchase to support my new passion. The mixer itself is great - powerful, sturdy, well made and effort-saving. My only disappointment - that cost a star - is the failure of the company to offer a functional pouring shield for adding ingredients, which is such a basic function. It's difficult to imagine a company who can design such a fine mixer, can't seem to design a piece of plastic that fits on its own machines.
Date published: 2018-02-22
Rated 5 out of 5
by
Sunnyshine16
from
Love it!!!
I bought this mixer a couple of weeks ago and so far I love it. I love to bake, and I kept burning out hand mixers...lol...so I finally convinced my husband to let me get one and I'm obsessed. I'm always trying to find things to make in in. It is super easy to use and clean.
Date published: 2018-02-21
Rated 5 out of 5
by
Waited too long
from
Amazing KitchenAid classic plus mixer
We had no idea that we would enjoy the KitchenAid classic plus stand mixer this much! It is so versatile with the various attachments. We prefer shredding our own cheese for salads, casseroles and homemade pizza! Did I mention how amazing the dough hook is?!! I really don't know why it has taken me almost 30 years to purchase this amazing KitchenAid mixer!!!! We absolutely love it!
Date published: 2018-02-21
Rated 5 out of 5
by
SamHemp
from
Great Product!
Have been using this product for the past 2 weeks. What a wonderful addition to my kitchen. Don't know how I got along without this product.
Date published: 2018-02-20