3-Speed Hand Blender
3-Speed Hand Blender is rated out of 5 by 434.
There are so many things you can do with this 3-Speed Hand Blender, every day. Blend up your favorite smoothie; Puree a savory harvest soup; Crush ice for a light light refreshing beverage; Chop up a variety fruits, vegetables, nuts and more; Whip creams to fluffy peaks.
White - KHB2351WH
Features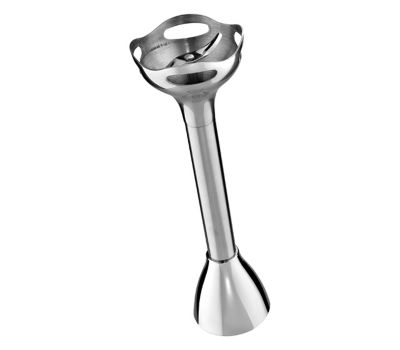 Removable 8" Blending Arm with Fixed S-Blade
To quickly blend ingredients for smoothies, milk shakes, soups, hummus and so much more.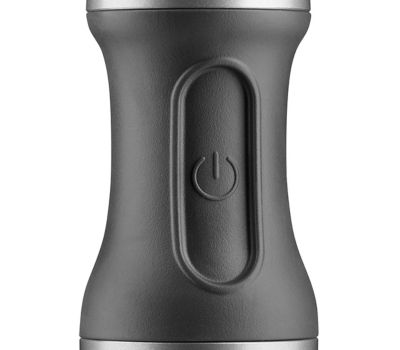 Soft Grip Handle
Offers a non-slip and comfortable grip when continuously blending ingredients.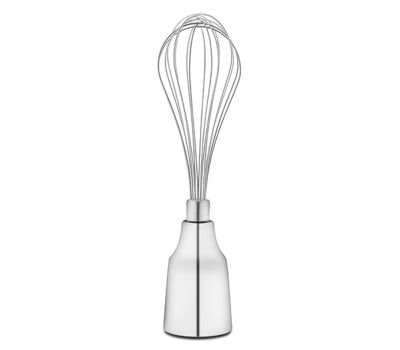 Whisk Attachment
For whipping egg whites to fluffy peaks or emulsifying vinaigrettes and mayonnaise.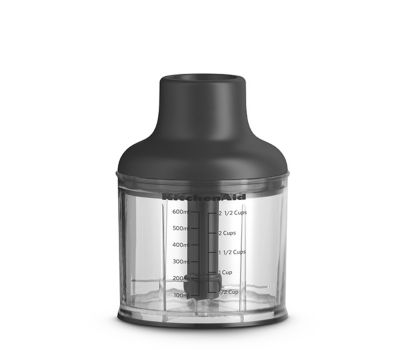 2 1/2-Cup Chopper Attachment
For chopping herbs, nuts, cheeses and more. BPA-Free.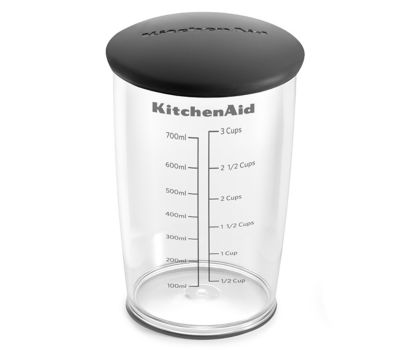 3-Cup BPA-Free Blending Jar with Lid
Great for individual blending jobs, to serve or store for later.

Model KHB2351 includes
(1) 8" Blending arm with fixed s-blade, (1) Whisk attachment, (1) 2.5 cup chopper attachment with lid, (1) 3 cup blending jar with lid, (1) Storage bag
Reviews
Rated 5 out of 5
by
Chef Edward
from
Fine immersion blender.
Have been using immersion blenders for many years. My Braun lasted fifteen years. This product seems equally good. I like the heavier connection fittings; it is easy to snap various components together. There is ample power. Verry pleased with my new immersion blender.
Date published: 2018-02-22
Rated 3 out of 5
by
Seitzinger
from
Lid holds water
I loved using the tiny food processor attachment. It was easy to chop up anything quick. The lid to the attachment holds water. At first I thought it was my fault cause I washed it but then I read the reviews and realized it wasn't my fault. My warranty has expired so now to buy a new lid it's going to cost me $30-$40. I can't decide if I should by a new lid or just go with a different brand that won't break. Very upset that kitchen aid made something so cheap.
Date published: 2018-02-21
Rated 4 out of 5
by
Birddles
from
handy device
This hand blender has a lot of great features. It is quicker to pull out and use than my mini-prep, and can do a lot more. cleaning is simple with almost everything going in the dishwasher.
Date published: 2018-02-15
Rated 5 out of 5
by
Charlee
from
Love it!
This is great for making sauces smooth! Haven't tried the food processor cup yet.
Date published: 2018-02-13
Rated 5 out of 5
by
FoodDoctor
from
Great versatile immersion blender
Have used it both in the immersion mode to make soup and used the chopper attachment to chop almonds to make toffee. Good ergonomics and balance.
Date published: 2018-02-06
Rated 5 out of 5
by
MawMaw A-yay
from
Just What I wanted!
I received this as a Christmas gift from my son and just love it!
Date published: 2018-02-06
Rated 5 out of 5
by
Havpat
from
Hand Blender easy to use
I love that it is easy to use, hand held and easy to store.
Date published: 2018-02-06
Rated 1 out of 5
by
angrygrandma
from
blending attachment cannot be removed after use.
This was a Christmas gift and I used it the first time last night to blend soup. It worked as expected but now I cannot remove the blending attachment. I have read the manual before I used it - followed the instructions, and re-read it when I couldn't remove the attachments. Yet nothing prepared me for or answered the questions of "why is this stuck?" and "how do I remove this attachment". Now I have a multi use appliance that only good for a single use and can't be properly cleaned. Guess I will have to tell my son that his gift is worthless.
Date published: 2018-01-30
Rated 5 out of 5
by
Stillsazzy
from
Expecting nothing but the best
This hand blender has left me in awe! easy to use, shuts off when you let go, easy to store and attachments are such a PLUS!!! I expect nothing but the best quality from Kitchen Aid - they have never let me down and this appliance exceeds expectations in quality and ease of use than any of its competitors. And whisper quiet to use, even on high speed!
Date published: 2018-01-29
Rated 5 out of 5
by
Mella
from
Very sturdy!
Received this as a Christmas gift. I had another brand previously and I am so impressed with this one. Very rugged and built to last! It does a nice job chopping and the immersion blender worked well.
Date published: 2018-01-29