4-Slice Long Slot Toaster with High Lift Lever
4-Slice Long Slot Toaster with High Lift Lever is rated out of 5 by 224.
Save space on your counter with this 4-slice long slot toaster, and enjoy the versatility to toast just about any kind of bread, bagel and more. All with 7 shade settings, including Bagel, Defrost, Reheat and Keep Warm.
Empire Red - KMT4116ER
Features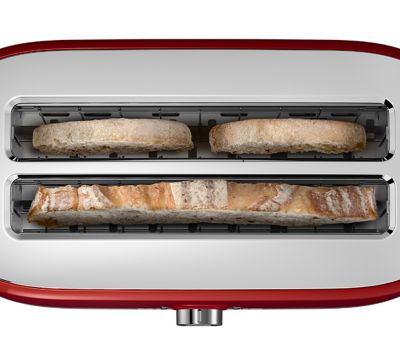 Long Slot Design with Extra Wide 1 1⁄2" Slots
Allow for a variety of shapes and sizes of artisan breads.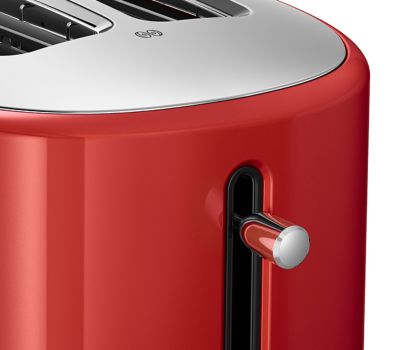 High Lift Lever
To easily remove smaller slices of bread and to see toasting progress at any time.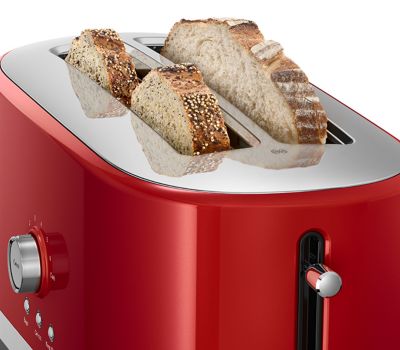 Simple Start to Finish Toasting
Toaster automatically cycles through each selected function.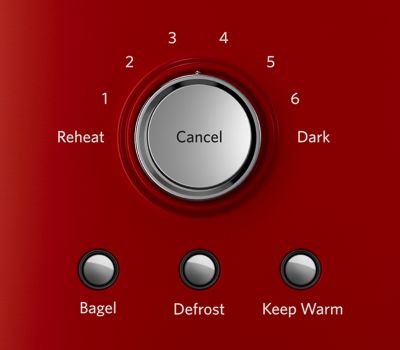 Your Toast, Your Way
With 7 shade settings and Bagel, Defrost, Reheat and Keep Warm functions.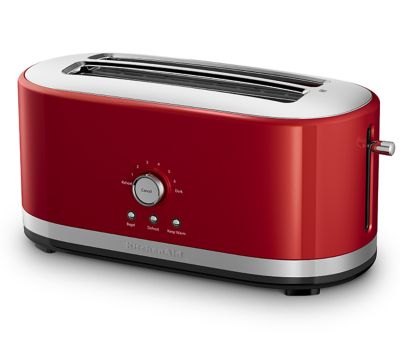 All-Metal Construction
Offers durability and extraordinary style, with smudge resistant painted metal housing for easy clean up.

Easy-to-Clean, Removable Crumb Tray
Located along the entire bottom of the toaster, slides out for easy cleaning.
Specifications
Configuration and Overview
Number of Shade Settings
7
Show More Specifications
Reviews
Rated 3 out of 5
by
Tells it like it is
from
Fits A Slice of Rye!
I was looking for a toaster that would fit a slice of rye without curling it. This is perfect for one slice of rye in each slot. It will also toast 4 regular slices of bread. My problem is with the actual toasting. I found that setting 4 will toast my bread perfectly. However, if I use the toaster again to toast additional slices, the same setting will burn my toast enough to set off my smoke alarm! You must use a lower setting for the next set of toast! For $80, the toaster should toast consistently!
Date published: 2017-12-04
Rated 1 out of 5
by
mainsfortunes21
from
Plastic Burning Smell Too Strong
Followed the "before first use" instructions and then tried the toaster out empty just to burn off anything. Wow was I surprised at the intense plastic burning smell. Thought maybe this was just the first use so I tried once more the next night and still so intense we had to open windows and light candles in order to get rid of the smell. Looked inside the toaster and there are some plastic things around four of the metal tine things and I have no idea if I should remove these or what...If I am supposed to remove these would have appreciated that being in the instructions as they look installed on...Very unhappy and not sure I want to test this out on any bread...
Date published: 2017-11-29
Rated 5 out of 5
by
NMGrandma
from
Great toaster
My last toaster was this style that I had for 12 years. There are a few changes that really help get your toast exactly like you want, and will keep it warm
Date published: 2017-11-26
Rated 4 out of 5
by
Laineybop
from
Beautiful Toaster
I love my new toaster, but nearly returned it. I wasn't convinced it was working properly as my breathing wasn't toasting evenly and not all of the internal elements were glowing red. After doing some research I understood that newer technology means that not all the elements need to glow red. I also now understand that the varying levels of colour are as much to do with the bread as they are the actual toaster, as moisture and thickness both play a big part in the slices colour. I've learnt to use the take a peek function to see how it's toasting! I love that I can toast my homemade bread without flipping and turning it!
Date published: 2017-11-08
Rated 5 out of 5
by
Pianta
from
Great and precise!
This is the thrid KitchenAid appliance in my kitchen, so decorative and efficient as the other ones. Toaster is precise in terms of bread finishing, no complains.
Date published: 2017-10-30
Rated 4 out of 5
by
Joe7
from
L About the toaster about4 slice long slot toaster
about the toaster truly to go and I enjoy using the long slices of bread that I bake myself and being able to toast.
Date published: 2017-10-20
Rated 5 out of 5
by
anji
from
Great Toaster!
This toaster looks great and works beautifully, too!
Date published: 2017-10-06
Rated 5 out of 5
by
thejoyfulone
from
Wonderful toaster!
This toaster has two long slots and each slot easily holds two pieces of bread, a bagel or English muffin. The "lift" feature is nice and allows you to see if your toast is done to your liking. I love this toaster!
Date published: 2017-10-06
Rated 4 out of 5
by
jd
from
works great ..will toast just about any size item
very happy with this toaster. works well, looks great
Date published: 2017-08-21
Rated 3 out of 5
by
Flower
from
Uneven toasting
Toast does not brown evenly on each side. Had to put in on highest level to toast my regular bread. Bagel option not worth it because of uneven browning.
Date published: 2017-08-16