Artisan® Black Tie Limited Edition 5 Quart Tilt-Head Stand Mixer
Artisan Black Tie Limited Edition 5 Quart Tilt-Head Stand Mixer is rated out of 5 by 7.
Introducing, in 2017, the first annual, limited edition stand mixer. The KitchenAid® Artisan® Black Tie Limited Edition Stand Mixer is made with all black finishes and premium materials, including die cast zinc, satin and black chrome. Made to celebrate the passionate maker who appreciates the art of culinary creations and a bold,new design. Only 500 produced in the U.S., each individually numbered and only available for purchase on Kitchenaid.com.
Imperial Black - KSM180LEBK
Features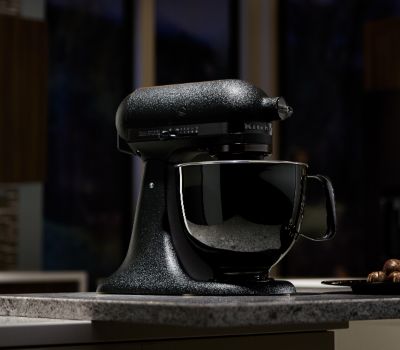 Exclusive, Individually Numbered Trim Band
Only 500 units produced and available for purchase in the U.S. on Kitchenaid.com. Each stand mixer is individually numbered on the custom trim band.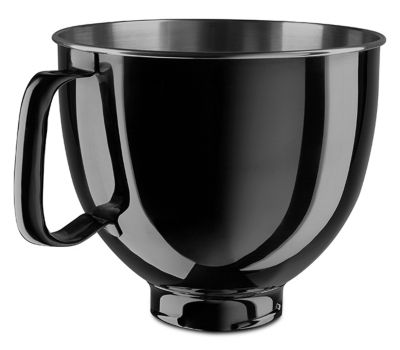 5 Quart Black Stainless Steel Bowl
The capacity to mix dough for 9 dozen cookies, 4 loaves of artisan bread or 7 pounds of savory mashed potatoes in a single batch.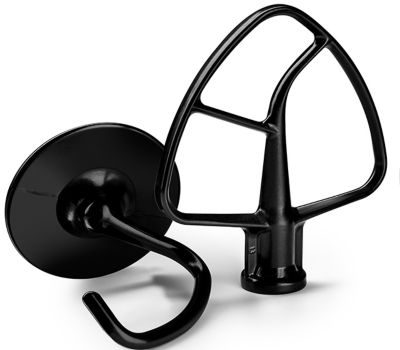 Black Coated Flat Beater and Dough Hook
Boldly mix, beat and knead all of your latest culinary creations. Dishwasher safe.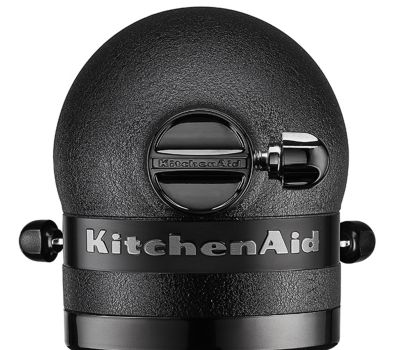 Powered Hub
Turn your stand mixer into a culinary center. Over 10 optional hub powered attachments use the power of your stand mixer to help you make fusilli pasta from scratch, shred a block of parmesan cheese in seconds and so much more.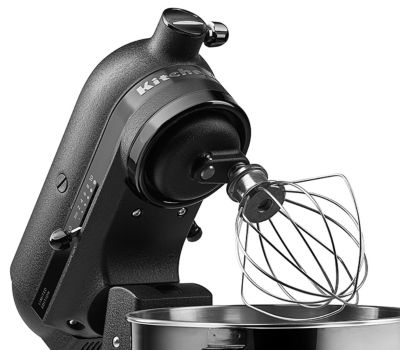 Tilt Head Design
For clear access to the bowl and attached beater or accessory so you can easily add ingredients for a recipe. Locking the head into place during operation keeps the beater-to-bowl contact close and efficient.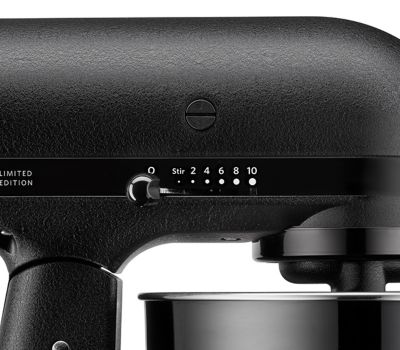 10 Speed
Powerful enough for nearly any task or recipe, whether you're stirring wet and dry ingredients together, kneading bread dough or whipping cream.
Specifications
Configuration and Overview
Design
Bowl Finish
Black Stainless Steel
Bowl Handle
Comfort Handle
Includes
Included Accessories
1-Piece Pouring Shield, 6 Wire Whip, C - Nylon Coated Dough Hook, Nylon Coated Flat Beater
Show More Specifications
Reviews
Rated 1 out of 5
by
Deny it
from
Awful
Hate it it is a waste of money and time do not buy this
Date published: 2017-11-19
Rated 5 out of 5
by
RickyA123
from
Great
Pricey, but amazing. Wish I bought a KitchenAid sooner
Date published: 2017-11-16
Rated 5 out of 5
by
Pawpaw2477
from
Great, but pricey....got be serious collector
Love their products but this is a bit pricey for a collectors item.
Date published: 2017-08-09
Rated 5 out of 5
by
Scotty cutthroat
from
Amazing!!!
only regret I have is not buying a kitchenaid sooner
Date published: 2017-04-09
Rated 5 out of 5
by
BK
from
Beautiful machine!
I have always wanted a blacked out KitchenAid, and I finally got one! The machine itself is gorgeous! The bowl and attachments are so modern and contemporary. I've been using KitchenAid mixers for a while now and this one definitely takes the cake. I love how the finish looks like a cast iron pan. The one thing I don't like about the machine is that the black knob you use to screw in attachments is just plastic. I wish it was also blacked out metal. That's not something I'm obviously staring at or using everyday, but is just something to note. The only issue I had was the picture on the box indicated that there was supposed to be a pouring shield included. I did not have one in my box, but I called customer service and they sent me one immediately. The woman on the phone was amazing, knowledgable, and extremely empathetic. I'm definitely looking forward to starting/adding more limited addition stand mixers to my collection.
Date published: 2017-03-29
Rated 5 out of 5
by
Nanni3
from
Very impressive looking
I have only had it for a week but I love the looks of it. Since it is a KitchenAid, I know I am going to be happy with it.
Date published: 2017-03-03
Rated 5 out of 5
by
Mikey Kay
from
I'm in love
This is my second mixer and I a fully in love with the black on black color. She is my black pearl... and I can't wait to use it along side my other mixer.
Date published: 2017-02-26