Custom Metallic® Series 5 Quart Tilt-Head Stand Mixer
Custom Metallic Series 5 Quart Tilt-Head Stand Mixer is rated out of 5 by 39.
Clad in real metal, the KitchenAid® Custom Metallic® Series 5 Quart Tilt-Head Stand Mixer represents power and beauty on the counter. It also offers the capacity to make up to 9 dozen cookies in a single batch and 10 speeds to thoroughly mix, knead and whip ingredients quickly and easily. For even more versatility, use the power hub to turn your stand mixer into a culinary center with over 10 optional hub powered attachments, from food grinders to pasta makers and more.
Chrome - KSM152PSCR
Features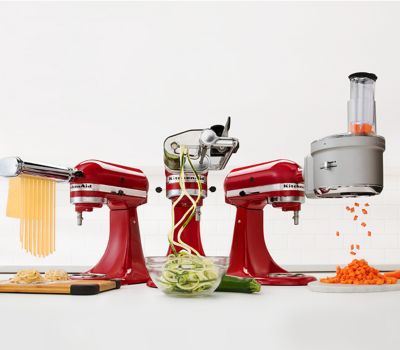 For Everything You Want To Make™
Turn your stand mixer into the culinary center of your kitchen. With over 10 different attachments, you can make everything from fresh pasta to burgers, veggie noodles, ice cream and more.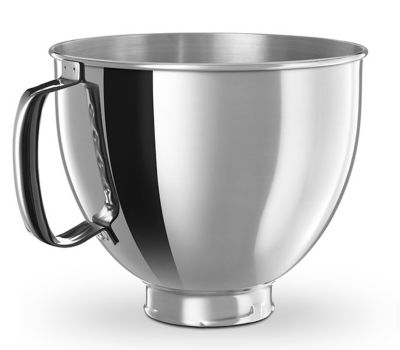 5 Quart Stainless Steel Bowl with Comfortable Handle
Enough capacity to mix up to 9 dozen cookies, 4 loaves of bread or 7 pounds of mashed potatoes in a single batch.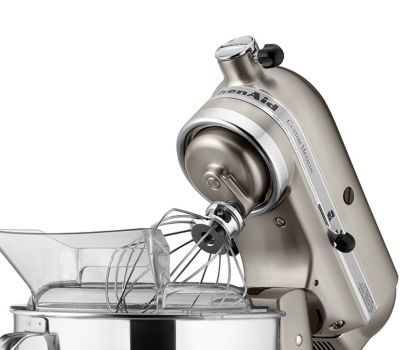 Tilt-Head Design
So you can easily add ingredients for a recipe to the bowl. Locking the head into place during operation keeps the beater-to-bowl contact close and efficient.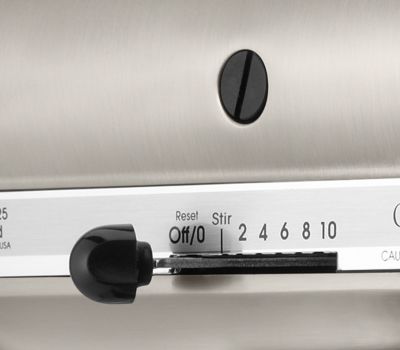 10 Mixing Speeds
Ensure you can select the right speed for any task, from slowly combining dry and wet ingredients to whipping meringue. An electronic speed sensor monitors operation to maintain precise mixer speed.

Model KSM152PS includes
(1) Coated Flat Beater, (1) Coated Dough Hook, (1) 6-Wire Whip, (1) Pouring Shield
Specifications
Configuration and Overview
Bread Yield -Loaves
4 1/2
Mash Potato Yield - Pounds
7
Design
Bowl Finish
Polished Stainless Steel
Bowl Handle
Comfort Handle
Direct Drive Transmission
Yes
Includes
Included Accessories
6 Wire Whip, C - Nylon Coated Dough Hook, Nylon Coated Flat Beater
Show More Specifications
Reviews
Rated 5 out of 5
by
Gloria1333
from
Attractive appearance
Although I already own a KitchenAid mixer, I could not resist this beauty. Love it!
Date published: 2018-02-13
Rated 5 out of 5
by
Nanc12
from
Brilliant Color!
This color is just perfect! I am thrilled that I bought it and am very pleased with the performance.
Date published: 2018-02-05
Rated 5 out of 5
by
momo60
from
Great Mixer
We have had this mixer for 3 months and love it! We especially love the tilt-head feature.
Date published: 2018-02-05
Rated 5 out of 5
by
MomOfTwo29
from
Beautiful!
This is my first mixer and I'm in love! I love all features as well as the metal Copper finish! It's all I wanted and more! The 5 qt. seems plenty for me and it was simple enough to understand my first time using it! My kids love helping me bake and now this mixer is another one of my little helpers! Cant wait to buy the add ons and try them all out!
Date published: 2018-02-05
Rated 5 out of 5
by
Mrichard15
from
Beautiful and convenient
I absolutely love this mixer. It is easy to use, a breeze to clean and works wonderfully.
Date published: 2018-02-05
Rated 5 out of 5
by
BarbJR
from
Beautiful and highly functional
I have had a Kitchenaid mixer forever. It was showing age and since I have it out on the counter I thought I would add beauty to function. It is exactly what I had hoped for. Love it!!!
Date published: 2018-02-02
Rated 5 out of 5
by
Jdougherty26
from
Beautiful, Powerful and Quiet!
I've been using a slightly smaller version of this kitchenaid mixer for the last 10 years until it walked itself off my counter while mixing some bread dough and hit the floor hard. It was never quite the same after that and I figured it was time for another mixer. I didn't expect how much a small upgrade in engine power would make for such a smooth and noticeably quieter mixer! The copper finish is gorgeous and thankfully seems to clean up easily with no issues. This was a splurge to get the copper finish as it was a gift and I'm so glad I did! I highly recommend this mixer!
Date published: 2018-02-01
Rated 5 out of 5
by
wsimons
from
Love it!
The satin copper is gorgeous and it works so well.
Date published: 2018-01-30
Rated 5 out of 5
by
Ysolferino
from
Absolutely amazing
I've used my Kitchen Aid mixer for years. I've wanted the copper one for a long time. This Christmas my husband surprised me with one. It works perfectly! The attachments I have accumulated are great with it too. I was able to give my older KitchenAid to a friend!
Date published: 2018-01-29
Rated 3 out of 5
by
Malinda
from
It's fun having a KitchenAid but...
This is my first Kitchen Aid and I even went all out and got the very pretty Custom Metallic Copper one. I read reviews but I didn't really understand how a kitchen aid works never having used one. The detail that does bother me and I'm not sure if I missed while researching or it's just how it is. To adjust the height for your mixing utensils you have to use a screwdriver in a very odd spot and hope you get it right. Sometimes it can take a few minutes to get the right height. For something so expensive you'd think they would have automatic dials you could pick for the mixing utensil you will use?? Like you pick a dial for the paddle and it automatically corrects the height for that utensil. And I worry my screwdriver will slip and scratch my KitchenAid leaving it open to erosion/rust. Besides for that oddity in a piece of equipment that is so expensive. Having a KitchenAid has made baking through holidays that much easier. And not having to kneed bread... pretty great. And it's so pretty sitting on my counter.
Date published: 2018-01-04