Artisan® Series 5 Quart Tilt-Head Stand Mixer
Artisan Series 5 Quart Tilt-Head Stand Mixer is rated out of 5 by 12171.
Make up to 9 dozen cookies in a single batch with the KitchenAid® Artisan® Series 5 Quart Tilt-Head Stand Mixer. This mixer also features 10 speeds to thoroughly mix, knead and whip ingredients quickly and easily and is available in a variety of colors to perfectly match your kitchen design or personality. For even more versatility, use the power hub to turn your stand mixer into a culinary center with over 10 optional hub powered attachments, from food grinders to pasta makers and more.
White-on-White - KSM150PSWW
Features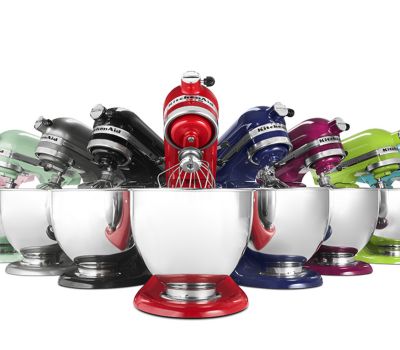 Over 20 Colors Available
Choose from a full palette of color options to best match your style and personality.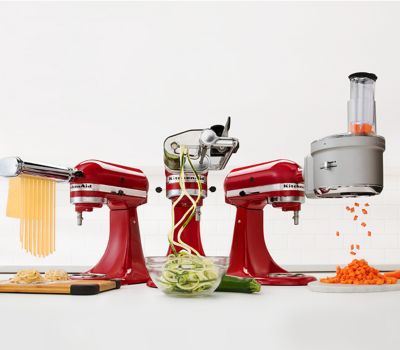 For Everything You Want To Make™
Turn your stand mixer into the culinary center of your kitchen. With over 10 different attachments, you can make everything from fresh pasta to burgers, veggie noodles, ice cream and more.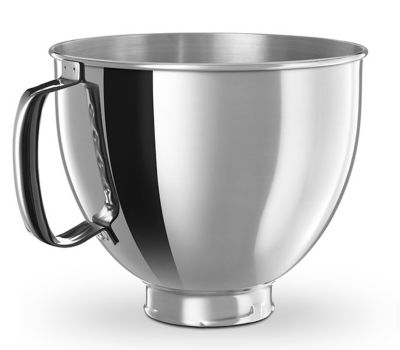 5 Quart Stainless Steel Bowl with Comfortable Handle
Enough capacity to mix up to 9 dozen cookies, 4 loaves of bread or 7 pounds of mashed potatoes in a single batch.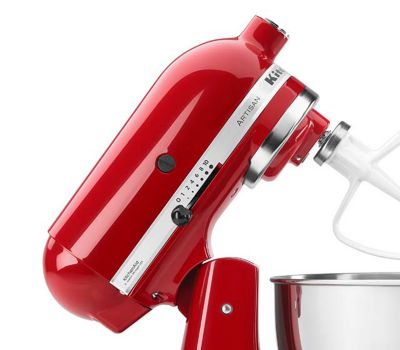 Tilt-Head Design
Allows clear access to the bowl and attached beater or accessory, so you can easily add ingredients for a recipe. Locking the head into place during operation keeps the beater-to-bowl contact close and efficient.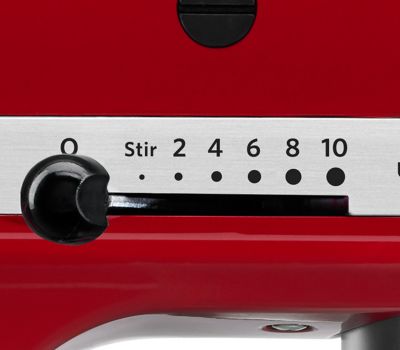 10 Speeds
Powerful enough for nearly any task or recipe, whether you're stirring wet and dry ingredients together, kneading bread dough or whipping cream.

Model KSM150PS includes
(1) Coated Flat Beater, (1) Coated Dough Hook, (1) 6-Wire Whip, (1) Pouring Shield
Specifications
Configuration and Overview
Bread Yield -Loaves
4 1/2
Mash Potato Yield - Pounds
7
Design
Bowl Finish
Polished Stainless Steel
Bowl Handle
Comfort Handle
Direct Drive Transmission
Yes
Includes
Included Accessories
1-Piece Pouring Shield, 6 Wire Whip, C - Nylon Coated Dough Hook, Nylon Coated Flat Beater
Show More Specifications
Reviews
Rated 5 out of 5
by
Mizzjezz
from
Beautiful and amazing!!!
I can't say enough good things about my mixer! It's absolutely wonderful!! The color of mine is GORGEOUS but now I told my husband I have to redo the kitchen to match it! (I'm serious about this too!) I got my mixer for an early Christmas present and was soooo thrilled to be able to use it to make Christmas cookies and goodies for family and neighbors. It is such a solid, well made appliance. I remember my grandma's old stand mixer while growing up and wanted one like that. The only thing I wish mine did that hers did was spin the mixing bowl while mixing. I can't wait to do so much more with mine.
Date published: 2017-12-14
Rated 5 out of 5
by
Peggyloo
from
Love it!
So easy to use and clean up is a breeze! Very quiet compared to my old one.
Date published: 2017-12-14
Rated 5 out of 5
by
Divelady
from
Great mixer
Bought this with meat grinder & sausage stuffer attachments & hubby loves them. Makes the best hamburgers ever!!
Date published: 2017-12-13
Rated 3 out of 5
by
mama bird
from
Disappointed
I used a Kitchen Aid Mixer for 33 years & was very happy with it, but it is about worn out - most speeds don't work anymore. I was excited to buy this new one, since the bowl is bigger & it is supposed to have more power. The first thing I noticed when I took it out of the box is that the silver band on the motor head is installed crooked. (It could be a problem keeping clean.) I DO NOT like the fact that Kitchen Aid no longer puts the spring on the post. When running the mixer, it sounds clunky & I'm concerned about the motor wearing out soon because of so much play in the post & the part that goes up into the mixer head. When kneading dough, it sounds like the mixer is working harder than my old one that I made dough with for 33 years! My grandmother loved her kitchen aid, my mother loves hers & I loved my old one. But, I am disappointed with the new one.
Date published: 2017-12-13
Rated 5 out of 5
by
Koppy
from
Love my new Kitchenaid Mixer
I have waited for years to get my KitchenAid mixer. Finally I just got one as an early Christmas present. I made Banana Nut Bread in it this morning and it was so easy to use. Just throw in ingredients and go.....wow how easy. Making Pound Cake in it this afternoon. Really love the ease of operation. The gorgeous Turquoise color really brightens up my kitchen.
Date published: 2017-12-13
Rated 5 out of 5
by
cfham
from
Best Christmas gift ever!
My fiancé surprised me with my news Artisan mixer for an early Christmas present. So far it's worked wonderfully and I can't wait to use it to make all of my holiday treats!
Date published: 2017-12-13
Rated 5 out of 5
by
Betna
from
So quiet
Have been very pleased so far. Very easy to operate and clean. Very quiet.
Date published: 2017-12-13
Rated 5 out of 5
by
Jamie's
from
Great! So glad I saw the infomercial!
I have used it several times and look forward to trying the attachments. Particularly the shredder and spirilizer.
Date published: 2017-12-13
Rated 5 out of 5
by
cor doba
from
great to wotk with
i bought that one and i have never done myself a greater pleasure then chose for this machine. Hes my joy and help in kitchen almost everyday.
Date published: 2017-12-13
Rated 5 out of 5
by
Florduck
from
Great mixer
So easy to use and mixes like a dream compared to my hand mixer
Date published: 2017-12-13