Pro 600™ Design Series 6 Quart Bowl-Lift Stand Mixer
Pro 600 Design Series 6 Quart Bowl-Lift Stand Mixer is rated out of 5 by 448.
The KitchenAid® Pro 600™ Design Series 6 Quart Bowl-Lift Stand Mixer, with glass bowl, represents power and beauty on the counter. Great for dense mixtures, and it offers the capacity to make up to 13 dozen cookies in a single batch. And 10 speeds to thoroughly mix, knead and whip ingredients quickly and easily. For even more versatility, use the power hub to turn your stand mixer into a culinary center with over 10 optional hub powered attachments, from food grinders to pasta makers and more.
Sugar Pearl Silver - KF26M22SR
Features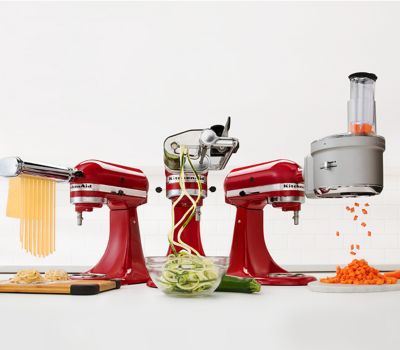 For Everything You Want To Make™
Turn your stand mixer into the culinary center of your kitchen. With over 10 different attachments, you can make everything from fresh pasta to burgers, veggie noodles, ice cream and more.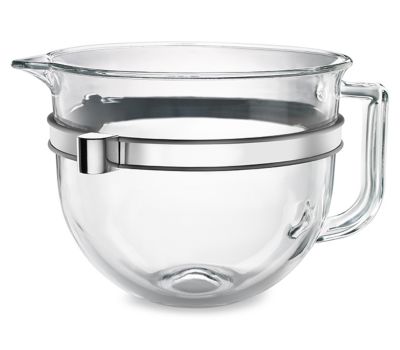 6 Quart Glass Bowl
Offers enough capacity to mix 13 dozen cookies, 8 loaves of bread or 8 pounds of mashed potatoes in a single batch.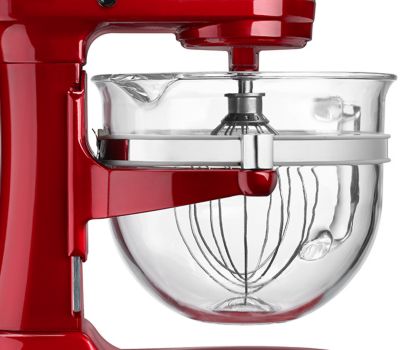 Bowl-lift design
Provides sturdy bowl support for stability when mixing heavy ingredients or large batches. The lever smoothly raises the mixing bowl into position for efficient beater-to-bowl contact.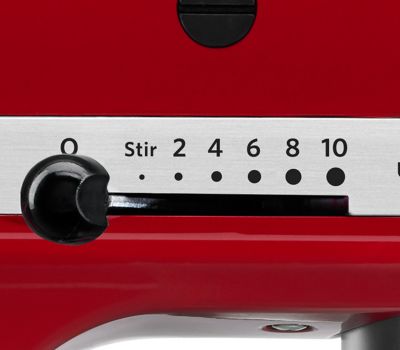 10 Speeds
Powerful enough for nearly any task or recipe, whether you're stirring wet and dry ingredients together, kneading bread dough or whipping cream.

Model KF26M22 includes
(1) F series coated flat beater, (1) F series coated PowerKnead™ spiral dough hook, (1) F series 6 wire whip
Specifications
Configuration and Overview
Mash Potato Yield - Pounds
8
Design
Bowl Handle
Comfort Handle
Includes
Included Accessories
6 Wire Whip, Burnished Metal Flat Beater, Burnished Spiral Dough Hook
Show More Specifications
Reviews
Rated 2 out of 5
by
Deb N
from
Waiting for replacement
I am unable to review my mixer at this time. I am waiting anxiously for the replacement. A part was missing to turn the attachments and when the replacement arrived it had damage to the head of the mixer due to shipping issue. It was returned and I am waiting for the replacement. I would love to review the mixer after it arrives and I have a chance to use it. I miss my 20 year old Kitchenaid stand mixer and was always pleased with its performance. Michael was the customer service representative who handled the return and was very nice. The return label came promptly. Hoping the replacement comes soon. Thank you!
Date published: 2018-02-19
Rated 1 out of 5
by
Ellie's Mom
from
Huge Disappointment
I had another kitchaid stand mixer for over 15 years. My husband upgraded me to this model. The beaters to not reach the bowl and I'm unable to cream my butter an sugars like before. I have had nothing but problems with it. First one started smoking.. and received a "refurbished" replacement. The replacement over heats and shuts off, stalls shifting gears. I had the gears go out completely making a 6 cup batch of bread. It started grinding and stopped spinning. I forgot to mention the noise level on this one is unbelievably loud compared to my old mixer. Tomorrow I have a party and it stalled and quit on me... I'm so frustrated! For the cost of this product, I would expect better quality. I wish I had my one... to bad I gave it away when I got my "upgrade".
Date published: 2018-02-18
Rated 5 out of 5
by
Dr. Tran
from
very good Bowl-Lift Stand Mixer
I bought this Bowl-Lift Stand Mixer for my wife last Christmas gift. It works very good. my wife loved it and making to many cake for my kids. We loved to use this every day.
Date published: 2018-02-15
Rated 2 out of 5
by
Carmie
from
Whisk does't reach sides/bottom and bowl is heavy.
This was given to me as a gift. I already owned the Pro600 with the stainless bowl and loved it. I have a home baking business and needed another mixer. I have to use the whisk from my stainless bowl mixer because it is bigger. The one that comes with this glass bowl one does not even reach the sides/bottom and you have to constantly scrape. The bowl is so deep and for some reason when you make firm doughs (sugar cookie dough for ex.), the paddle works the dough all the way out the top. You can look inside the bowl and more than half of the bottom of the bowl is empty because it has worked all toward the top. Weird reverse funneling design thing going on there. Also, the bowl is VERY VERY heavy. I have difficulty tipping it to turn out batter and scraping with the other hand. A final note, when I am making meringue icings, the bowl stays very warm and the meringue does not cool as it would in my stainless bowl. It just holds the head too much. So ALL of my complaints are the bowl design, not the actual mixer which is great. It would be awesome if they could just offer a stainless bowl replacement for this as I would buy it right NOW!
Date published: 2018-02-10
Rated 5 out of 5
by
kgim
from
Love the large bowl even though ii really is heavy
My kids gave it to me for Christmas, Im so blessed
Date published: 2018-02-07
Rated 2 out of 5
by
Tkdman103
from
Needs to be re-engineered
Got this last month. Won't whip two eggs. Need to stop and scrap bowl several times while mixing ingredients. Have owned a 4.5 tilt head that works fantastic but wanted a mixer for bigger batches. Yes did all the adjustments and still same problem. Sent it back.
Date published: 2018-02-06
Rated 5 out of 5
by
Lissa1974
from
Pro 600 Design Series 6 Qt Bowl Lift Stand Mixer
Perfect for baking or for making dinner for a group. Absolutely love it for all our needs.
Date published: 2018-02-05
Rated 5 out of 5
by
Farmer
from
Mixer
Have been really happy with my new mixer I bought just before Christmas.
Date published: 2018-02-05
Rated 5 out of 5
by
JulieJ
from
Heavy duty and works really well
My Husband purchased this for me for Christmas and I am thrilled with it! Works really well. Easy to learn how to use it and it does crazy cool stuff with all the attachments it comes with. Awesome!!
Date published: 2018-02-05
Rated 5 out of 5
by
Anonymous
from
My best friend baking
I got this mixer a couple of months ago, it had been so amazing have it at home, my cakes are the best part of dinners. We're so grateful with kitchen aid, they made my life easier.
Date published: 2018-02-03
Demos & Guides
guides
Use & Care Guide
Comprehensive information about your new appliance - from getting started to cleaning and maintenance.