Pasta Roller
Pasta Roller is rated out of 5 by 19.
No longer settle for pre-packaged pasta when making it fresh is easy and tastes so much better. Powered by the KitchenAid® Stand Mixer, the Pasta Roller makes authentic, fresh pasta sheets from scratch quickly and easily. Also works with KitchenAid® Pasta Cutters (sold separately). Made in Italy.
Other - KSMPSA
Features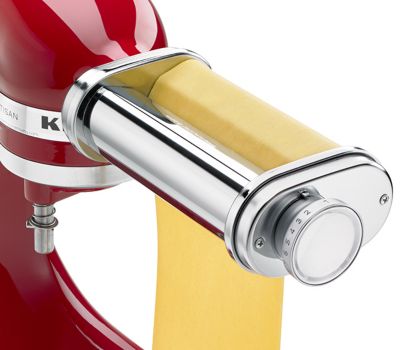 Powered by your KitchenAid® Stand Mixer
To make quick and easy work of fresh homemade pasta in your kitchen using the Pasta Roller Attachment. Fits all Household KitchenAid® Stand Mixers.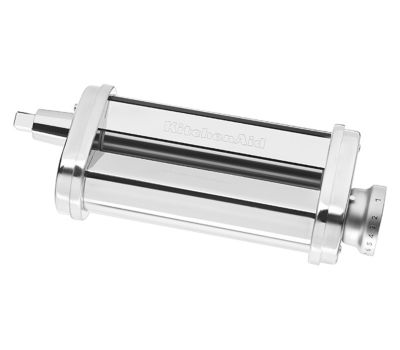 Commercial Style Stainless Steel Roller
Commercial-style stainless steel pasta rollers for smooth rolling of pasta dough.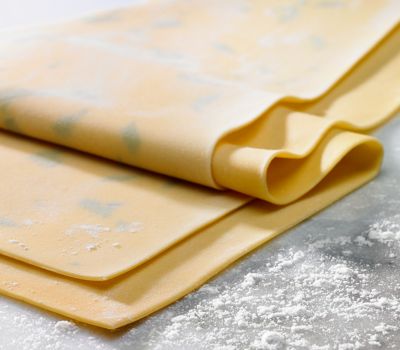 Pasta Roller
Rolls 6-inch sheets of pasta with 8 thickness settings to adjust to your desired sheet thickness.
Reviews
Rated 5 out of 5
by
goggles123
from
easy to use!
my friend bought this for me as a wedding gift and my husband and I love using it as it is so easy to use!
Date published: 2017-10-08
Rated 5 out of 5
by
Smitty
from
Amazing Pasta Roller
Love the pasta roller, worked perfectly right out of the box!
Date published: 2017-07-12
Rated 5 out of 5
by
Mrs.Christmas
from
Love it!
I've been wanting one of these for ages, and because of a generous friend I was finally able to buy it. I love it! It rolls the dough smoothly and easily. I can make pasta as well as noodle dough, and I can with them, I can make lasagna, ravioli, and any width noodle (which I can easily hand cut once I've used the roller to get the sheet of dough the thickness I want). I'm happy, and looking forward to having company and making fresh pasta!
Date published: 2017-06-18
Rated 5 out of 5
by
TxCowboy36
from
Simple and easy to use
I'd bought the KitchenAid pasta roller to help make pasta easier. I'd always used a rolling pin, but after my move it'd disappeared. I'd always wanted to buy some attachments for my mixer and figured why not. I couldn't be happier with it. I'm excited to get other attachments, especially the meat grinder and grain mill so I can truly make homemade ravioli and tortellini.
Date published: 2017-05-02
Rated 4 out of 5
by
Tati
from
Does Kitchenaid sells parts of Pasta Roller?
I would like to know if Kitchenaid sells the Hex Shear Shaft Coupler for pasta roller. I've just used for the first time and it has broke into 2 pieces. I live in Brazil and the Brazilian Authorized assistance informed me that considering that Pasta Roller is an accessory, Kitchenaid doesn't repair or sell parts of Pasta Roller. So since my hex shear shaft coupler broke there is nothing they could do and the only solution was to buy a new one. Is it true? Thank you.
Date published: 2017-03-30
Rated 5 out of 5
by
Didi
from
Easy to use
I made some pasta and was so pleased with how easy it was.
Date published: 2017-03-10
Rated 5 out of 5
by
Ikatchr
from
Easy to use!
This was a gift and I couldn't be happier!
Date published: 2017-03-07
Rated 5 out of 5
by
Jordan
from
Great Product
I recently purchased this product and I love it so much. I have always preferred making things homemade and I usually make homemade pasta sauce now I am able to make the pasta to go along with it. It is very simple to use and makes making pasta very easy. We make pasta at least once a week now! We are really looking forward to purchasing more products from Kitchenaid.
Date published: 2017-01-29
Rated 5 out of 5
by
Geprgia
from
Pasta roller and cutters
Bought the roller and cutters for my mixer. They are easy to use very well made like all kitchenaid products..very happy with it
Date published: 2017-01-12
Rated 5 out of 5
by
Daniel
from
Surprisingly Easy
I bought this for Christmas for my wife. Figured it would be good to have for special occasions. I was very surprised on the ease of use. Make a simple dough, roll, cut, and boil. Have used multiple times and no plans on stopping.
Date published: 2017-01-10
Demos & Guides
guides
Use & Care Guide
Comprehensive information about your new appliance - from getting started to cleaning and maintenance.